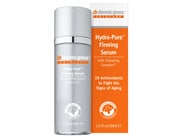 Reviews For
Dr. Dennis Gross Skincare Hydra-Pure® Firming Serum
Doesnt work with my skin
This serum is lightly moisturizing--hydrating enough for my combination skin that I dont need to follow with another moisturizer but most likely not moisturizing enough for drier skins. It has a lot of nice ingredients that are good for skin, and I appreciate that it is fragrance free, since my skin is sensitive to fragrances, but nevertheless something in it irritates my skin. It also clogs my pores. Hydra-Pure Firming Serum
Ive used the product for less than a month & see no increase in firmness nor decrease in wrinkles yet. It doesnt feel heavy or irritate my skin therefore I will continue using the serum. LovelySkin Customer
Verified Purchase
Good for firming
This product has very healthy ingredients for your skin and does assist in firming delicate areas of your face in need of nutrition and uplifting. I purchased as a gift and the reciever loves it. I have always loved the dr dennis alpha peel pads, so I figured I could also expect results with this product and the reciever would be very pleased. So far, I have nothing but good things to report. It is worth the ticket price due to the great ingredients such as vitamins A & C in which our skin needs. I also love that this product neutralizes the impurities in water. It is a great concept. My only complaint is the packaging, but maybe this is necessary. Thanks. LovelySkin Customer
Verified Purchase