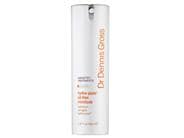 Reviews For
Dr. Dennis Gross Skincare Hydra-Pure® Oil-Free Moisture
10 Results
Not for my skin type!
I was really intrigued by the description of this moisturizer, but it was not nearly moisturizing enough for my combo/dry, sensitive, acne-prone skin. Felt good going on, and then the moisture just disappeared. I think VERY oily skin types would like this very much, though! LovelySkin Customer
Verified Purchase
Love it!
I have extremely oily skin, and I have tried a variety of products. Until my esthetician recommended me Hydra Pure oil free. It has been a game changed, my skin is not as greasy anymore and looks nice and fresh . LovelySkin Customer
Verified Purchase
Worth it
Despite the high price, this has become my daily (and favorite) moisturizer. It has never broken me out nor made me greasy but actually provides hydration (unlike some other oil-free ones). LovelySkin Customer
Verified Purchase
PURELY GREAT!
Has vitamins A,C,&E, lipids, peptide, hydrators, and moisturizers. Only 2 things shy of a 5 star product a little stronger source of the above vitamins, and additional peptides (considering the cost of the product). Also wish all cosmetic companies would make containers with the ability to see the product, so we will know when it''s time to reorder (that would be a BIG help!) Otherwise, Dr. Gross''s products are outstanding! LovelySkin Customer
Verified Purchase
good
This creme is great for the summer days for my combination skin. LovelySkin Customer
Verified Purchase
Lightweight and great for sensitive skin
Great moisturizer for sensitive skin! Goes on smooth and is very lightweight. My skin looks radiant and healthy (Im in my 30s). I tried many different oil-free moisturizers and this is one of my favorites. Highly recommended! Good, but not great
I bought this because I am always looking for the perfect oil-free moisturizer for my acne ridden, combination skin. This product feels good and is moisturizing, but seems to be causing breakouts and blackheads. I havent changed any other products, so the evidence points to the Hydra-Pure Oil Free Moisturizer. On the plus side, it is not greasy, so if you are looking for a light moisturizer, this could do the trick if you do not break out easily. LovelySkin Customer
Verified Purchase
Great product
Very light, but you can still feel well moisturized! LovelySkin Customer
Verified Purchase
GREAT LIGHT WEIGHT DAYTIME CREAM
I have been testing many, this is a GREAT one, light and effective. LovelySkin Customer
Verified Purchase
Great Product
I recieved this product as a sample with a previous order. I usually gravitate to any face product that is oil-free, for my skin is easily irritated. I applied it after a shower at the gym, and to my suprise it is wonderful, feels soft and lightweight. I went to a party without any makeup (was rushing to get there from the gym), and had a comment when I arrived , that my face glowed and "what moisturizer do you use?" so this product not only feels amazing, but makes your skin "glow."