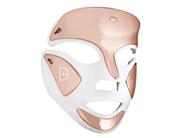 Write a Review - Receive 50 Rewards Points!
Tell us your thoughts about Dr. Dennis Gross Skincare SpectraLite Faceware Pro so we can help you find the right products. With your review, you'll also receive 50 Rewards Points. Please note that it may take up to 72 hours for a review to appear on site. All reviews are subject to moderator approval.
Write a Review
12 Results
One of the best investment!
This Faceware pro is really amazing! I can see my skin is smoother and tight after I use it religiously every night for a month. It is one of the best investment in Skin care world. What surprise me the most is how easy to use this tool. Spectralite Face Pro
I received my face pro the day before Christmas and I've been using it ever since. Everyday I use the red light therapy and because I'm breaking out I started the blue light therapy in the morning red light at night. I've noticed that my skin is clearer. I like it a lot so far. I plan on using it everyday. I'm happy to have purchased this mask by Dr. Dennis Gross. And waiting to see more results as the time goes on. Thanks! Chrisstef
Verified Purchase
spectralite faceware pro
The mask is too small for my face and the lights hurt my eyes. I did not return it because I am hoping that it will still help with the lines on my face. I use a mask on my eyes to help with the bright light. elliehenn
Verified Purchase
great device!
I think this is a winner! As they say, it's the greatest thing since sliced bread! I have had a lot of comments made to me about how pretty I look. The only thing I have done differently is used this mask, and your alpha beta daily peel. I am more than pleased with the results. LovelySkin Customer
Verified Purchase
So Convenient!
I use this every morning after washing my face. I simply sit down, hold the mask on my face and breathe. I feel like I get a mini-meditation session and spa trip at the start of everyday. I only use the red light setting as I'm not concerned about acne. As someone with EDS and very reactive skin, I am always looking for easy things to use to build and/or prevent collagen loss that require minimum effort and have little risk of irritation. This mask does all of that! I haven't used it long enough to see if it is improving my wrinkles and am largely using it as a preventative measure. My only complaints are that I wish it came with a steadier, strong hold and that there was a neck mask you could use at the same time. BirdieKitKat
Verified Purchase
No noticeable changes
I have used the mask everyday for 15 minutes for 3 weeks, and I don't see any improvement in my skin. I am 47 and starting to see a lack of elasticity around the lower half of my face. I have also used in conjunction his skin care, the IPL serum, vitamin C collagen serum. The mask is fairly comfortable to wear. I have also noticed small red bumps under the skin from wearing this on the upper cheekbone, I have three now! Not sure I'll keep doing this the red bumps are not going away either. LovelySkin Customer
Verified Purchase
Can see a difference with acne.
I've been using this for a couple of months now. I'm fairly certain that when I feel a pimple coming on and use the light it magically disappears. However, I'm not sure I see a difference with dark spots or aging skin issues. I'd prefer to give it a 3.5, but that's not an option. I have other beauty tools that I prefer over this one for similar issues. Dr. Dennis Gross Skincare SpectraLite Faceware Pro
Love the concept of this mask, great innovation. I had watery eyes in the beginning but then got professional eye patches for protection and the problem was solved. The securing strap is a joke, absolutely useless, so I just hold the mask and meditate. I see the difference in skin clarity, less pimples emerging and the old ones are clearing up faster. LovelySkin Customer
Verified Purchase
wonderful anti-aging device
Prior to getting my Face Ware I had a PRP facial which stimulates collagen formation, but I can clearly see improvement in my fine lines and overall skin clarity with the use of this mask. I use it daily both on the red light and the blue light setting. It is quick and easy to use, holds a charge for multiple sessions and I have been enjoying using it. It's only been a few weeks since starting my red light sessions, but I see an improvement and am looking forward to reevaluating my results after 3 months. I have used the red light attachment with my NuFACE, but that device was not as easy to use. LovelySkin Customer
Verified Purchase
Miracle
I have used it daily for the past few weeks on both the red and blue setting, and my skin has been so clear and bright. Others have noticed my skin improvements too. I expect the results will be even better once I use it for a longer period of time. This product is an investment, but is totally worth it for clearer and younger skin! LovelySkin Customer
Verified Purchase
Nice
The mask is very easy to wear. I've just been using it for a couple of weeks, but my skin is a bit more bright. LovelySkin Customer
Verified Purchase
Really liking the results so far
I've been using this for a few weeks and really like it. I do feel it has cut down on my acne DRASTICALLY which is my primary target. I use it once or twice a day, typically on the "blue only" setting but sometimes the combination setting. My only downside, and the only reason I deduct a star - the strap that you attach around the back of your head seems so cheap and almost like an afterthought. The rest of the mask seems well made and sturdy, so not sure why they used such a cheap strap to hold it all together. Wish it was better quality with a better clasp. LovelySkin Customer
Verified Purchase