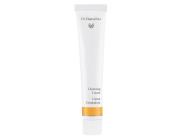 Write a Review - Receive 50 Rewards Points!
Tell us your thoughts about Dr. Hauschka Cleansing Cream so we can help you find the right products. With your review, you'll also receive 50 Rewards Points. Please note that it may take up to 72 hours for a review to appear on site. All reviews are subject to moderator approval.
Write a Review
25 Results
Dr Hauscha rules
Cleansing Milk does the best job. Love it. Love all their products.
Just wonderful
This cleansing cream is amazing. It might take a couple of times to get used to the method of using it (the press-and-roll technique is recommended versus just plain scrubbing), but it always leaves my face feeling clean and looking good. It somehow almost moisturizes while cleaning, so you don't feel all dried out after using. I love it.
Awesome cleanser!
I use this several times a week as an exfoliater/cleanser and I like how smooth it makes my skin feel but it doesn't really remove blackheads, etc.
Best morning cleanser!
Cleanses and exfoliates gently without stripping away. Leaves my skin moisturized and glowing. It's important to read the instructions and do not scrub, but rather press and roll. Keeps my skin balanced and revitalizes, look no further!
cleansing creme
This face exfoliator is extremely gentle, yet effective. I can't imagine being without it.
Cleansing Cream
I read about this cleanser in many fashion magazines and decided to try it. It's a different concept but very gentle and effective. It leaves the skin soft and exfoliates at the same time. Make sure you just roll it on the face gently. Love it!
Excellent cleanser
It cleans thoroughly and removes makeup very well. It does not leave my skin feeling dry and tight but rather soft with a healthy glow.
Great cleanser
A little goes a long way, so the small tube will last awhile. I like the little beads, they're exfoliating without being damaging. The cleanser washes away well and my skin feels great afterwards.
CT Colorado
I've used Dr. Hauschka Cleansing Cream for years, the gentle exfoliation deeply cleans without any irritation. Love the Hauschka line and this is a daily staple in my skin care routine. Highly recommend.
Gentle exfoliating cleanser
Dr. Hauschka recommends the press and roll method of cleansing and exfoliating. As you press and roll the product into your skin the pores are gently coaxed to release impurities. You begin with a damp face, not wet. Sometimes I am in a hurry or impatient and I just quickly rub the product on my face. It smells divine, as all the Dr. Hauschka line does. I have been using this line for a long time but just recently purchased this cleanser. Previously, I have only experienced this product during a facial in which the press and roll method was used it felt so nice and pampering. I try to remember that feeling when I use this product on my own.
Great for sensitive skin
I love this product because its great for sensitive skin but at the same time works as an exfoliator to make your skin feel extra clean and refreshed. After using a sample size I recieved, I noticed a decrease in redness and irritation that I usually have due to my acne. I ordered the large size, and this is my second tube. Love this product!
Dr.Hauschka Cleansing Cream
My favorite cleansing product because it is gentle, none drying and refreshing.
Dr.Hauschka Cleansing Cream
I have extremely sensitive skin and I use Dr. Hauschka cleansing cream , it is a gentle exfoliant. My skin is always glowing and fresh looking after I use it. Does not dry out the skin either. Wonderful!!! Highly recommend it for anyone
great gentle but effective morning cleanser
i have used this product for many years-at the recommendation of my Dr. my skin is very sensitive to products and this one has never caused a reaction and it balances my sometimes dry skin. big fan
AWESOME!
I love Dr. Hauschka products and this cleansing cream is the best product ever for my oh so difficult combination-sensitive skin. I suffer from occasional eczema but also have slightly oily skin with some breakouts and this product works WONDERS! Doesnt irritate, and controls my t-zone. Get it!
Perfecto!
Finally the search is over I now understand what balanced skin feels like! I am 51 and have always had oily t-zone, fairly large pores. My pores after one week are reduced, skin feels soft, plus I have gone all day with-out using rice paper to blot. I just ordered the sample kit to try all the products! If you have combo skin give it a whirl!
Its good product but hope the container become better.
Im keep using this product for a long time and I love this.
Didnt work for me
I used this product along with the cleansing milk and lotion for many years back in the 90s and loved it. today however it is irritating my rosacea. it cleared up my rosacea before but i guess its more advanced now so i have to keep looking for a product that is not going to irritate me. so sad.,Dr.Hauschka is a great skin line.
Love these products!
This cleansing cream is a great mini microderm each morning!
Gentle but very effective
The first few times I used this, I was just using it as a gentle scrub, but when I followed directions I realized that this is more of a gommage-type product and will gently "roll" away dead skin. I like to use it on my T-zone in the morning and all over a few times a week. I love this because it works but is extremely gentle and leaves my skin soft and smooth. You only need a tiny bit to cover the whole face, so it will last long.
Great exfoliator
I have actinic keratosis on my face and this product prevents the scaliness associated with this type of skin lesion. My face feels wonderfully smooth after I use it!
great product!
Dr. Hauschka Cleansing Cream is a fabulous product! It is a gentle exfoliate, which I use several times weekly, and it brightens and hydrates my skin nicely. I use it in place of my daily facial wash. I love that is gentle enough to use often. Its another great Dr Hauschka product and so delighted to be able to get it from LovelySkin. Thanks, A happy customer
Gentle, thorough cleanser
I have been using Dr. Hauschka products for over 20 years and I wouldn't use anything else on my skin. The cleanser is gentle and effective for refreshing the skin in the morning. I also use the cleansing milk to remove makeup in the evening.
My favorite cleanser (combination skin)
I have combination, slightly sensitive skin; 10 months ago I researched tons of reviews online before deciding where to start with this line. After a little trial and error I have settled on the Cleansing cream (preferred over the milk cleanser which I only use for makeup removal), Clarifying toner(promotes clearer, less oily complexion), normalizing day cream. This regime evens out my t-zone and I get less of the tiny pimples. I believe in the Dr. H. skin care philosophy, I use the cleansing milk Only when I use makeup, it does a good job getting makeup off (I use a wet wash cloth to wipe off). I never use concealers, powders or foundations and I find less use of makeup means less little pimples and blackheads. I use the cleansing cream as my primary cleanser (and after the milk, when I use it) every morning and evening. I used to use the regenerating face serum every evening (1 bottle lasted me 6 months), it was alright, my skin is happier without it. Now, I only use toner and eye cream at night. I use the moisturizing day cream and an eye cream in the morning after toner. I prefer this cream over the Melissa, Quince, or Rose creams. The cleansing cream feels nurturing and reviving to my skin, sometimes I gently remove it with a wet wash cloth. I look at it like a mini workout for my face, when I have a pimple coming up I concentrate pressure there and it helps my face clear faster. I use this product for several minutes per session for greater benefit. I am very happy with this product.
Best cleansing/skin clearing cream
I have used Dr. Hauska Cleansing cream for years. I used to have chronic problems with breakouts and blackheads. Now they are under control. This product gently removes dead skin and does not leave your face feeling abraded, stiff or dry as some other products do. It is made with botanicals that work to keep your skin nourished and lovely. I highly recommend this. Note, for make-up removal, I first use Dr. Hauska or Weleda cleansing milk.