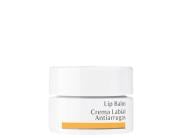 Write a Review - Receive 50 Rewards Points!
Tell us your thoughts about Dr. Hauschka Lip Balm so we can help you find the right products. With your review, you'll also receive 50 Rewards Points. Please note that it may take up to 72 hours for a review to appear on site. All reviews are subject to moderator approval.
Write a Review
16 Results
Best lip balm
This is a staple in my medicine cabinet. Very moisturizing and smells great. LovelySkin Customer
Verified Purchase
Not what it used to be
The product has changed. It used to be very good, but now, it doesn't work at all, at least for myself. It also has a very unusual and unpleasant scent. I threw it away after I linked feeling nauseous after each use. It's too bad companies can't seem to maintain the same quality they started out with their products. Anyway, I won't ever purchase again. LovelySkin Customer
Verified Purchase
Dr. Hauschka Rules!
I love all of the products from Dr. Hauschka thus far. I bought both the tube and the lip balm in the jar. I use the jar at night and the tube during the day. It's very moisturizing, and I don't have to reapply often. I dig that. It doesn't have a taste either which I don't mind at all. I'm pretty sure the tube, and the jar are the same ingredients just different applications. I love them both. My lips feel very moisturized and supple looking. I use a lip stain before applying, and it seems to work great. I recommend all of their products. LovelySkin Customer
Verified Purchase
BALM
I am this using even on top of my lips (between lips and nose) at night. LovelySkin Customer
Verified Purchase
OK but not something I'd purchase again
Dr. Hauschka Lip Balm is OK - just plain OK, nothing more. I like the natural ingredients, but my lips feel dry again within about an hour. There are better products out there, or at least ones which suit my lips' needs better. I wouldn't purchase it again. LovelySkin Customer
Verified Purchase
excellent lip balm
It is very thick and moist. Even glossy. Extremely moisturizing and looks great on your lips. naturalmakeupfan
Verified Purchase
The best lip balm I have used
I, like many people, have tried several lip balms. This one I have come back to over and over again. It moisturizes my lips without being too heavy. Not goopy but it does the job. Definitely will buy again. LovelySkin Customer
Verified Purchase
Moistening!
My lips are very chapped and dry. I use this lip balm every night, and it helps heal my lips. They feel nice and moist in the morning. LovelySkin Customer
Verified Purchase
Lips beware
This was my first and will be my last time ordering from this company. My daughter and I both used the lip balm once and woke up the next day with puffy lips. It was the same kind of feeling you get when you've been out in the sun to long. I did send an email and they said to return it but I would have to pay for postage. I am not doing that because by the time I buy a bubble wrap envelope and pay for postage, I probably will break even. I just think they should let you know this might happen. Sorry LovelySkin. LovelySkin Customer
Verified Purchase
Fantastic
Love it! Works really well. A little goes a long way. LovelySkin Customer
Verified Purchase
Best Lip Balm Ever
This lip balm is great and lasts forever! It moisturizes the lips and heals cracked and dry lips. I always use a lip primer over it to keep my lipstick on longer but I love this product. Theresa
Verified Purchase
BEST LIP BALM
1: I'm allergic to most lip balms, but not this one! 2: A little bit goes a long way. Super rich, smells amazing, all natural, makes my mouth happy :) TIP: Put on before bed, because so rich, it can rub off easily. The stick version is more appropriate for daytime use. Although that one is not my favorite. Although I can't afford much, this one item I save up for and never scrooge on. It lasts a long time if not wasted, and honestly feels so amazing, non addictive, and leaves my lips youthful! BEST STUFF EVER!! LovelySkin Customer
Verified Purchase
Moisturizing, good feel
I really like this lip balm. For those of us who grew up in the 1970s during the height of the Carmex craze. This is a MUCH better product but in the same kind of glass (?) "pot." I put this on in a thicker layer before I got to bed. But I also use it as one of my morning prep layers as I'm getting ready for the day. It's just a really good moisturizing lip balm. No bad taste or smell and it feels really thick and effective. Good stuff TJDwyer
Verified Purchase
Disappointed
I ordered based on reviews, I thought it would be better. Its good, just not as great as everyone made it out to be. LovelySkin Customer
Verified Purchase
Best lip protector ever
I guy these in 2s as the temperatures drop and the atmosphere indoors and out loses moisture. None better for eliminating dry lips and I wear it under my lipstick throughout the day and alone at night. Highly recommended! LovelySkin Customer
Verified Purchase
Dr. Hauschka's Lip Balm--A Winner!
I have used the Dr. Hauschka product line first while residing in Europe for 8 years and later in America, but have been frustrated by its absence in many department stores in this country. Until now, that is. LovelySkin.com has saved the day for me, and at the stroke of a computer keyboard I can order at will ! Perhaps one of the best items in the Dr. H. line, and the one I use daily, is the lip balm. Due to prescriptions I must take often I suffer from dry and/or cracked lips, but with the handy Lip Care Sticks I can conveniently cover my lips at any time and receive instant relief. I have tried just about every lip care product sold in the grocery or drug store outlets, but it is Dr. H.'s Lip Care Stick that works wonders for me. The Lip Balm tub is no different and I use that at bedtime with the assistance of a lip brush applicator. Thank you for allowing me the opportunity to endorse this product and the Dr. Hauschka line. TPB LovelySkin Customer
Verified Purchase