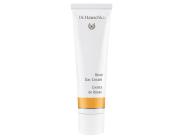 Write a Review - Receive 50 Rewards Points!
Tell us your thoughts about Dr. Hauschka Rose Day Cream so we can help you find the right products. With your review, you'll also receive 50 Rewards Points. Please note that it may take up to 72 hours for a review to appear on site. All reviews are subject to moderator approval.
Write a Review
25 Results
Favorite Product
Dr. Hauschka Rose Day Cream is my all time favorite product. It is a rich, thick moisturizer, and I use it in many ways: as a rich moisturizer when my skin needs extra care, applied generously as a facial mask, mixed with oil or lotion to create a lighter moisturizer, and even as a hand cream. My primary use for it is to mix it with the foundation makeup. This mixture goes on very smoothly like a tinted moisturizer and gives a dewy look to the skin. (A darker shade in the makeup may be necessary if using this way.) I have very sensitive skin, and Dr. Hauschka is never irritating, always soothing and healing.
Arizona Dry Skin
As my title indicates I live in a very dry climate for most of the year. I am sixty-one and have always had nice skin. I have used "high end" products since I was in my thirties. I have found that they don't work well for me anymore. My mom received a sample of this from LovelySkin and told me that she LOVED it. I placed an order that day, and when it arrived I used a bit too much. The next morning I sprayed an organic rose water on my face, used a pea size amount, and patted it onto my face. For the price, it's one of the best moisturizers I have ever used. I'm very happy with the result...no more dry skin! A tube lasts me about three weeks. (I use it at least twice a day.) The reason I gave it four stars is because I don't believe there aren't any anti-aging ingredients in the product, but it is a FABULOUS moisturizer for my skin type.
Glowy, dewy skin
I have to say I'm a product junky, and I really am liking this moisturizer. I've used skinmedica dermal repair cream and others, the only reason i gave it 4 stars instead of 5 is because it is a small tube, and I like to use a good amount of moisturizer. I have dry skin and I break out easy, and this moisturizer is so comfortable on my skin, and skin looks dewy and luminous! It spreads just like any other cream would and my foundation goes on great! :)
My new fave!
I received this as a sample from LovelySkin, and I really liked it! I went ahead and purchased this, and I am so glad I did! Other reviewers noted that it is thick (it is) and hard to apply (it isn't). Following the directions on the package, I dab/pat it on my face in the morning, and then gently rub in. It it perfect under my makeup, and doesn't feel greasy or make my face shiny. My new favorite!
Dr. Hauschka Rose Day Cream
First, let me say that I really like most of Dr. Hauschka''s products and use his Regenerating Day Cream on a daily basis. When I saw how many people enjoyed the Rose Day Cream, I thought I'd give it a try. Well, I was a bit disappointed with the consistency and feel of the product. It's thick and comes in a metal tube like an ointment. I won't wear it during the day because it's too greasy for me. I do, however, use it on my elbows and heels and that works well. I will continue buying Dr. Hauschka's other products, but will not be buying this one again.
Awesome
Love this moisturizer. it does what it says.
Amazing- your face will thank you
This product is truly amazing. I have been using hauschka products for a while and I recently had an esthetician recommend Rose Day Cream since I have dry skin. My face soaks up all the goodness in this cream and glows all day long. It is quite thick, so you only need a small amount. Smells delicious too.
Rose day cream
This is a deliciously rich day cream & particularly perfect for the winter months.
Dr. Hauschka Rose Day Cream
I love Dr. Hauschka products. This is a very nice day cream and a little goes a long way. I let it soak in to my skin a few minutes before applying makeup and it gives a nice finish that lasts all day. It also smells wonderful!
Love this face cream
I have very sensitive skin--particularly on my face. This cream protects it in all the seasons. I also feel that it adds a barrier to the smog and dirt that is unavoidable (I live in NYC). Lastly, it leaves my face with a healthy glow. I'm not sure how it does that but I've tried many other products and this one is the best for me.
Love it!
I love Rose Day Cream. It works with my skin really well.
Dr. Hauschkas Rose cream
I thought I liked the sample of the Dr. Hauschkas rose cream, but I noticed that it was very thick and not easy to apply, so I thought once I received my own ordered cream, that I would let the cream warm and liquify on my skin before application. However, that did not happen, it is too thick and not pleasant to use and pulls the skin. It also feels too heavy on my skin. I am not overly happy with it at all. Im sorry about that. All other products so far that I purchases at Lovely Skin have been wonderful, but not this item the Rose cream. Marika
Great cream
I love this Rose cream. It is very hydrating and somewhat thick. I have VERY dry, dehydrated skin. This cream quenches my skin, even in these dry New England winters!
Excellent Product
This cream is soothing and moisturizing. Ive used it for at least five years and never been disappointed with it.
Prized beauty item
I always keep this beautiful rich cream on hand for when my skin is dry or sensitive. It imparts a lovely glow to the skin. For daily use it is a bit too much for my combination skin, but I prefer it over the light version. The rose scent is powerful at first, which some people may like, but I prefer little to no scent. The scent fades quickly. A must have for winter here in Maine.
Love this product
I read about this product on line and wanted to try it. I loved this the since the first time I tried it. It gives your skin a smooth finish when you wear it under your makeup and it gives a dewy look.
Love it!
Love this moisturizer. Its better than pricier creams, like Creme de La Mer, and it smells great. Reasonably priced, especially with the great LovelySkin discount offers.
Hauschka Rose Day Cream
This is a fabulous day cream for extra dry and/or mature skin (I am the latter). Initially I did not like its heaviness and sticky feeling - however, I started adding a drop or two of Moisturizing Day Cream to it before application, and problem was solved! It lasts all day, so I (old lady that I am) look hydrated and smooth all day. Really really love the stuff! And by the way I have never had any reaction to its ingredients, a true rarity with my extra sensitive skin.
The best moisturizer ever!!!
I love this cream!! I actually have normal skin and makes it soft, hydrated and glowy. I have been asked by so many people what I use on my skin...and the irony is I work for a major beauty brand and I this is what I use, If you are a La Mer customer,dont waste serious $$$.This does the job for so much less plus is made with natural ingredients.
Lives up to hype!!
I, too, bought the cream when I heard JLo mention it. Jessica Albo uses it too.. I just started using it and can feel the difference already. It was a birthday gift to myself. Even at 82 it makes you look and feel good!!
Softened my skin
I became interested in this product because J.Lo mentioned it on Bravo. I used a sample for three weeks (generous sample), and it definitely softened my skin. I bought this two weeks ago, and I am a lifelong convert! I have actually convinced three friends to buy this within the month.
Smells nice
I have only been using this product for about a week. It smells nice. Its a little heavy and oily. I dont see it lasting long as you have to use alot of the product to be able to cover your face and neck. Im hoping to see improvement with my Rosacea. I will stick with it until i run out an write an updated review. Maybe ill try the light version of this cream next time around.
Highly recommended
Ive been using Rose Day Cream for 16 years (starting at age 25). I use it year-round for my fairly dry skin after cleansing/exfoliating w/ a baby washcloth and water in the morning and evening. I know they recommend no overnight moisturizer but especially in the winter and burning a wood stove I just cant do it. For years Ive also mixed it w/ foundation (or concealer if needed) to make my own "BB cream." I credit this moisturizer w/ keeping the beginnings of rosacea at bay for the past 10 years as well as limiting broken capillaries. Love it, highly recommend it!
Dr. Hauschka is so good to my skin!
The Rose Day cream has been the best thing for my face during this very cold and harsh winter. I usually have very dry skin in the winter but this cream has helped lock in moisture and keep my skin feeling soft.
The best!!!
This cream sinks right in my skin and feels amazing. I highly recommend this cream for anyone with sensitive, dry or ruddy skin. It smells great too!