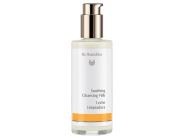 Write a Review - Receive 50 Rewards Points!
Tell us your thoughts about Dr. Hauschka Soothing Cleansing Milk so we can help you find the right products. With your review, you'll also receive 50 Rewards Points. Please note that it may take up to 72 hours for a review to appear on site. All reviews are subject to moderator approval.
Write a Review
25 Results
The Very Best Cleanser
My hypersensitive mature skin continues to react so well to the Soothing Cleansing Milk. I began using this at least 20 years ago with a few lapses to try newer brand products but hands down, this, for me, is the gentlest, most effective cleanser I have ever used. Make-up and SPF are removed easily and my skin is left clean and hydrated.
THE MILK WAY
I have others cleanses, and I know this is more for makeup, but I just love it, even with a clean face. For makeup removal, it's easy and gentle. I don't like the makeup removal pads. This cleanser on a cotton ball will not hurt your skin and all your efforts with your skin when you tired to go to bed. It's a must have it.
Sally
I have used the cleansing milk for several years. I have tried other cleansers but my skin always feels stripped when using them. With cleansing milk, my skin always feels soft and moist. It thoroughly cleans and prevents my pores from clogging. The extra cost over other drugstore brands is worth it!
Dr Hauschka products are the best
I am 76 and have been using all Dr Hauschka's products for 20 years. Cleansing milk, toner, and day cream regularly. Seriously I do not have a wrinkle. I use the sunscreen and eye balm. I have used the night serum. Wouldn't use anything else on my face. Natural for healthy skin.
Dr. Hauschka Soothing Cleansing Milk
I love love love the Dr. Hauschka Soothing Cleansing Milk. Items I have used in the past have left my skin feeling dry and tight or oily and caused it to break out. I have very sensitive skin and the Dr. Hauschka Cleansing Milk cleans my skin and leaves it feeling wonderful. I would highly recommend this product and other Dr. Hauschka products.
This cleanser doesn't remove makeup
For the price of this cleanser, I think it should do a better job on cleaning out makeup. I think it could only remove the excessive oil on your face in the morning.
Dr. Hauschka Soothing Cleansing Milk - The Start and End to My Days
I've been using Dr. Hauschka products for over 20 consecutive years with great results. My 50+ year old skin is supple and feels great - never dry. Soothing Cleansing Milk is a multi-purpose product. It removes makeup and cleanses gently. I wouldn't start or end my day without it!
Excellent Product
Cleansing Milk is so wonderful on your skin. Don't buy anything else.
Love this
Gentle cleanser that smells wonderful. I use it with a cotton pad, it cleans off makeup and oils at the end of the day. It lasts really long too, I've been using the same bottle daily for a few months now and there's still a good amount left.
Smooth as silk
This cleanser is SO nice. It removes my makeup without tugging and leaves my skin feeling so soft. I love it.
Amazing product!
I had very dry, sensitive, skin. This cleansing cream is the only thing I use to wash my face. It is healing to the skin. It is awesome. I recommend it to so many people. It is great for teens with problem skin also. My daughter has been using it for years. Love, love, love this product.
Love this and I have combination skin!
I am loving this cleanser, which I must admit I was a little nervous about since I usually use a gel cleanser. The milkiness gives my dry skin the hydration that it needs while the natural plant oils help to break up oil and makeup. I use this wash twice a day and have noticed less breakouts, softer skin and dry patches around my nose have vanished. When I use it with the Dr. Hauschka Clarifying Toner in the AM, I can keep the oil in my t-zone under control until the late evening!
I LOVE THIS STUFF
Removes makeup gently, while cleansing and nourishing your skin. Doesn't strip the skin, has a lovely scent, is all natural. Do yourself a favor and try this cleansing milk, your skin will thank you. And be gentle! (I've used this product for more than 10 years now, and swear by it!)
CT Colorado
I've used the Cleansing milk for over 5 years. It cleans makeup without any harsh chemicals. It leaves my skin feeling clean and soft. LOVE this product and highly recommend. Being in my 60s, people still think I look much younger and comment on the quality of my skin.
A Winner Year after Year
I have used this creamy cleanser for years and am now just sharing how I feel about using it on my face. I wouldn't choose any other product!! Great for removing makeup and makes my skin feel very soft. It's a winner through and through!
Does not even take off tinted moisturizer
I got this for a cleanser that will remove makeup and it wouldn't even takeoff my tinted moisturizer. It left a film feeling on my skin and I had to use toner to remove my makeup and the film after washing with it. Don't like it at all.
A Treat For Your Face!
I use this cleanser first thing in the morning and it is a great way to kick off my beauty routine. This product is gentle, on the lighter side of "creamy" and I love its fresh scent. I also think that my make-up tends to stay on longer, and that my face looks brighter, when I use this hydrating cleanser.
So Creamy
After cleansing your face with this product, your face feels like silk. It also removes all makeup, including eye makeup. It is fabulous!
Terrible Cleanser
This is a terrible cleanser. It has a strong perfumy fragrance reminiscent of mens cologne, and it doesn't rinse cleanly. Even washing it off with a washcloth isn't enough. I can still feel a film, so I have to follow with a foaming cleanser to remove all of the residue. It also irritates my sensitive skin (probably due to the alcohol and fragrance). There are much better (and cheaper) natural cleansers available.
Dr. Hauschka Soothing Cleansing Milk
I like to switch off using Dr. Hauschkas cleansing products, depending what my skin needs. I like this because it is gentle, soothing and doesnt dry my skin.
Excellent
Very moisturizing and gentle. Love this line of products.
So far so good
I have been using this cleanser for about 3 weeks. So far, my skin is clearer and less dry. I have combination/oily/mild acne with redness and uneven skin tone. This feels and smells great. I still use a serum after, because I over-produce oil and have patches of dry skin. The product can remove makeup, but I would recommend cleansing twice with it OR using a makeup remover before. Its very gentle and clarifying, but I wouldnt say it strips makeup. I bought the old bottle and had no issues.. Ill review again when I order the new packaging.
My go to cleanser
I always return to this cleanser. Mild yet effective. Gentle enough to use to clean eye make-up. I have a sensitive nose and the smell of this product is wonderful.
Dr. Hauschka soothing cleansing milk
Fantastic for removing make-up! Does not strip your skin of its natural oils. Love to use, I use it mostly at night and use the cleansing cream in the day. Skin looks fresh and clean after use. Love this product especially since I have extremely sensitive skin!
New look, same good product, same not good bottle.
They update the design and name of the products but its still same good quality for me. Unfortunately they didnt update the bottle so the same easy to leak issue exist. LovelySkin keep doing the good job for packing and shipping so the leak is minimum but still its not great when I see the inside the paper box is colored by leak.