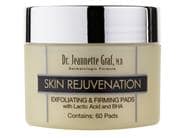 Reviews For
Dr. Jeannette Graf, M.D. Skin Rejuvenation Exfoliating & Firming Pads
$33.00
5 Results
Love!
Makes my skin feel so soft and fresh. Gets all that nasty dead skin off your face and noticed my lines aren't as noticeable! LovelySkin Customer
Verified Purchase
Best Product ~ Great Value
This product makes my 61 year old skin look it's best. I am not exaggerating. Sometimes I use it morning and night. LovelySkin Customer
Verified Purchase
Truley my All Star product
As a skincare professional, I have tried MANY products. I cannot say enough about these pads. They gently exfoliate, noticeably firm your skin, and you will literally wake up the next morning with the most luminous glow and smooth skin. I recommend these whole heartedly. I have been using them for about 3 years now. LovelySkin Customer
LovelySkin Employee
Wonderful product
These pads are absolutely amazing. This is my first purchase from this brand. I can't say enough good things about them. My 61 year old sun damaged skin is loving these. And on top of all that, you can't beat the price of these wonderful pads. Thanks, LovelySkin, for carrying brands that are amazing. THE BEST EXFOLIATING FACIAL PADS‼️
These are the best exfoliating facial pads on the market that I know of. I have used many brands of facial pads, and these work The BEST‼️ My skin is not dry, like with the others I have used, and my skin becomes more glowing. THE ONLY THING I Have to say that's NEGATIVE is to suggest to Dr. Graf to make the Pads LARGER. They are too small for overweight people who have more facial skin to clean. Plus, the pad is too small for older people to hold on to as you use it. Other than that, THESE PADS ARE THE BEST‼️ LovelySkin Customer
Verified Purchase