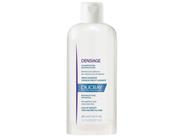 Reviews For
Ducray Densiage Redensifying Shampoo
$26.00
3 Results
Amazing product
I'm a woman of a certain age with fine, thinning hair. I wear it short and have highlights. I have used many products to try to give my hair some fullness. Usually by the day after styling, I wake up with my flat hair. I gave Ducray Densiage Redensifying Shampoo a try because I had nothing to lose. Using my usual styling products after shampoo and conditioner (Ducray), I got the fullness I love. The big surprise was on day 2 and 3. I wake up with fullness! My hair holds a style while staying touchable. Would I be wrong to hoard this product? I think not. LBCynthia
Verified Purchase
Very gentle, quite efficient
This shampoo is very gentle, doesn't irritate my scalp, but does it's cleansing job very well. It doesn't give any bodifying effect, but in a long run it really diminishes hair shedding. Can't say whether it (in pair with conditioner) stimulates new hair growth though. In general, I would say that it can be a good option for weak fine hair, prone to seasonal sheddings. I also appreciate its light neutral scent, which makes it a great unisex product (my other favorite products smelled too strong and feminine for offering them to my husband, for instance) Saffron
Verified Purchase
Good Cleanser
For me, this is a good shampoo for just cleaning purposes. It did not make my fine limp hair feel stronger or give it more body. I did not try it with the conditioner so that might be why I didn't get the results promised.