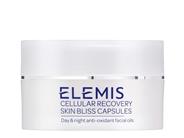 Reviews For
ELEMIS Cellular Recovery Skin Bliss Capsules
$105.00
7 Results
Elemis Bliss Capsules
I love these tiny gems! Rose in the morning, lavender at night, precious oils soothe my skin, add moisture and leave me glowing. I like that they are individual capsules, so the product is fresh every time I use it. And, that makes them easy to travel with, without adding weight to my luggage. I have dry skin so I love the additional moisture, but I believe due to their beauty properties, even oily skin could benefit from use. I highly recommend adding these capsules to your beauty regimen. Nicole999
Verified Purchase
My skin is glowing
After using theses capsules a.m. and p.m., my pores look clearer, and my skin looks so refreshed. They leave my skin looking glowing! LovelySkin Customer
Verified Purchase
LOVE LOVE LOVE
I have been using this product for over 7 years and I can't go without it! Especially the night capsules, the green ones. I have super dry damaged skin and the oils in this is absolutely wonderful!! I tried to recreate the rosemary and lavender with my own essential and carrier oils and THEY DON'T WORK like the Elemis products. I am completely convinced that the ingredients in these little capsules are anti aging!!! I won't go without them ever again! After applying, my skin is moist (not oily) and springs back when touched. My crows feet are diminished and my mouth lines are plumper. I do not have the taught feeling any more! I have a friend who is 18 year younger than I am ask me "Why do you not have any forehead wrinkles?" THIS IS WHY. LovelySkin Customer
Verified Purchase
Great Youthful Glow
I also received ELEMIS Cellular Recovery Skin Bliss Capsules in a two for one package with the ELEMIS Pro-Collagen Marine Cream. When I wake up in the morning my skin is dewy and glowing when I use the capsules. I even tested the product using the capsules for a few days and then not using them for a few days. I love the dew look! LovelySkin Customer
Verified Purchase
Great anti aging product
I have used this product for a number of years. It is a great moisturizing and anti-aging product. I use several products in the Elemis line and I have never been disappointed. LovelySkin Customer
Verified Purchase
Great for dry skin.
I purchased this product as part of a two-for-one along with the pro-collagen marine cream. I was skeptical based on the one review and had low expectations. However, I was quite impressed. The green ones do have a spa-like fragrance that is minty, but I found it refreshing. These capsules were great in combination with the marine cream at night. My skin felt much softer and regained a youthful, dewy appearance, which is difficult to achieve and maintain for any length of time. The trick is blending it in your palm before applying evenly. If your skin is on the dry side, I would highly recommend this product. Not very impressive.
I love Elemis products ans there are some I cannot live without. This is not one of them. They don't seem to improve my skin and I don't like the way the green ones smell. Still have some in the very back of the cupboard.