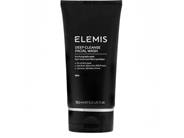 Reviews For
ELEMIS Deep Cleanse Facial Wash
$32.00
Best face wash!
My husband is extremely picky and this doesn't dry out his face at all. It cleanses it nicely without that tightness afterwards. AlohaKJ
Verified Purchase
Great!
Hubby loves it and it has helped him with his morning skin routine. Gets his skin nice and clean, Excellent facial cleanser wash!
I have been using it for three years now. So far the best I have found in the market. Not too sudsy, and washes clean leaving skin soft without drying it. I used to buy it in London but I'm glad that LovelySkin carries the Elemis Men line in the US. Super fast and free delivery. SobeDude
Verified Purchase
Really works
This is an excellent cleanser and wash for oily skin. I was initially skeptical, but after a week, I noticed my forehead isn't as shiny anymore! Miracle! And the product is so thick that all you need is a pea-size amount to lather your entire face. Amazing! Definitely loving this! LovelySkin Customer
Verified Purchase
Great Face Wash
I'm always trying new face washes on a quest to find the perfect one. I'm very happy with the results of this product. Great smell and my face feels clean and residue free after showing. Would highly recommend!! LovelySkin Customer
Verified Purchase
My Favorite
This is my favorite facial wash. I actually got introduced to it on a cruise where they sold these products. The only thing you should be aware of is that it does have a shelf life of about 3 years. I know this sounds like a long time. You only typically use a small amount each day so the tube lasts a long time so you might want to consider how many tubes you buy at a time. As I write this, the product picture still shows a bottle. This is no longer the case. They have long ago switched to a tube which I actually prefer. LovelySkin Customer
Verified Purchase
Great facial cleanser
I bought this for my son as a stocking stuffer and so he could throw it in his gym bag. He's very picky that his soaps don't smell "girly" and that they don't over clean as he has problems with dryness in the Winter. He loved this cleanser and asked me to get another for his apartment. LovelySkin Customer
Verified Purchase