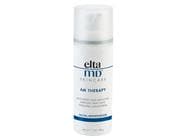 Reviews For
EltaMD AM Therapy Facial Moisturizer
$35.00
270 Results
A must have!
I am not normally one to write reviews, but I cannot NOT recommend this enough! I have been struggling with finding an everyday moisturizer that it lightweight, yet hydrating. Moving from FL to NY, my skin has not adapted well to the temperate change. Yet, with this moisturizer, my skin has never felt better. Could not recommend this enough. Shelbyr
Verified Purchase
Just ok
This moisturizer makes me breakout. pameleon
Verified Purchase
Unsure
After 2 weeks approximately of using this line my face is breaking out. Some days my face gets oily too. Smoothing
My fav summer moisturizer. It keeps my skin smooth and good for acne prone skin. I use Elta46 sunscreen on top. This is better than the Nia24. LovelySkin Customer
Verified Purchase
Perfect for sensitive skin
Longtime acne prone, sensitive skin sufferer. My skin loves this formula and I use it morning and night. Would definitely recommend giving it a try! Nice Daytime Light Cream
It's really lotion, not cream, as it's light and goes on smooth. So far I'm pretty happy with how it looks and feels. No issues with putting makeup over it and my skin seems content all day (until it's time for EltaMD PM moisturizer). Perfect daily moisturizer
This is the perfect daily moisturizer. Its lightweight, non greasy, and the perfect balance of hydration. Perfect Day Moisturizer
Love this oil free moisturizer. It hydrates and doesnt make me feel greasy. Love it LindseyB
Verified Purchase
AMAZING
I LOVE THIS CREAM, IT'S MY BEST Just what I needed
This moisturizer is light but effective. I use it over my daily serum and am relieved that it doesn't leave me feeling as if there's a lot of product on my skin. Works well under my finishing powder or powder base. Gentle and Silky
I love the way this moisturizer goes on. It is very gentle and silky on my sensitive skin. It absorbs quickly and does the job. I have even loaned it to my daughter and she likes it too. LovelySkin Customer
Verified Purchase
Good moisturizer
I like this moisturizer a lot, I use it under my sunscreen. However it is quite pricey for the small amount you get so I docked a star. CupcakeKitten
Verified Purchase
EltaMD AM Lotion is my go to!
I was introduced to the EltaMD line by my aesthetician to help with my sensitive and rosacea prone skin. I've highly recommended the AM lotion to my friends and continue to do so to this day. The AM lotion is lightweight enough to apply additional lotions and makeup on top of it without my face feeling cakey / heavy but the lotion moisturizes my skin all day long. I use it with the SPF46. I can't live without my EltaMD! kermygrl
Verified Purchase
Wish I had found Elta sooner
I've spent the last decade struggling with adult acne, especially after I had my daughter. Using only "natural" products for fear of putting any chemical or anything "unnatural" on my skin. This whole skincare line has completely changed my skin in a matter of a couple weeks. My skin is unbelievably smooth, even blackheads are diminishing. I recommend this whole line to anyone struggling with acne. SGBreeze
Verified Purchase
Perfect moisturizer for oily skin
This moisturizer is lightweight and perfect for oily skin. It has ingredients to reduce trans-epidermal water loss, so it is great to use with retinol or acid products. Love this moisturizer!
Didn't know I could be so enthusiastic over a moisturizer. The texture is elegant and it pairs nicely underneath the EltaMD UV clear sunscreen. A must have. LovelySkin Customer
Verified Purchase
Must Have
This balances & moisturizes my skin perfectly. It is non reactive after more aggressive treatments. This formula also doesn't leave sticky or heavy residue, so makeup applies beautifully. Not a clogged pore in sight & leaves a dewy glow. Will not be without keep two in back stock just in case! Perfect Moisturizer!
This moisturizer was recommended by the skin care specialist at my dermatologist's office. I have dry skin but this light moisturizer works well with my moisturizing sun screen and under makeup. LovelySkin Customer
Verified Purchase
Great product
I recently bought this after reading the positive reviews on beautypedia... I'm happy I did. It is a really great, affordable, daily moisturizer. Not heavy at all feels great on my skin. I love everything I have used from Eltamd. It is a wonderful brand. LovelySkin Customer
Verified Purchase
Great Daily Moisturizer
I've been using this for over 6 months daily. I have been using in conjunction with vitamin C and other products, so I am not sure how much brightening this is doing, but I'm sure it's not hurting! It leaves skin moist and plump without a greasy feeling. Try it out! LovelySkin Customer
Verified Purchase
My new moisturizer for lot of reasons
I've been looking for a new moisturizer for a really long time. Years actually. I've tried everything from grocery store brands to a $400 cream (yep, I actually did that - no idea what I was thinking). I kept going back to this one grocery store brand because I really liked how easy it was to apply and that it didn't fee sticky or too thick. But I just couldn't shake the feeling that it probably didn't have the best ingredients/chemicals. I finally gave this EltaMD AM a try and I really like it! I actually use it both morning and night because I have serums, etc., so I'm not looking for a do it all moisturizer or SPF. What I AM looking for is something that goes on smoothly and hydrates. I love that it glides on and takes just a bit to soak in. This way I'm not rushing to try and spread it before it dries. I can actually take a small amount and spread it all over my face, neck, and chest. It has a really nice consistency for my dry skin - not thick and sticky. I also love the airless pump. I did a lot of research on this cream and it includes the niacinamide and other ingredients I was looking to replace in my store brand. Plus - on sale at LovelySkin, it was only a couple of dollars more than the overpriced grocery store brand! I have pretty dry skin so I always follow it up with my facial oil. Fantastic Fragrance Free Moisturizer
This moisturizer is wonderful. My combination dry skin loves it. It is my holy grail product as far as moisturizers go and I have tried hundreds of them over the years. I highly recommend! LovelySkin Customer
Verified Purchase
Best ever
Acne prone skin with hyperpigmentation undergoing tons of chemical peels and this moisturizer keeps me moisturized without breaking me out. Great product. LovelySkin Customer
Verified Purchase
Lightweight and lovely!
I LOVE this face lotion. I received some samples and used it for a few days and had to buy it. Very lightweight. Non-greasy. I have combo skin with some rosacea and melasma but this feels so good on my skin and I feel like it's helping balance my skin tone. Highly recommend. KellyP824
Verified Purchase
Good moisturizer
This moisturizer goes on smoothly and leaves my face feeling wonderful. I've been using it for while and I'm happy with the moisturizing effects of this product and will continue to use it. Really love EltaMD products LovelySkin Customer
Verified Purchase