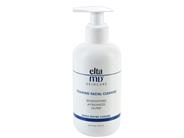 Reviews For
EltaMD Foaming Facial Cleanser
$27.50
250 Results
Unsure
After 2 weeks approximately of using this line my face is breaking out. Some days my face gets oily too. This cleanser is very gentle and foams in a way (good way) I have never experienced before. Perhaps I just need something with acne medicine in it. daily deep but gentle clean
I have really large pores in my T-zone that get clogged every single day. Keeping them clear has been extremely frustrating and often times damaging to my skin. My med-esth. recommended I use a daily enzyme cleanser and this was one on the list to try. I've been using it twice a day, every day, for a few weeks now and have seen a significant difference. Although there's not a lot that can be done to shrink pore size, EltaMD's foaming cleanser goes a long way toward keeping my overall complexion looking clean and healthy. LovelySkin Customer
Verified Purchase
Perfect face wash
I love this face wash! I use the entire EltaMD face care line. I have super sensitive skin, am allergic to everything, and this stuff is amazing. It's just a cleanser
I wanted this to make my skin feel super clean and moisturized after, but I feel like I need something more to really feel clean and my makeup to be removed. AMAZING
THE BEST FACIAL CLEANSER I HAVE EVER TRIED Best Face Wash
My dermatologist recommended this face wash for me to try!! This is by far my favorite face wash!! I love how it leaves my face feeling so clean and refreshed!! I love how it actually foams when you use it. I've used other foaming face cleansers and they really don't foam up like this one does!! I would recommend this face wash to anyone!! LovelySkin Customer
Verified Purchase
New favorite cleanser
I had a product that I already loved but my esthetician told me about the product and promised I would love it. It's amazing and I'm hooked. Definitely recommend this product. LovelySkin Customer
Verified Purchase
face wash
Excellent face wash for acne prone sensitive skin that does not dry out the skin Good cleanser
My dermatologist recommended this cleanser after my peels. Pros: gentle, good price point and cruelty free. Cons: does not remove sunblock completely, the foam tends to leak out of the bottle and clog the pump. I would purchase again. PlanetElena
Verified Purchase
Fabulous product
This is smooth, soft and delightfully foamy... leaves my skin feeling rehydrated and clean at the same time!! LovelySkin Customer
Verified Purchase
Wish I had found Elta sooner
I've spent the last decade struggling with adult acne, especially after I had my daughter. Using only "natural" products for fear of putting any chemical or anything "unnatural" on my skin. This whole skincare line has completely changed my skin in a matter of a couple weeks. My skin is unbelievably smooth, even blackheads are diminishing. I recommend this whole line to anyone struggling with acne. SGBreeze
Verified Purchase
Love this wash!
Great everyday wash! Removes dirt and makeup without over drying. I definitely will buy again. LovelySkin Customer
Verified Purchase
The One I've been looking for
Since forever I've been looking for a product to wash my face with that doesn't make my face breakout as soon as I use it and I found it! The quality of this product is amazing and my face feels fresh and clean!! LovelySkin Customer
Verified Purchase
Fantastic!
I love this cleanser. It's just a great, gentle everyday product that doesn't leave your face feeling stripped. It really foams up, too, like shaving cream, but your skin is soft and clean. LovelySkin Customer
Verified Purchase
Will buy again
Love it, the only face wash that I use that feels like it gets my skin clean without being overly stripping! LovelySkin Customer
Verified Purchase
Gentle and effective EltaMD cleanser
This is a gentle, no-nonsense kind of cleanser. It gets the job done without any fancy fuss. I like the pump style bottle. Very easy to use in the shower. I like that my teenage kids can use it too without being too harsh for their young skin. It has a very slight, soft smell. It's not floral or overwhelming, just a lovely clean smell. LovelySkin Customer
Verified Purchase
Fresh and foamy cleanser
This is my first purchase of this cleanser, and it won't be my last. I have sensitive, combination skin (normal/oily). After using this cleanser, my skin feels nicely cleansed, fresh and not irritated or tight. Clssycalildy
Verified Purchase
Squeaky clean
I love this cleanser, both my daughter and I use it. It gives that really clean feel without the dryness. My daughter has sensitive and hormonal acne. Seems to help her a lot, Tkedwards
Verified Purchase
Gentle cleanser
I have used this cleanser for years. It is gentle, easy to apply and lasts a long time. It is not greasy or drying. I tried the other EltaMD cleansers but prefer the foaming cleanser. LovelySkin Customer
Verified Purchase
Review for Elta MD Foaming Facial Cleanser
I purchased this cleanser several weeks ago after my skin became really irritated from another cleanser I had been using for years. Initially, I was concerned. After using the product for several days, I noticed a decrease in redness, irritation and my skin's condition began to improve. I like that the cleanser is fragrance free, oil free and ph balanced. I would highly recommend this cleanser for someone who has sensitive, rosacea-prone skin. The product removes all traces of dirt and oil gently without harming the skin. I use the Elta MD Sunblock as well. LovelySkin Customer
Verified Purchase
feels / smells great
I love this cleanser! I will buy it again! LovelySkin Customer
Verified Purchase
Hydrating
Nice foamy texture. Smells clean. Does not dry out my face. Clean and clearer skin
This soap I bough for my face was because it seemed to be less abrasive and harsh on my sensitive, acne rosacea probe skin l. 6 days and I already see an improvement along with all the other products I have purchased. Glad I researched and found this. I hope that it continues to have positive results for my face in the following months and hopefully many years to come because quite frankly as I have said in my other review my body internally and externally gets immune to this and stops working and then I'm off in search of something else. So I'm praying this has positive life long lasting effects. Good luck ladies and gentlemen on your health journey and to a beautiful you. God bless! Ilovemy3kids100
Verified Purchase
Wonderful
I'm sure glad I took a chance ordering this product. The cleanser is so smooth and silky. It leaves your skin super clean without drying. A little goes a long way. This product is definitely a keeper. allaboutcats
Verified Purchase
Favorite
This is the best cleanser I've ever used. Normally my face is red after I wash it but I've never thought much of it. This cleanser foams up a lot and is super gentle. My face is not red after cleansing but yet it looks and feels super clean and soft. I'm very happy with this wash and will continue to buy it! LovelySkin Customer
Verified Purchase