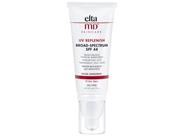 Write a Review - Receive 50 Rewards Points!
Tell us your thoughts about EltaMD UV Replenish Broad-Spectrum SPF 44 so we can help you find the right products. With your review, you'll also receive 50 Rewards Points. Please note that it may take up to 72 hours for a review to appear on site. All reviews are subject to moderator approval.
Write a Review
25 Results
Reliable
I have been using EltaMD sun products in many forms for several years. They make a good product that works. Enough said!
Superior Protection
I feel confident that this sunscreen offers superior protection. I need to use a moisturizer under it because my skin is very dry.
Not a fan
I really enjoyed the UV clear formula, but this one is causing me all sorts of issues. First of all, I can really see it on my skin, which looks like I dipped my face in white flour. You can only apply it onto completely dry skin, which my skin never is. If it's even slightly wet or sweaty it wouldn't go on. Then, it sits on the skin very heavy, you can feel a thick sticky layer that doesn't let your skin breathe and also makes you feel itchy and makes you want to scratch it off. Wouldn't buy this again and in desperate need of a new sunscreen now.
EltaMD SPF 44
This moisturizer goes on smoothly and get absorbs by the skin. The moisture lasts all day and is not oily. I think it's terrific.
Great for gym
I use this one for gym. Feels comfortable on skin and water/sweat resistant. Perfect for gym!!
sheer and light, very good
Very good sunscreen! Sheer and light, with no color added. I use this and the tinted version alternatively. I highly recommend this physical sunscreen!
Nice, but....
This is a very nice moisturizing SPF. The only problem I have with it is that it does not play well with my double wear foundation. I will save this for days at the pool.
Thick product
I love EltaMD sunscreens, but this particular product was thicker/heavier than what I was looking for. I wanted a daily sunscreen and this is just to heavy to wear daily with make up. I will use this for my body but not for my face.
Change the container
Almost impossible to dispense from its container design. Product feels rich on skin but not happy with the white face look. Hard to make it disappear into skin after you struggle to dispense it.
Elta MD UV Replenish broad-spectrum spf 44
I love the other EltaMD sunscreen products. I am sure this product is very good sun protection, but I gave 4 stars because it was too greasy looking on my face.
on the fence
I am on the fence about this one. It dries down matte while still being moisturizing, which is really awesome. I also love that is is 100% mineral. Also, there is no shimmer. I saw mica in the ingredient list and I was worried it would be needlessly shimmery - it is not! But it does leave a white blueish tint from the titanium dioxide. I am light skinned with warm undertones and I still need to wear foundation on top of this sunscreen to cancel out the blueish cast, unfortunately. I think I may need to go back to an EltaMD product that is zinc + octinoxate for a true invisible sunscreen application.
Great product
This is a good product, not only protect my skin, also has antioxidant ingredient. Works perfect with my make up, very lightweight. I love it.
Amazing!
I love this facial sunscreen! It doesn't smell like sunscreen, and it's waterproof! I love the coverage and scent, will be my go to for facial sunscreen when at the beach, pool, golf, etc.
Great Product!
I love this product. It is one of the few mineral sunscreens that are truly mineral. It goes on smooth.
Excellent for Sport
This gentle but highly effective sunscreen has proven itself during an all-day sail and a three mile run. Still new to the product... To those who worry about white cast--just add a bit at a time and massage it into the skin. I use two thin layers. The white cast is just an indicator of the active ingredients, so it is not a negative per se. Just let it soak into the skin for a few minutes. There is a moisturizing effect, which I find very soothing. The product does not melt off your face during activity. I have not tried this under makeup yet, so am interested to hear others' experiences with that.
Elta's Latest
I've been a fan of Elta products for many years. With that said, this latest offering is fabulous as an extreme sports sunscreen. It contains clear zinc which means no gunky accumulation of white gob around your eyebrows and nose. It does spread well but like all sunscreens you need to warm this by rubbing your hands together to get it to spread easily. It's a great product but not for everyday. It's an extreme sports or all day in the sun item. If you "cut" it with a creamer Elta product, it spreads nicely. However, that would defeat your goal of full protection
Good stuff
I have a lot of sunscreen. I find Elta sunscreen is much less oily, and when I perspired the sunscreen still stay unlike other brand which shows especially when I dabbed tissue on my face. Happy to finally find a sunscreen that truly works. Happy purchaser.
Left Much To Be Desired
This product was better than some sunscreens I have tried, but for the price, I was not impressed with its performance. First the pros: (1) high SPF rating and (2) non-irritating for my sensitive skin. Now the cons: (1) heavy feel and (2) left a substantial white cast that did not dry down clear. Personally, I was not impressed with this product and would not repurchase.
EltaMD UV Replenish Broad Spectrum SPF 44
My husband recently the Blue Light and needed a good sunscreen. He used this product after skin was almost healed. You have to stay out of any ultra violet light for many days. It absorbed well and kept skin in good moisture. He continues to use it and always will!!
Finally!
Finally a good mineral sunscreen that does not dry out my skin. Others say they are moisturizing, but this one means it!
Still deciding
I love EltaMD products and, I'm still deciding on this one. It's not as hydrating as it claims, but it seems to stay on your skin and create a very strong protective shield. I think it's great for protection maybe not as moisturizing as it may appear.
White cast :-(
I was so excited when I heard about this product and ordered it immediately since I love Elta MD UV Physical. I was hoping that this would be a good sunscreen to wear on a good skin day or under make up. However, it has a very noticeable white cast, which does not disappear, such a disappointment. I would not recommend this product. I have very fair, sensitive, acne-prone skin.
This goes where I go!
I only use sunscreens if they have zinc oxide or titanium dioxide, and this one has both for perfect sun protection. The pump makes for easy application, and I take this with me whenever I am outside. Love Elta products!
Elta md
I normally love EltaMD. The products are excellent. However, I do not like the consistency of the sunscreen it is very thick and leaves a white coat on your skin. If you are looking for sun protection, this might be a good product, but if you don't like any residue on your skin, this is not the best.
Great Product
I love anything EltaMD, and this is certainly no exception! I love the level of protection this product provides, the moisture level and the smooth creamy coverage going on.