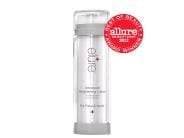 Reviews For
elure Advanced Brightening Lotion
32 Results
great product
I love this product, evens my skin tone LovelySkin Customer
Verified Purchase
Great product!
I have been using it for 15 days since I received it and all of the dark spots are looking lighter... LovelySkin Customer
Verified Purchase
love it.
started using it as soon as it came on the market. used it 2x a day -- then went to 1x a day. it really evened out my skin. i stopped for a while and the uneven skin came back. now i'm using it again and am happy with the results. LovelySkin Customer
Verified Purchase
amazing!
i have struggled with discoloration since 2004. elure gets rid of dark spots faster than any other dark spot treatments i have used, including prescriptions from my dermatologist, and there is no residual redness or discoloration from either the product or hyperpigmentation. leaves skin moisturized and not greasy. LovelySkin Customer
Verified Purchase
Elure Advanced Brightening Lotion
Fantastic product that really works! LovelySkin Customer
Verified Purchase
Working for me!
I wanted to try this Elure product after seeing only negligible results from the Chanel line. I was really surprised at how much this Elure product had faded my sun spots on my nose and around my eyes/cheeks. I did not have large or very dark spots, however they were noticeable sun spots and after about a month of dedicated application, I saw great improvement. After washing my face, I only pat dry so that my face is still moist before I use the product. I put one pump on fingertips and pat it in on the problem areas. I let it dry before applying the second lotion. I don't know why it can have good results with some and not others. I have sensitive and oily skin, and had no negative reactions to this Elure product. I will be ordering it again. LovelySkin Customer
Verified Purchase
Did Not Work For Me
I anticipated better results after reading some great reviews about this product. I bought it specifically for the "brightening". I do not feel that my skin is any brighter or that any of my sun spots have noticeably lightened. I used Precision MD previously and I will definitely go back! LovelySkin Customer
Verified Purchase
Doesnt work for me
I have medium melasma on my forehead and upper lip area. I purchased this with the hopes of lightening the problem. I used the whole bottle and the cleansing wash that came with it and didnt see any difference. Granted, my skin felt softer and more radiant but no there was no lightening of my trouble spots whatsoever. LovelySkin Customer
Verified Purchase
recommended by dermatologist
This product was recommended to me to use prior to fraxel laser treatments. The results of the fraxel was better if people used this product at least one month prior. I since have been using the product post laser treatment and people are noticing my skin being clear and refreshed looking. It is hard to know whether it was the product combo with the laser or if just this product alone, however I am going to keep using it to continue to reduce the age spots. LovelySkin Customer
Verified Purchase
Not working
Using for about 5weeks now. Melasma not improving at all. Texture of my skin looks worse. Wish I had returned it sooner. Now its too late. Aldo have been using religiously with the night cream. Just not for me. lauranicole6
Verified Purchase
seeing results
I have tried every product under the sun (no sun pun intended). This is the first product that I am starting to finally see results. My sister, like myself, has melasma, and I sent her a bottle. I am only a month in, so seeing some results is actually exciting. LovelySkin Customer
Verified Purchase
Its a keeper!
I was sent enough of this product as a sample to make me want to keep using it. What I like the most is my skin looks brighter. I have both freckles and age spots and they are both lighter when I use this product, but I really like the over all brightness I feel it gives my complexion. LovelySkin Customer
Verified Purchase
Did not work for me
Elure was recommended to me by several dermatologist friends as the gold standard to fade age/ sun spots. After using it for six months, my conclusion is that it did not work for me. It may be that my spots are just too stubborn--even two rounds of IPL did not not lighten my spots. My dermatologist believes that I get too much sun exposure, but I believe I am pretty diligent about sunscreen and hats. I do think it improved my skin texture, but I am going to discontinue use for now. LovelySkin Customer
Verified Purchase
Sensative skin , be aware !
I actually cant even give it 1 star, but I didnt have another option.I started using this product along with my daily skin care routine. I used this product for a month, once a day in the morning. I did not notice any difference at all compared to other skin care lighting products I have used in the past. It was recommended by my dermatologist. After using this product for a month I started to notice little tiny bumps on my face. I changed nothing with my skin care routine, or products. After applying it one morning with in an hour I started to get little bumps/ blisters on my face, so needless to say I stopped using it for about 5 days, and did my normal skin routine. I tried it again one morning, and broke out in a HUGE itchy rash on my face! Fortunately my dermatologist was able to see me that day and prescribed hydrocortisone cream to put on my rash. This is just a word of caution, and Im not speaking badly of the product , but be aware of an allergic reaction, even after using this product for a month , an allergic reaction can still happen, as it did to me. LovelySkin Customer
Verified Purchase
Didnt work for me
I used Elure faithfully for a year and a half after my doctor recommended I stop hydroquinone products for my melasma. I used the product exactly as directed and NEVER left the house (not even to go to the mailbox) without a 50 SPF zinc based sunscreen layered with a mineral powder sunscreen plus a hat. I reapplied sunscreen faithfully and even wore a hat in the car. I never went in direct sun between the hours of 10-2 unless it was unavoidable (e.g. walking from my car to my office building). My melasma did not improve. In fact, the longer I was off the HQ, the darker my melasma got. I have had melasma for decades and nothing but HQ seems to work. LovelySkin Customer
Verified Purchase
Great product
Ive been using this lotion for about a month now. I havent noticed the brightening yet but my skin tone has definitely evened out. I have oily skin so I was worried my skin will be too greasy with the 2 step application however it doesnt feel greasy at all. Overall it is a great moisturizer and I will definitely purchase it again. LovelySkin Customer
Verified Purchase
Slow and expensive, but effective
I have very pale skin. I freckle and get brown spots easily After a month of once per day use at night, the freckles and brown spots were much lighter. After three months, the freckles and spots were almost gone. I used Elure Advanced Brightening Lotion with an over the counter product with retinol, to give the Brightening Lotion a boost. My skin is too sensitive to use prescription retinol products, but this combination works well for me. Even though the brown spots are not completely gone, my skin looks dewey and smoother than before. You get a small amount of lotion for the price, but its a lot less expensive than lasers. Also, you have to wear a high SPF sunscreen all the time or you can undo in one afternoon in the sun, all of the lightening you have done in three months using Elure. LovelySkin Customer
Verified Purchase
I think this works!
Ive been using this product for almost one month now. My skin is definitely more radiant, and the brown spots on my cheekbones have faded, though theyre still visible. Compared to other brightening products, most of which did nothing for me, this one does work. The ultimate goal would be for it to eliminate the brown spots, but Im not sure that will happen. Im also a little concerned about Elures disclaimer that this product TEMPORARILY works. I assume it works as long as you keep using it? That does imply a costly, long-term investment in this product. But overall, very happy. Good Product to Brighten the Face
This product is much lighter in texture than the Elure night cream whihc I find it too oily for me especially in summer weather. Hence, I am using this lotion for both day and night. However, I will layer with anti-aging serum for night. Overall, it helps to lighten my overall face but cant really get ride of the pigmentation. LovelySkin Customer
Verified Purchase
Too early to judge
This review is really premature as I have only been using the product for 10 days. I am basing my 4 star rating on a sense of hope. I have read good things about it. I will say that very little comes out from either side of the pump top and it is very pricey. LovelySkin Customer
Verified Purchase
elure lotion
dermatologist recommended product to lighten dark patches on face - doctor said it might take a few months for results. just started using it a month ago so dont notice difference in spots yet but do think that the lotion has made skin smoother and firmer. after cleaning face, skin feels so fresh and smooth. am looking forward to lightening benefits. LovelySkin Customer
Verified Purchase
Best treatment for brown spots!
I have seen incredible results with Elure Advanced Lightening Lotion. It made my skin tone more even and got rid of all my brown spots! It is a must for anyone with sun damage! This is amazing
So, I used the full set of elure cleanser, lotion and night cream by dermatologist recommendation and after 12 weeks my skin looks AMAZING! In only a few weeks, it was feeling dewy and my friends were complimenting my glow. My Dr said this can be used with a retinol or even hydroquinone product for even better results. Love it! Effective but Expensive
Noticed gradual, and yet noticeable improvement in overall skin tone and luminosity, use product very cautiously in very controlled quantity, but it really cannot last long, I ended up only use it on highly pigmented check bone and upper nose area. LovelySkin Customer
Verified Purchase
Mild product
This product didn't irritate my skin, but really didn't lighten the brown spots that I got after menopause. I wanted to take a break from Obagi, and went back because I saw the spots get darker while off the Hydroquione.I think it's worth a try if you have mild hyperpigmentation.