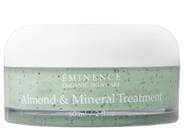 Reviews For
Eminence Organics Almond and Mineral Treatment
$44.00
8 Results
Great Skin Treatment
I purchased this for my granddaughter and from all reports, she's loving it! LovelySkin Customer
Verified Purchase
Great exfoliator!
Love this scrub because it provides excellent exfoliation for my sensitive skin. Jenindy
Verified Purchase
Almond & Mineral Treatment
I just love this product. My skin looks amazing. Nice masque
Good, but not outstanding. I like the granular textures, it does a good job exfoliating. However, among all the fabulous Eminence masques, this one isn't the top of my list. I just doesn't give my skin that glow like the others. But, does have a nice texture and worth a try. LovelySkin Customer
Verified Purchase
Eminence Almond Mineral Treatment Mask and Scrub
Eminence has a great organic line of products. This Almond and Mineral Treatment is a mask and gentle scrub all in one. It helps to renew my skin and make it refreshed, smoother, and supple. I use this product before a special event to allow my skin to look younger and glowing. The product does tingle and leaves your skin feeling renewed. I tend to have thin sensitive mature skin and this product with its organic ingredients works for me. LovelySkin Customer
Verified Purchase
Clears Up Overnight!
I started using this product as a recommendation by my Esthetician. I have horrible cystic acne breakouts on my chin and this seems to be the only product that works and helps. I have been applying this every other night for 10 minutes. The redness goes away and I happily apply my other Eminence serums over it to help my chin recover. After using this for the first time, I could not believe the dramatic improvement. I look forward to using this and can see noticeable changes. The treatment gets warm and there is some heat, however, don't be scared as it never gets too hot. I brush my teeth, put the mask on, rise it off and go to sleep. I highly recommend this product to clear up your skin! The almond "pebbles" act as a gentle exfoliant and help clear up any future breakouts. LovelySkin Customer
Verified Purchase
Great exfoliator and masque
This treatment acts as both an exfoliant and masque. It warms up on your skin as a masque while drying and washes away to reveal smooth, polished skin. LovelySkin Customer
Verified Purchase
almond and mineral treatment-eminence
Great gentle for last minute sluffing of skin before applying primer and then makeup...love it! Wonderful for skin. LovelySkin Customer
Verified Purchase