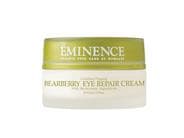 Reviews For
Eminence Organics Bearberry Eye Repair Cream
$70.00
8 Results
Lovely feeling
So far, I love these eye cream. It's light and not greasy. Diminishes my wrinkles and crow's feet (I'm 53). It also brightens my eyes. I plan to purchase this again. JodieSnavely
Verified Purchase
SO FAR I REALLY LIKE IT
I cannot use products with retinol, parabens, and fragrance. This product was suggested to me by a dermatologist. I've been using it for a few weeks, and so far so good. Most eye products that I was using absorb so quickly into my under eye area that in two hours, it was very dry. This product is thick and absorbs quickly and continues to moisturize all day. Eminence Bearberry Eye Cream:
I have used Eminence products ever since they came out. I bought this eye cream, as I love all their products and I''m happy I did! It goes on smoothly...a little goes a long way! Thanks Eminence and Lovely Skin for having this in your Eminence line! LovelySkin Customer
Verified Purchase
Highly recommend
I love this eye cream! Its the perfect consistency and smells great. Ive been using it for about 2.5 years and I cant live without it. LovelySkin Customer
Verified Purchase
Good but not great.
Felt hydrating but not sure it really did much else for the eye area. LovelySkin Customer
Verified Purchase
Highly Recommend
I purchased this eye cream after it was recommended to me by the esthetician who gave me the most amazing facial using Eminence products. I have been using it for approximately one month and it really seems to have improved the lines around my eyes. Love this product! LovelySkin Customer
Verified Purchase
Non-irritating but powerful moisturizer
Smoothes the skin around my eyes, removing the slight scaling that has prevented me from wearing shimmery eyeshadow in the past. Does not irritate my eyes like some other products do. LovelySkin Customer
Verified Purchase
Great hydrator
Very rich, hydrating cream that does not irritate the sensitive skin around my eyes. LovelySkin Customer
Verified Purchase