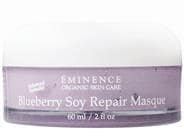 Reviews For
Eminence Organics Blueberry Soy Repair Masque
6 Results
Love it!
I use a microdermabrasion machine at home once a week. I always follow it with a masque. I bought this masque based on reviews. I wasn't disappointed! My face felt amazing. My skin was glowing and felt hydrated. And, the luscious smell really added to the experience. I would highly recommend this masque. LovelySkin Customer
Verified Purchase
Eminence blueberry masque
This is an awesome masque. My aesthetician used this masque on my face during a facial. It's very moisturizing. LovelySkin Customer
Verified Purchase
Power House Mask
This mask does it all. Smooths, hydrates and gives the skin a beautiful glow. It also smells like fresh blueberries, good enough to eat! Love it Theresa
Verified Purchase
More than just a great smelling masque
This masque does wonders for my skin. Whenever my skin feels dry and uncomfortable, this masque rejuvenates my whole face. Plus, it really calms your skin if you have blemishes or acne. Yes, it does smell wonderful and feel wonderful on - almost so good you don't want to wash it off. I absolutely love this product by Eminence. Kimberly
Verified Purchase
Blueberry Soy Repair Masque
This is a great masque and it smells so great! After using this masque, I really feel like my skin is renewed and calmer. LovelySkin Customer
Verified Purchase
Smells soooo good!
I could become addicted to Eminence masks. I have two now, and Im sure Ill collect more. They smell so good that it makes me want to use them nearly every day, which is a good thing. I have dry skin, so instead of washing my face in the morning Ive been applying one of the masks, then I rinse it off in the shower. This one smells good enough to eat -- it smells like a jar full of smashed blueberries, which it pretty much is, and it even has the blueberry skins in it. Take note that these masks are different. You are supposed to emulsify them with water to activate the ingredients, and its best to keep the mask moist if you are treating dry skin. I give it a little spritz halfway through with the Neroli hydrating mist. This is really fun to use because it smells so delicious and feels like you are putting healthy food on your face.