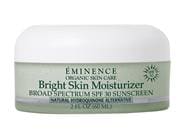 Reviews For
Eminence Organics Bright Skin Moisturizer SPF 30
$59.00
30 Results
Light and effective!
My esthetician introduced me to the Eminence line and recommended this moisturizer - I've been using it for two years and I absolutely love it. It's creamy, but not heavy, and my skin is visibly brighter after using it! Samazon
Verified Purchase
Must have
I have used bright skin moisturizer for approximately 2 yrs. I honestly can say it is fabulous! It has a nice light, creamy feel on my skin plus it contains an SPF 30 and it's light scent is amazing. The overall tone of my skin has drastically evened out. LovelySkin Customer
Verified Purchase
not worth the money
I have tried other Éminence products and liked them well enough to try this one. I wanted to reduce hyperpigmentation from acne scarring as well as to moisturize and protect my skin from the sun at the same time. While this product does even the appearance of skin tone, I had my doubts that the brightening effects would be strong enough for it to be worth the price. (Granted, I did not try it for more than a week or two, but somewhere on the packaging I read that it brightens only by 25%). Some drugstore sun protection temporarily evens my skin tone in much the same way. The other cons made me get fed up and want to return it for my money back. It was chalky, with a thick masque consistency, and left a visible white cast in many areas (I have light skin), even after taking the time to rub it in as best I could. The smell was okay for me, but some might not like it. One day when my skin was a bit dryer, it even created white pilling/beading on my face. A good moisturizer should...duh, moisturize and not flake! Since this made it not convenient for everyday use, I started looking to other sunscreens. Next, I think I will buy Cotz sunscreen for skin protection (which is said to also even skin tone) and I'll continue to use Éminence's Clear Skin Probiotic Moisturizer until that runs out. Overall, I'm glad I tried this product because its made me weary of Éminence as a brand, which I think tends to overprice even though other brands offer similarly organic, natural ingredients. I do not recommend anyone buy this product at full price without sampling first. LovelySkin Customer
Verified Purchase
Has SPF!
very moisturizing and I appreciate the SPF 30 so I can layer my sunscreen and prevent darkening pre-existing spots. Works great as last step to the bright skin line. LovelySkin Customer
Verified Purchase
Mixed Feelings
I love Eminence products, but not don't really care for this product. It doesn't absorb well and kind of flakes off my face. It has sort of a medicinal smell. I love that it has SPF but it leaves my skin also looking white. Good news is I haven't had any sun damage when wearing it. I will finish out the jar, but would rather just use a lightweight sunblock. Amberisavegan
Verified Purchase
use in conjunction with other bright skin products to see results
I'm using this as my day cream now. Since I started using the other bright skin products I am seeing some of the spots fade. As with all Eminence products, a little goes a long way; you can always add some water if it is too thick or dense for you. I have been an Eminence user for many years and except one new product I'm trying solely use Eminence. I still miss the cantaloupe and persimmon day cream...which is why I had to find another day cream and found this. The smell is my only eh about this product, but it fades quickly. Brighten & Protect
I love Eminence Organics Bright Skin Moisturizer SPF 30! This product was recommended to me by my aesthetician, so glad I was able to get it through LovelySkin. I appreciate the quick delivery & choice of samples offered with each order. I am a satisfied customer who keeps coming back! LovelySkin Customer
Verified Purchase
Not in love
In its favor, due to the green tint, there is no white cast with this zinc sunscreen moisturizer. On the other hand, it is very thick, and you need to be careful and not apply too much, or it will not absorb. Also, it needs to be pressed into the skin after spreading. However, if too much has been applied, pressing it in will still result in balls on the skin. LovelySkin Customer
Verified Purchase
Love the results!
A little bit goes a long way and yet I've already gotten great results. It's a strange green mask-like moisturizer and yet now I love using it and seeing the ultimate age-spot lightening. Not only that my my skin looks younger, brighter, in need of less concealer and foundation. Great stuff! No matter how much I use it's too much so it lasts a long time and so worth the price. Roseangela
Verified Purchase
AWESOME Eminence Product
I love eminence products, I have been using them for years LovelySkin Customer
Verified Purchase
best for dry skin
This sunscreen is great for dry skin. it is thick, but smooth and feels really hydrating. It spreads easily, and does not leave a white tint. It leaves your skin a bit shiny looking, but not oily in any way. the scent is unusual, to me it seems floral/soapy/herbal, but not in a perfumed way. Eminence doesn't disappoint
This is one of my favorite moisturizers by Eminence. I especially like this one because it has lightening properties in it. It is a very substantial cream that smooths nicely. I mix mine with a little of the C&E firming oil instead of water, and it works wonderfully. Highly recommend. LovelySkin Customer
Verified Purchase
Good sunscreen, gritty texture
I love most Eminence products. This sunscreen is good and does seem to fade dark spots ever so slightly. However, I can't take the texture which is a bit gritty. These seems to get worse as I get further into the jar. I prefer the Eminence Vanilla Day Cream over this one. LovelySkin Customer
Verified Purchase
Smells Amazing
I have used Eminence''s vanilla SPF moisturizer as well as their red currant one. This one has become my new fav! A little goes a long way and you feel the effects of hydration almost immediately. I think the first time I put it on, I went "ahhhhh!" The weather has been cold, warm, cold, really cold, etc. where I live, and this has helped my dry skin. In terms of brightening, I haven't been using it that long to determine if I will see a change. Time will tell. LovelySkin Customer
Verified Purchase
Moisturizer
I have been using this moisturizer for some time now and i have noticed a difference in my skin tone. Also it has sunscreen built in for added sun protection which is great in case i forget to wear my sunscreen. LovelySkin Customer
Verified Purchase
Great for a 35 year old who still breaks out
I've been using this product for 2-3 weeks now and I love it. My skin is softer and I've been breaking out less than with other moisturizers with sun protection. My skin feels moisturized, but not greasy. LovelySkin Customer
Verified Purchase
The Best Moisturizer EVER
I've used thousands of moisturizers with SPF, expensive and cheap, over the counter and under. I received this as a sample from a spa and loved it, decided to purchase the full-size product and LOVE it. It goes on smooth and soft, doesn't start to dry before you rub your entire face like most moisturizers with SPF. That's not the wow factor, this is No matter which makeup I decide to wear on top of this product it marries perfectly. Usually, with an SPF product, you have a white finish (said that it's too much product), and your foundation usually wipes off easily no matter how you bake it, set it, or apply it. Ladies, that's NOT the case with this moisturizer, a tiny little goes a long way and applying your foundation on top is like applying it to bare skin. I also love that you can sprinkle water to this product to spread it further. I highly recommend this as a daily facial moisturizer. Besides the fact it protects the skin and helps to lighten hyperpigmentation, it actually works. I'm a black girl with acne, hyperpigmentation and normal to oily skin. This product is heaven sent. LovelySkin Customer
Verified Purchase
Excellent product
This moisturizer is a thicker consistency, almost clay-like, but rubs in smooth and without any residue. It absorbs quickly and dries matte. The smell is very light and fresh. I haven't noticed any lightening of dark spots, but it wears really well under makeup and seems to balance oil through the day. The SPF 30 is a plus too! Love it! LovelySkin Customer
Verified Purchase
Daily lotion with spf
I have been using this for a couple weeks. It is thicker than the red currant & clear skin lotions I have used. There is no smell. I have not noticed any change in appearance of skin yet. I bought it as an spf lotion. I break out easily & my skin has been as clear with this as it was with the red currant & clear skin lotions LovelySkin Customer
Verified Purchase
Not for tender skin
This would've been a good product when I was under 40. I have to use this sparingly and only once a week. It is great for resurfacing your skin. But, if you are older or in a dry climate, it may be too harsh for your skin. It does the job it sets out to do, but may not be for everyone. LovelySkin Customer
Verified Purchase
My second pot!
I love this, it's creamy and moisturizing for my dry skin, but also leaves my skin matte! I have noticed it has helped lighten my sunspots, and prevented new ones from forming. I use this by itself, or under a skin tint/tinted moisturizer. I'm on my second pot, and I would buy this again! LovelySkin Customer
Verified Purchase
Great product!!!
I love this product. Light weight moisturizer with sunscreen. I use it especially in the summer. I like to pair it with the Bright Skin masque! LovelySkin Customer
Verified Purchase
not the best
I love most eminence products and hadn't tried this one before so I decided to give it a try. It's so thick and very hard to rub in, and if you don't rub it in well it leaves a white residue on your face. I don't love the scent it has either. Pretty strong, when usually they are mild. I'll stick to the tropical vanilla cream from now on. That one is great and has the sunsceen in it as well. LovelySkin Customer
Verified Purchase
Great multi-benefit moisturizer
I like this moisturizer for during the day b/c it not only moisturizes after I wash my face in the morning but it is fairly lightweight and has sunscreen in it with skin brightening properties for sunspots, blemish scars, etc. LovelySkin Customer
Verified Purchase
Helps with skin discoloration
This moisturizer is great to use each morning. It has SPF in it which will help your hyperpigmentation to not get worse when you are in the sun. Additionally, it helps reverse your existing hyperpigmentation and reduce your skin's discoloration. LovelySkin Customer
Verified Purchase