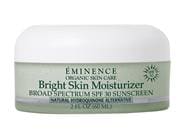 Write a Review - Receive 50 Rewards Points!
Tell us your thoughts about Eminence Organics Bright Skin Moisturizer SPF 30 so we can help you find the right products. With your review, you'll also receive 50 Rewards Points. Please note that it may take up to 72 hours for a review to appear on site. All reviews are subject to moderator approval.
Write a Review
24 Results
Brighten & Protect
I love Eminence Organics Bright Skin Moisturizer SPF 30! This product was recommended to me by my aesthetician, so glad I was able to get it through LovelySkin. I appreciate the quick delivery & choice of samples offered with each order. I am a satisfied customer who keeps coming back! LovelySkin Customer
Verified Purchase
Not in love
In its favor, due to the green tint, there is no white cast with this zinc sunscreen moisturizer. On the other hand, it is very thick, and you need to be careful and not apply too much, or it will not absorb. Also, it needs to be pressed into the skin after spreading. However, if too much has been applied, pressing it in will still result in balls on the skin. LovelySkin Customer
Verified Purchase
Love the results!
A little bit goes a long way and yet I've already gotten great results. It's a strange green mask-like moisturizer and yet now I love using it and seeing the ultimate age-spot lightening. Not only that my my skin looks younger, brighter, in need of less concealer and foundation. Great stuff! No matter how much I use it's too much so it lasts a long time and so worth the price. Roseangela
Verified Purchase
AWESOME Eminence Product
I love eminence products, I have been using them for years LovelySkin Customer
Verified Purchase
best for dry skin
This sunscreen is great for dry skin. it is thick, but smooth and feels really hydrating. It spreads easily, and does not leave a white tint. It leaves your skin a bit shiny looking, but not oily in any way. the scent is unusual, to me it seems floral/soapy/herbal, but not in a perfumed way. Eminence doesn't disappoint
This is one of my favorite moisturizers by Eminence. I especially like this one because it has lightening properties in it. It is a very substantial cream that smooths nicely. I mix mine with a little of the C&E firming oil instead of water, and it works wonderfully. Highly recommend. LovelySkin Customer
Verified Purchase
Good sunscreen, gritty texture
I love most Eminence products. This sunscreen is good and does seem to fade dark spots ever so slightly. However, I can't take the texture which is a bit gritty. These seems to get worse as I get further into the jar. I prefer the Eminence Vanilla Day Cream over this one. LovelySkin Customer
Verified Purchase
Smells Amazing
I have used Eminence''s vanilla SPF moisturizer as well as their red currant one. This one has become my new fav! A little goes a long way and you feel the effects of hydration almost immediately. I think the first time I put it on, I went "ahhhhh!" The weather has been cold, warm, cold, really cold, etc. where I live, and this has helped my dry skin. In terms of brightening, I haven't been using it that long to determine if I will see a change. Time will tell. LovelySkin Customer
Verified Purchase
Moisturizer
I have been using this moisturizer for some time now and i have noticed a difference in my skin tone. Also it has sunscreen built in for added sun protection which is great in case i forget to wear my sunscreen. LovelySkin Customer
Verified Purchase
Great for a 35 year old who still breaks out
I've been using this product for 2-3 weeks now and I love it. My skin is softer and I've been breaking out less than with other moisturizers with sun protection. My skin feels moisturized, but not greasy. LovelySkin Customer
Verified Purchase
The Best Moisturizer EVER
I've used thousands of moisturizers with SPF, expensive and cheap, over the counter and under. I received this as a sample from a spa and loved it, decided to purchase the full-size product and LOVE it. It goes on smooth and soft, doesn't start to dry before you rub your entire face like most moisturizers with SPF. That's not the wow factor, this is No matter which makeup I decide to wear on top of this product it marries perfectly. Usually, with an SPF product, you have a white finish (said that it's too much product), and your foundation usually wipes off easily no matter how you bake it, set it, or apply it. Ladies, that's NOT the case with this moisturizer, a tiny little goes a long way and applying your foundation on top is like applying it to bare skin. I also love that you can sprinkle water to this product to spread it further. I highly recommend this as a daily facial moisturizer. Besides the fact it protects the skin and helps to lighten hyperpigmentation, it actually works. I'm a black girl with acne, hyperpigmentation and normal to oily skin. This product is heaven sent. LovelySkin Customer
Verified Purchase
Excellent product
This moisturizer is a thicker consistency, almost clay-like, but rubs in smooth and without any residue. It absorbs quickly and dries matte. The smell is very light and fresh. I haven't noticed any lightening of dark spots, but it wears really well under makeup and seems to balance oil through the day. The SPF 30 is a plus too! Love it! LovelySkin Customer
Verified Purchase
Daily lotion with spf
I have been using this for a couple weeks. It is thicker than the red currant & clear skin lotions I have used. There is no smell. I have not noticed any change in appearance of skin yet. I bought it as an spf lotion. I break out easily & my skin has been as clear with this as it was with the red currant & clear skin lotions LovelySkin Customer
Verified Purchase
Not for tender skin
This would've been a good product when I was under 40. I have to use this sparingly and only once a week. It is great for resurfacing your skin. But, if you are older or in a dry climate, it may be too harsh for your skin. It does the job it sets out to do, but may not be for everyone. LovelySkin Customer
Verified Purchase
My second pot!
I love this, it's creamy and moisturizing for my dry skin, but also leaves my skin matte! I have noticed it has helped lighten my sunspots, and prevented new ones from forming. I use this by itself, or under a skin tint/tinted moisturizer. I'm on my second pot, and I would buy this again! LovelySkin Customer
Verified Purchase
Great product!!!
I love this product. Light weight moisturizer with sunscreen. I use it especially in the summer. I like to pair it with the Bright Skin masque! LovelySkin Customer
Verified Purchase
not the best
I love most eminence products and hadn't tried this one before so I decided to give it a try. It's so thick and very hard to rub in, and if you don't rub it in well it leaves a white residue on your face. I don't love the scent it has either. Pretty strong, when usually they are mild. I'll stick to the tropical vanilla cream from now on. That one is great and has the sunsceen in it as well. LovelySkin Customer
Verified Purchase
Great multi-benefit moisturizer
I like this moisturizer for during the day b/c it not only moisturizes after I wash my face in the morning but it is fairly lightweight and has sunscreen in it with skin brightening properties for sunspots, blemish scars, etc. LovelySkin Customer
Verified Purchase
Helps with skin discoloration
This moisturizer is great to use each morning. It has SPF in it which will help your hyperpigmentation to not get worse when you are in the sun. Additionally, it helps reverse your existing hyperpigmentation and reduce your skin's discoloration. LovelySkin Customer
Verified Purchase
Love this moisturizer
I had an esthetition use this moisturizer during a professional facial and I really liked the way it made my skin look. It took me a while to order it because it is targeted for different types of skin than describes mine. But, I figured since a professional used it on my skin and I liked it, I would buy it. I do not regret it at all. My skin has great tone and a healthy look to it. Its hard to describe, but Im glad I made the purchase. The scent is different than most of the Eminence products, but the result is the key. LovelySkin Customer
Verified Purchase
repeat purchase
I am on my third jar of this great moisturizer. It has helped me keep my sun damage under control and prevent new sun damage. Its a keeper! LovelySkin Customer
Verified Purchase
Great moisturizer - brighter skin
Since I have been using this product (almost 3 months) I have had many compliments on my skin. It looks brighter, feels better, and is definitely healthier. This product provides ample moisturizer for my dry skin. I just always add a few drops of water to the moisturizer prior to applying to my skin. Kimberly
Verified Purchase
The Best Day Moisturizer Ive Tried!
Ive used my share of moisturizers over the years and just havent found the one that brings the most out of my skin. I have freckles and my skin is pretty fair, so this moisturizer has helped brighten the appearance of my skin, all while protecting with SPF! I think Ive finely found the moisturizer I will use for years to come! very strong scent
I found the scent on this product, and the Brightening Face Wash VERY strong. In fact, it burned my eyes, nose and lungs. I tried to wear it for a few hours as the scents in this line are usually natural and usually fade, but this one did not. It continued to irritate me to the point I finally had to wash it off. I really wanted the product to work for me because I want its claims, but I could not take the scent and therefore returned the product after only one use. Generally speaking I love Eminece products, but not this one. LovelySkin Customer
Verified Purchase