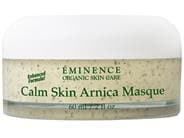 Reviews For
Eminence Organics Calm Skin Arnica Masque
$56.00
8 Results
Pretty good masque
This masque smells nice, and spreads on fairly easily compared to others I've tried. Only complaint is that it's difficult to wash it all off; I usually end up using the cleanser afterward to get it all off my face. Very moisturizing though! LovelySkin Customer
Verified Purchase
Love this!
I was recommended this masque to help with my redness in my face and it has slowly been helping. I love the feel of it and the texture. Definitely one of my favorite masques ever! LovelySkin Customer
Verified Purchase
Wow!
I used this mask for the first time and I am blown away by the results. My face is usually super sensitive and red and blotchy due to an ongoing battle with rosacea. I used this mask according to directions (it doesn't take much product to cover face) and was skeptical about only leaving it on a few minutes but WOW! My skin feels wonderful and looks more even and hydrated than it has in ages. A great buy. Will definitely buy this one again. KatieVL
Verified Purchase
Pretty good results in a couple weeks
Combined with the rest of the calm skin line, gradually made my skin smoother and less irritated, more even. Dryness was was absolutely fixed, even in winter, although I think the calm skin serum and moisturizer had a lot to do with improving the dryness. It does cause small patches of irritation of o leave it on too long g, but 10-15 is perfect and over a couple spaced out used, I started noticing a clearer look. Great products! Love it~
Calms, moisturizes, firms and makes my skin look and feel great! I use once per week or anytime my skin feels irritated. LovelySkin Customer
Verified Purchase
Soothes Irritated Skin
This masque is great for calming, irritated dry skin - I get dry patches in the winter and this does soothe those "sore" spots. It is moisturizing and helpful. I would give this 5 stars, but I do not care for the scent of this masque. It is not the most pleasant to wear. Kimberly
Verified Purchase
I love this mask!
This mask does what it says! I have sensitive skin with mild redness (rosacea). It really helps calm and soothe my skin. Brings down the redness and hydrates. I always make sure I have this in stock! LovelySkin Customer
Verified Purchase
Nada
I do not feel like this did a thing for my skin...did not impact in a positive or a negative way. I am one in a world of many, so perhaps it may work for you? LovelySkin Customer
Verified Purchase