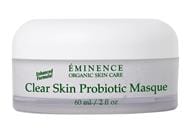 Reviews For
Eminence Organics Clear Skin Probiotic Masque
$56.00
41 Results
Must have
I've been using this masque for a few years and I still love it! I've given it to friends. It's cooling and hydrating. You can use it if you're breaking out, before you do your makeup, or if you've had a long night. Best Acne Moisturizer
Love this mask! helps lighten dark spots/acne scars! It feels refreshing on your face and has definitely helped with my acne. My acne and scars are much better and skin is smoother. A little goes a long way so while the price makes it seem expensive, the jar lasts a long time. It does sting/burn slightly when first applying but then goes away after a few minutes of rubbing in. Does hydrate your skin very well without making it seem greasy or oily. LovelySkin Customer
Verified Purchase
Probiotic Mask
Really like this mask. Does not get hard and flaky on your face. Does the job in 10-15 minutes. I like this probiotic line along with the probiotic cleanser. I would recommend to a friend. Already making a difference!
I'm so excited that this mask is already making a difference after just a few uses, two times per week. LovelySkin Customer
Verified Purchase
Cooling and fresh
Love this product. It definitely produces a serious cooling effect on your face - which I personally love - but then it dies down as it dries. Your skin feels really soft afterward, and it smells divine! RachelC
Verified Purchase
THE BEST MASK
Absolutely the best mask I have ever used. Calms and hydrates my skin instantly. LovelySkin Customer
Verified Purchase
Helped son's skin
This is a great product which helped my son's acne. LovelySkin Customer
Verified Purchase
Lovely feeling, not sure if it's making a huge difference
I bought this to help with pimples; I think it feels lovely on my skin but I'm not sure if it's a HG product like some reviewers say. My boyfriend's breakouts are a bit worse than mine, and he's used this a few times and likes it. Overall, I would say I like this mask -- not sure if I like it enough to buy at full price, but that could be because I need a different mask that helps to get glowing skin. I would say this gets an A- ... which is still a really good score! I think that about the entire Eminence line (what products I've used), but what keeps me coming back is the cleanliness of the ingredients. LovelySkin Customer
Verified Purchase
Love it
Great for all over the face or spot treatment LovelySkin Customer
Verified Purchase
Great Mask!!!
This mask both looks and feels luxurious. You are in for a treat when you apply this. It is so refreshing and cooling. I love that it helps fight breakouts without being harsh on the skin. I am battling adult acne (specifically hormonal breakouts on my chin) and I feel like this product helps calm everything down. Two downfalls in my option are the price and the fact that you have to use the product in a timely manner or else it will spoil. Those drawbacks aren't enough for me to take away a star though. This is definitely a 5 star mask. I just wish it were more affordable to keep in my skincare rotation. Best masque
I'm not sure how much of a significant improvement this mask makes in my skin clarity, but it feels wonderful right after use. I love the cooling cucumber feel to it and my skin feels lovely afterwards. Not sure of the lasting impact, but I'm going to keep buying this mask, as I love its clarifying effects.. AWESOME!
Use this twice a month on rotation with other products. Love the cool feel it gives as it dries. Does not tingle, but gives a cooling element as applied. Skin feels soft and glowing after application. I typically apply heavy, and allow to dry a bit longer and rinse with a washcloth. Great product. A must in your skincare routine. LovelySkin Customer
Verified Purchase
Another fabulous product
I can't live without this masque. This is the second time I have ordered it and it does miracles for my skin. So unlike any acne based products it does NOT dry out your skin; I can apply it unlimited, which I have by using it for 7 nights straight in a row and the result is absolutely perfect blemish free skin with a glowing complexion. I have also re-ordered the moisturizer for the second time and it's another must have. I consider the masque & moisturizer miracle products because somewhere in my mid to late 40s my skin started to change. I never dealt with acne nor sensitivity to any products I used on my face and almost over night it changed. These products are worth every penny!! Good product
This product is very good to control acne-prone skin. I love the cooling effect from applying the mask to rinsing out the mask. It has a grassy herbal scent but not too overpowering. I use this 2-3 times per week and really enjoy this product. IvyPhuong
Verified Purchase
ONE OF MY FAVORITES
Great masque for combination skin! You feel it working on your skin, but there is no discomfort. I've been using it once, every other week. I alternate with the Eminence Yam & Pumpkin Enzyme Peel, and my skin feels and looks great! I really recommend this masque. Alex369
Verified Purchase
cooling, soothing mask
Although nothing in my experience will truly cure adult-onset, hormonally-triggered acne, this mask does seem to help calm down my flares. It goes on cold and a bit tingly, and it seems to reduce inflamed lesions beneath the surface. A good product. LovelySkin Customer
Verified Purchase
Nice product
I have used this product a few times now. It smells fresh, feels like a thick yogurt consistency, and tingles upon application. It appears to be gentle on the skin and doesn't dry out my skin. I'm not sure if it's a holy grail product for me, but I will continue to use this jar to assess its long-term performance as I didn't notice a significant change in my skin after three uses. LovelySkin Customer
Verified Purchase
Soft and glowing skin
I have been using this mask for years in conjunction with the Eight Greens Phyto Hot Masque. The heat might be too much for some when combined, but the increased blood circulation leaves my skin looking healthier and glowing. Not sure how effective it is with clearing up or preventing breakouts since I use other acne serums on a daily basis. Clear Skin Mask
This is a product I purchased for my daughter to use when she had acne. She found that it helped a lot when her acne would flare up. LovelySkin Customer
Verified Purchase
Great For Acne Prone Skin
I have oily skin and get occasion break outs. This mask helps keep my skin clear and smooth. LovelySkin Customer
Verified Purchase
Love it!
I has definitely helped clear up my acne. Feels great. Soothing and refreshing! A must have masque. LovelySkin Customer
Verified Purchase
Gentle but effective
I had been dealing with severe breakouts caused by a change in my makeup formula for about three months. I have never used a mask for acne before, and I was worried it might irritate my skin, but this product has been very healing for me. Combined with changing my makeup, this has really helped heal breakouts and seems to keep them under control. I apply a thin layer to problem areas (for me, that's my chin and jaw line) and leave it on 30-45 minutes, then wipe with a wash cloth and warm water. When my skin was really broken out I did this about twice a week, now I use it as needed, about every 10-14 days. I tried the moisturizer as well since I liked this so much, but that caused irritation, so I will just be sticking to this and the other products I had been using. Highly recommended! Love this!
I use this product religiously–it's the only thing I've used to date that keeps normal breakouts at bay. LovelySkin Customer
Verified Purchase
Great mask!
This mask feels wonderful on your face! I don't have terrible acne, but for the occasional, hormonal breakout it has really been great. I use it in rotation with other masks, and it has really brightened my skin. It feels cool and tingly when applied (refreshing on those hot summer days), and your skin feels super clean, but not stripped when it's removed. It doesn't get dry and "cracky" on your face because of the consistency, which is nice. I will certainly continue to purchase this product. LovelySkin Customer
Verified Purchase
Masque
Love this mask! It cools my skin which feels so good if you suffer from acne ! My pores are visibly reduced after using this mask, and it makes my skin feel soft and refreshed. LovelySkin Customer
Verified Purchase