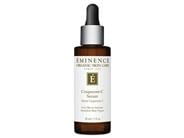 Reviews For
Eminence Organics Couperose-C Serum
14 Results
Rosacea Sufferer
As a rosacea sufferer for the past 10+ years, I hoped this would help with my broken capillaries/couperose which I have had way before I knew I had rosacea. I have been using this product for a little over a month now twice a day as indicated and I have not seen any visible results. It's quite sticky (sort of like a very light coat of honey) on my skin too. Perhaps I am using too much or not enough. Whichever the case may be, it has not helped any of my broken capillaries. I also use this on my entire face not just targeted areas. As with most products, they work differently for everyone so do not let my review deter you from trying the product. I tried the product on a whim. I'm sure like any other product, you need to use it for a while before seeing any results so I do intend to buy another bottle and continue using it to see if it eventually will work. Again, I have had broken capillaries for more than 20 years that have gone untreated so it may take more time than younger, fresher skin. I have also noticed breakouts on my chin and forehead area, however, I am not sure if this product has been causing the breakouts or if it is another product I bought to use in conjunction with this one. This is my first time buying this product and using this website. Hopefully I will be able to post another review later or edit this one if I see any changes in the months ahead. LovelySkin Customer
Verified Purchase
Soothing
This serum is exceptionally soothing and helps to reduce redness as well as inflammation when my skin is irritated. LovelySkin Customer
Verified Purchase
Reducing broken cappiliaries on my face
Have not seen any improvement as yet but am hopeful it will work in time, hopefully! LovelySkin Customer
Verified Purchase
Love this product!
This is a wonderful version of vitamin C. I have really noticed a more even skin tone after using it for a few weeks. Easy to apply and smells great. LovelySkin Customer
Verified Purchase
Effective on deep wrinkles!
I love this product. I have a deep vertical wrinkle that started a year ago. When I started the Couperose-C serum I noticed it diminishing right away. I ran out of my serum and went a week without it. The wrinkle became deeper again. This sold me on this product! It's a favorite! LovelySkin Customer
Verified Purchase
Love this product!
I have sensitive skin/ rosaceaand have never been able to tolerate any topical vitamin c products until I tried this! It is non irritating, non stinging and I have noticed a healthy change in my skin since using. I am 55 years old and am aging nicely due the wonderful products offered at LovelySkin! This is definitely worth purchasing! Good product
I love Eminence products and like the idea of using natural products. I'm, however, not sure this is as effective as non-natural alternatives. I have used other vitamin C serums which are not natural products, that seem to show a more appreciable difference. The serum absorbs nicely and is non-irritating for my sensitive skin. I think my skin appears brighter, however as noted I think there are more potent vitamin C serums on the market. I would recommend this product, however I'm not sure I would purchase this again for myself. LovelySkin Customer
Verified Purchase
another great eminence product
Nice serum, helps improve skin tone and texture. LovelySkin Customer
Verified Purchase
Impressive with the Result !
After using the product for a couple of days, may be two or three days, I noticed dramatic improvement of my complexion and texture. So I ordered another one for my sister. I will definitely continue to use it. Although it is a bit of expensive product, it's worth spending money on. LovelySkin Customer
Verified Purchase
Wonderful
excellent serum. You only need one or two drops to cover your face. Love the organic ingredients and the good for you feel. Very soothing and beneficial for your skin. I have tried other eminence serums and love them all. I am hoping to try the eminence moist. in the future. I would recommend the masks too. LovelySkin Customer
Verified Purchase
Good
Works well. I have severe redness on my checks. My skin is super sensitive and acneic. This serum works great. Its very soothing and most of the redness is gone. I use it twice a day. LovelySkin Customer
Verified Purchase
makes a difference
I have noticed a lessening in the deeper lines around my mouth and eyes since using this product. A little goes a long way and it seems to really work. LovelySkin Customer
Verified Purchase
It works!!!
I use this serum morning and night on freshly cleansed skin to combat the redness in my skin and it really works! I buy 2 at a time so I never am without! i love it
my skin has improve since i started using this product, everyone has notice it!! LovelySkin Customer
Verified Purchase