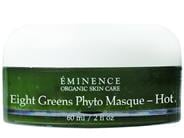 Reviews For
Eminence Organics Eight Greens Phyto Masque - Hot
$54.00
Good Cleanse & Brightens my skin
The "heat" builds with this mask (it slowly sneaks up on you) and it does leave my skin red for about 1 hour after rinsing the mask off. After using this mask a few times, I noticed that my skin seemed brighter. I like to follow up with a light mist of toner & a dab of facial gel. My skin actually feels like it is breathing. LovelySkin Customer
Verified Purchase
Eight Green Photo Masque - Hot
I was not a fan of this product but I will continue to use other Eminence products. It irritated my skin but I also left it on longer than the 10 minutes that were recommended on the container. Lovely Skin was really helpful with allowing me to return it. I will be purchasing another Eminence product that has been working well for me. AMAZING
Used after an exfoliator, it gives the results of a facial. The heat and warmth are very tolerable to me personally. I never dilute it with water. A must try especially if you are over 30. LovelySkin Customer
Verified Purchase
Love Eminence Organics
Every product from Eminence that I tried has a scent that is refreshing, but this one is in my top list. My skin becomes softer and smoother after application as dead skin is removed, so the serum that I use after this has better penetration to the skin. LovelySkin Customer
Verified Purchase
Love a Hot Masque
This is one of my favorite masques. It makes my skin feel renewed. My skin always looks more radiant after using. It stimulates—my face does get warm and pink for about 10 minutes after removing but my fine lines and overall texture of my skin look better. Love this—don't be afraid of the "hot." SimplyMe
Verified Purchase
Revives tired skin
I've been using this mask for years. It's does it all: moisturizes, firms and helps clear hormonal acne. The "hot" version seems to work better for me for firming and plumping but be aware that your skin will be red for up to 2 hours–not something to use right before going out. LovelySkin Customer
Verified Purchase
Boost circulation and gives my skin a glow
I've been using the mask for years, and it leaves my skin softer and glowing right after. I love the mask and highly recommend it if you can handle the heat. Love this!
Love the results. Skin appears tighter. It's really not that hot and redness was minimal. LovelySkin Customer
Verified Purchase
Love!
One of my favorite masks of all time! Very good for skin that is sensitive to breakouts. LovelySkin Customer
Verified Purchase
Hot Mask
This mask can get pretty hot and leaves my face tomato red for at least half an hour after washing it off, but it is so worth it! My skin feels so much smoother and has a nice glow the following day. I use this mask 2-3 times per week, and it definitely helps when I get an occasional breakout. LovelySkin Customer
Verified Purchase
Eminence is the best!
I love all Eminence products. It's my favorite skincare line by far. This mask is great for hormonal breakouts. It's expensive but worth it. I highly recommend this mask and the Hungarian herbal mud. Sometimes, I zone treat or use them at the same time. I also really like the hot version. Very potent. Will buy again in the near future! LovelySkin Customer
Verified Purchase
Big fan!
I love masks! I first tried this one at a spa where I'd gotten a facial. It does get hot which I was told is great for stimulation and circulation. It basically feels like your face is blushing... a lot. It's comfortable to me. Afterwards my face is very red for an hour or so. But my skin looks great after! LovelySkin Customer
Verified Purchase
Ok
I don't really notice any heat, my face may be a little more pink shortly after washing it off, it has green pieces of leafy like matter in the slimy substance. LovelySkin Customer
Verified Purchase
Love this product
This masque is great. Feels good on your skin-very warm and skin is a little red afterwards, but after a few hours your skin looks wonderful. Use at least once a week. HOT
I purchased this with an Eminence set. I was able to use the 0.5 oz trial size about 5-6 times. I did not like how this is chunky, like many Eminence masques. I did like how it turned my face flush - at least it made me think it was doing something. I did not burn and the redness subsided within about 10-15 minutes. I have combination skin, that isn't very sensitive. not for sensetive skin
this is a great mask but if you have sensetive skin this is not for you, you will feel like your skin is burning LovelySkin Customer
Verified Purchase