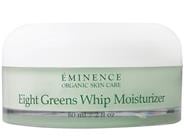 Reviews For
Eminence Organics Eight Greens Whip Moisturizer
$62.00
14 Results
Soft Feeling Skin
I love the smell of this moisturizer. A little goes a long way, so use it sparingly. It sinks into my face quickly and does not feel greasy. It also gives my face a nice glow! JodieSnavely
Verified Purchase
Not bad
I'm not really impressed with this product. Thick texture and takes time to absorb in. I know this is organic product so I can't expect a good scent coming out of it but the scent of this product is hard to like. IvyPhuong
Verified Purchase
Concentrated
This moisturizer is very concentrated which I love because a little tiny bit will be enough for your whole face and neck. I like to mix in 2 drops of serum in it, and it helps spread it around very well and even. It definitely helps balance oil. It absorbs well, no oily residue yet very moisturizing. My husband has had very bad rosacea breakout and this is helping to soothe and reduce redness and swelling! LovelySkin Customer
Verified Purchase
Change it up
I like to alternate moisturizers. I love the Eminence Vanilla Day cream because it has sunscreen, but if I'm not going to be outside much I switch it up with the Eight Greens, which I love. It's thick without being sticky, seriously nourishing food for the skin! LovelySkin Customer
Verified Purchase
Love Eminence!
Eight Greens Whip is a great moisturizer for me. I like to add a few drops of water to emulsify before applying. I have combination skin and this product feels very light, does not feel heavy or greasy. Also, it's a great value! One jar can last up to 6 months. LovelySkin Customer
Verified Purchase
Switched moisturizers
I was using a different Eminence moisturizer, but this is now my go-to. It calms and moisturizes at the same time, is my go-to cream for sure. LovelySkin Customer
Verified Purchase
Great for winter in California!
I have really dry, flaky skin, and this is very moisturizing. It's thick, and that's how I like my face creams. Winter in SoCal is very dry, and I think I've found my holy grail. So, I put this on after my serum of choice, then follow with Eminence Bright Skin SPF 30, and my face feels great. This is the 5th eminence moisturizer that I've tried, and this is my favorite. LovelySkin Customer
Verified Purchase
very hydrating
Great moisturizer, very hydrating. Another excellent product from Eminence! LovelySkin Customer
Verified Purchase
Eminence Eight Greens Whip Moisturizer Cream
My skin is mature and delicate and I love this cream. I use it as my main moisturizer everyday. It protects my skin and leaves a satin finish and does not feel heavy. All you need is a small amount and it goes a long way. They say you are what you eat and your skin needs to be fed as well. This cream has the best organic ingredients that your skin will eat up and help keep it healthy. LovelySkin Customer
Verified Purchase
Not Just for Mature Skin
This moisturizer was recommended to me during a facial. Ive been using it since about age 25, because I get hormonal break outs around my chin area. I found that it was very calming for my skin. It is a little on the heavy side, but you can simply add a little water in the palm of your hand to mix it to a lighter consistency. I love using this at night before bed! LovelySkin Customer
Verified Purchase
Its ok...
I had high hopes for this product, believing it could alleviate my hormonal breakouts. The product smells great and is creamy, easy to apply to the skin without diluting it with water. Its clears the redness, but my skin gets super oily after an hour or so. I used this at night and in the morning my skin is super oily! It appears to make me break out even more. Not to sure about this product. Very Heavy
This product is a little too heavy for my skin. It did cause me to break out. I think it might be a better moisturizer for the winter. LovelySkin Customer
Verified Purchase
Emminence 8 greens moisturizer
this product is wonderful, have been using for a couple years with outstanding results LovelySkin Customer
Verified Purchase
Love this!
This moisturizer especially when used with the Eight Greens Serum REALLY combats hormonal breakouts and has wonderful anti aging properties! I also love the Eight Greens Mask HOT (with Paprika)....gives a great glow to my skin! A must have!!