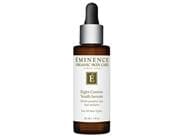 Reviews For
Eminence Organics Eight Greens Youth Serum
$48.00
21 Results
Amazing!!!
This is my holy grail serum. It makes my skin feel so plump and soft. I have super problematic skin: it's sensitive and acne prone at the same time. But this really makes it look nice and it feels so comforting when applied. LovelySkin Customer
Verified Purchase
Eight Green Youth Serum
For me this serum is just ok I like Strawberry Rhubarb Serum better. Fast shipping. Thank you Lovelyskin LovelySkin Customer
Verified Purchase
Thick and nourishing
This serum is very very nice. It is thick but not sticky. I tried it by using 2 drops alone, and I prefer to mix 2 drops into moisturizer. It spreads better that way in my opinion. Two drops is all you need, it is very concentrated and a little goes a long way! LovelySkin Customer
Verified Purchase
Great product
I have been using this product for over a month. I apply it in the morning by putting it into my palms and then patting it into my face (focusing on my chin and cheeks) after cleansing my skin and before using moisturizer. My skin has been noticeably more plump, glowing, and youthful looking. The only con is it is a bit tacky feeling, but that goes away once applying moisturizer. Will reorder! Fan for life!
I recently purchased my second bottle of this amazing serum. I have oily acne prone skin and this "miracle serum" has become part of my daily skin care regimen. After washing me face, I massage two drops into my skin, wait one minute and then moisturize. My acne has cleared up, & skin tone has improved. AllisonE
Verified Purchase
Love this product!
This serum is great if you have hormonal breakouts. I have been using it for many years and really love it. LovelySkin Customer
Verified Purchase
My HG product!
I've been using this for years. It's the only product the has controlled and basically completely eliminated my hormonal acne. I always regret when I stop using this product. The smell is not great but is easily concealed with my lotion and foundation. LovelySkin Customer
Verified Purchase
Seems to be great
I love this brand and really glad I switched to it. I thought I would give this a try, so far so good. LovelySkin Customer
Verified Purchase
Amazing
This helps with dark spots and overall skin issues. It goes on very light and absorbs very well. Definitely will purchase again. LovelySkin Customer
Verified Purchase
Calming for my Cystic Acne
I've been using this product for a few years and it has greatly helped alleviate the effects of my adult hormonal acne. It cools and calms my skin while working deep down in my pores to reduce breakouts. I love the consistency of the serum and it soaks easily into my skin. I highly recommend it! LovelySkin Customer
Verified Purchase
Must Have!
After having an Eminence rep give me information on this product, I gave it a try. The Eight Greens Youth Serum is a game-changer! I am 49 and am just staring to suffer the effects of adult acne! I feel using the serum keeps my oiliness down, and also keeps my breakouts to a minimum! I also use this serum with the Eight Greens Hot Masque. Works wonders! Melanie
Verified Purchase
8 Greens Masque is better
I purchased this item because I am obsessed with the eight greens masque to treat unbalanced, hormonal skin. However, the eight greens masque is so much better than this serum. This serum seemed to dry my skin whereas the masque is hydrating. And I didn't see much of a difference as far as healing hormonal blemishes. I would 100% recommend purchasing the masque instead of this. LovelySkin Customer
Verified Purchase
Luxurious
I ordered this for my friend for a special birthday gift. She loves the smell and says her skin is luminous! LovelySkin Customer
Verified Purchase
Love This~
I have combination skin-- oily yet sensitive/dry in some areas. This is a great antioxidant serum! LovelySkin Customer
Verified Purchase
Love this serum
Started using from a starter kit I received and have ordered two more as this seems to balance my skin and feels great. I love it! LovelySkin Customer
Verified Purchase
One of my favorite Eminence Serums
This a fabulous serum from Eminence. It works great as a moisturizer for your skin without the somewhat greasy feel of lotion. It has a pleasant scent and leaves your skin hydrated, smooth and fabulous. I really love adding it to my winter skin care routine. Kimberly
Verified Purchase
Great for hormonal breakouts
This serum was recommended to me by an aesthetician for hormonal breakouts and it has definitely helped with my pregnancy related acne. It's difficult finding safe yet effective treatments during pregnancy and Eminence's products are up to the task. LovelySkin Customer
Verified Purchase
CANNOT LIVE WITHOUT IT
After I started using this product, my breakouts became non-existent! It really does control hormonal acne and oil production. I cannot live without it and will repurchase this over and over! LovelySkin Customer
LovelySkin Employee
great product
Love the way it makes my skin feel, especially in conjunction with vitamin C serum. Goes on nicely, smells great, and improves skins overall look and feel. Also absorbs in nicely, so great to use during the day. LovelySkin Customer
Verified Purchase
Great for sensitive skin
In addition to being a great light hydrator for sensitive skin, it has helped with the frequency and severity of my hormonal breakouts. Great product! LovelySkin Customer
Verified Purchase
Love it
A great pick me up serum, as described. I do feel it assists with eliminating excessive oil production and just feels great on the skin. I would definately purchase again and I would also consider picking up one of the eminence hydrators for my skin type. The only downfall is the price. Eminence rarely goes on sale and you cannot use coupons. Overall, though, I am pleased with the products I have tried thus far. I look forward to purchasing again. LovelySkin Customer
Verified Purchase