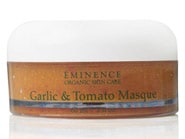 Reviews For
Eminence Garlic and Tomato Masque
4 Results
Effective Masque Just Too Smelly
This masque is effective for helping with acne and healing blemishes. However, I did not care for the "gooey" texture of the product or the scent. It felt as if I was dipping my face in spaghetti sauce when I put it on. Not a pleasant experience. Kimberly
Verified Purchase
Skin feels good after use
While, I haven't used this long enough to see if it improves the look of my skin, I have to say my skin feels really good and clean after I use the mask. Although it is expensive, just a little bit can be used to cover my whole face. So I expect the product to last a very long time. LovelySkin Customer
Verified Purchase
Works!
It will make your skin feel a little tight afterwords but It has made a noticeable difference on my oil production. this is the first product that has actually balanced my crazy oily skin. I'm happily in shock:) LovelySkin Customer
Verified Purchase
i dont like the feeling after removing the mask
i like that my skin is bright after i use the mask, even my friends have told me that i have a glow on my skin, but when i remove the mask my skin feel very tight. LovelySkin Customer
Verified Purchase