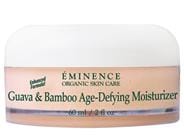 Reviews For
Eminence Organics Guava & Bamboo Age-Defying Moisturizer
$58.00
Thick moisturizer
I love Eminence. This product feels very nourishing but it is on the thick side so watering it down makes it a bit better. Too soon to tell what the results will be like but it is a nice moisturizer if you are have dry skin. LovelySkin Customer
Verified Purchase
Smells Amazing
This moisturizer if very thick so you only need a little bit but still very easy to apply, you can also dilute with a bit of water which is nice so it lasts longer. It smells very good but not overpowering. LovelySkin Customer
Verified Purchase
My all time favorite moisturizer
I will never let myself run out of this again! I could tell a huge difference in my skin without it. I've tried so many moisturizers over the years (I'm in my early 40's), and this is my favorite by far. It smells amazing, a little bit goes and long way and it makes my skin feel so nice and hydrated without feeling heavy or oily. Mdanielly
Verified Purchase
Effective Moisture
I feel it moisturizes very well. It is not lightweight and more effective in the winter. I thought it was a little heavy for summer. I really like the tropical fruit scent. Like other wonderful Eminence products, it is like doing a little aromatherapy every time I use it. Although, I would buy this product again because it is such an effective moisturizer, I would likely try a different Eminence moisturizer first, mostly because of the texture. I found that it did not blend well with a another product that I used which was essential oil based. LovelySkin Customer
Verified Purchase
Good Product
I like this product, but the guava smell is a little over powering. Would not recommend this product to anyone who does not like sweet scents. LovelySkin Customer
Verified Purchase