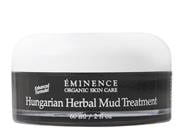 Reviews For
Eminence Organics Hungarian Herbal Mud Treatment
$46.00
16 Results
Cleans Pores
This is my 3rd jar of the Hungarian Herbal Mud Treatment. The fragrance reminds me of atomic fireball cinnamon candy & the "heat" from the mask feels much the same way. The "heat" does go away and my skin remains red for about an hour after rinsing it off. But WOW is it worth it. This mask really cleanses my pores. I love Eminence products and this is one of my favorites. LovelySkin Customer
Verified Purchase
Hot! Hot! Lovely Hot!
I have used this for years. It is very warm and your skin will tingle for a few minutes. Just fan yourself with a piece of paper you'll be fine! My skin is just gorgeous after using it. I use it once or twice a month. LovelySkin Customer
Verified Purchase
Strong, but Awesome.
A little goes a long way with this treatment. I mix a small amount in my hand and dilute it with a few drops is water. The strong smell is mainly cinnamon, which is also the "heat" you'll feel when this product is applied. It's not uncomfortable though and the glowing results are worth it! LovelySkin Customer
Verified Purchase
New User to This
I have used this once and loved it. It is a little strange if you are new to "hot" products, which I was prior to use of this treatment. You apply a small amount with water and spread it all over your face/neck. It smells like cinnamon. It immediately begins to tingle or get "hot," but it doesn't last very long. I followed the instructions (sat on my face for ten minutes), but only about one minute (or less) of the ten was "hot." Then, you rinse off. What is amazing is what happens after, you have rosy and glowy skin! Time will tell if there are longer term benefits, but so far so good. Plan to use this once a week. LovelySkin Customer
Verified Purchase
Love this mask
I first tried this mask at my Estheticians. This is a dialating mask. It gets hot on the skin. I use this once a week. I love it, it exfoliates the skin leaves the skin feeling clean and smooth, smaller pores without over stripping. I hope Eminence continues to make this mask because I have been using it for years and wish to continue - maybe for the rest of my life. Works!
Seems to be combating breakouts for my daughter LovelySkin Customer
Verified Purchase
Powerful treatment mask!
For my breakout-prone skin, this mask is a must! I usually try to keep it in stock at all times. I use it as a regular mask or spot treatment. It's very potent and effective. It's also hot and stimulating! I tend to use it at night because sometimes my skin is slightly flush after using it. The next day my skin looks clearer and more even. My esthetician always highly recommends this one and the Eight Greens Phyto (hot) mask as a 1-2 punch combo! LovelySkin Customer
Verified Purchase
Great for Clearing the Complexion
My skin feels so amazing after using this product. It does get down in the pores and cleanse away impurities. It is not the most pleasant facial treatment when applied. The smell is strong. The "muddy" texture of the product is not bothersome. Nor did I have a problem with the product being "too hot" when applied. You do feel a warming feeling, but I did not find it uncomfortable. Kimberly
Verified Purchase
strong burn, but good results
strong burning sensation when you first put it on, but helps remove impurities and leaves skin with a nice glow. LovelySkin Customer
Verified Purchase
Incredible mask with multi-benefits!
The Hungarian Mud Mask is my favorite mask by Eminence! I will use this a couple nights a week and can tell a huge difference in the appearance of my skin. I love the hot/tingly feeling while its on my face, that really means things are working! I notice a big improvement especially if I have a little break out. In the morning, I wake up with a more even complexion and even a nice glow for throughout the day! LovelySkin Customer
LovelySkin Employee
Love this mask
Another wonderful product from Eminence. Received several samples while I was shopping in the store and have purchased the full size product. Very tingly-lets you know that it is working. Great for my menopausal, aging, combination skin. Very Nice Product
Feels like a deep clean without stripping your skin of nutrients. No offensive smell, comfortable while on the skin, easy to take off. LovelySkin Customer
Verified Purchase
love this product
I am 63 and still get acne break outs, i tried this product and was so happy with the results,it will get hot and your skin will get red but don't worry the redness goes away,i use mine before bedtime. LovelySkin Customer
Verified Purchase
Wonderful product
I love this product LovelySkin Customer
Verified Purchase
Great stuff!
I immediately purchased this mask after my facial treatment at a spa. My have problematic skin; sensitivity, redness, acne, dryness, large pores. It was recommended for me despite my sensitive skin. Once it was on my skin, it was hot, but slowly cools after a few seconds. The next day my skin was glowing! great detoxifier
this mask is a great detoxifier for your skin, you will be able to see it glowing the next morning afer using it. LovelySkin Customer
Verified Purchase