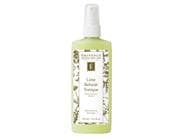 Reviews For
Eminence Organics Lime Refresh Tonique
$38.00
10 Results
Refreshing spray
Love this lime spray for a refresh a few times a day. Does not irritate my sensitive skin. Refreshing
I watched an Eminence video on this product. I am not a dedicated toner user, but after trying this product I might change my thinking. Although it does have a great fresh smell I wish the lime essence was a bit stronger. Very nice though. LovelySkin Customer
Verified Purchase
Eminence has the best toners!
This toner is awesome and is so refreshing. It's last a long time. I only use 2 sprays on a cotton ball. Toner
It's light and refreshing. Jmephoto
Verified Purchase
Eminence Organics Lime Refresh Tonique
Product is amazing. The smell is very refreshing. Helps me stay feeling fresh and clean. LovelySkin Customer
Verified Purchase
The perfect toner
Lime Tonique is a wonderful toner or setting spray. it does not feel drying or irritating despite the lactic acid in it. It does not feel particularly hydrating though. If that is what you are looking for, you will need to moisturize afterward. it smells absolutely wonderful, like 7up or sprite! it is a light/medium scent, not a heavy scent like the Stonecrop Tonique. LovelySkin Customer
Verified Purchase
Love this toner
I love how clean my skin feels after using this toner. It's smells wonderful and like all of Eminences products, a little goes a long way. 2-3 squirts is all you need. LovelySkin Customer
Verified Purchase
Refreshing
This tonique smells amazing and leaves your skin refreshed and clean. I've also noticed skin improvement, and it is not drying. LovelySkin Customer
Verified Purchase
Not my Favorite Toner, But Still Refreshing
This toner feels wonderful when you first spray it on...it has a lovely refreshing scent. However, I do prefer the Stone Crop Toner in this line, instead. This toner does not seem to provide as much moisture for my skin as the Stone Crop. Still the Lime Toner feels great - cooling and refreshing for your skin. Kimberly
Verified Purchase
Lime Tonique
I first used this product when I got a facial. My skin tends to get oily during the day and this tonique prevents the extra oil build up. LovelySkin Customer
Verified Purchase