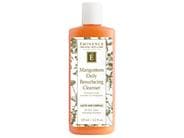 Reviews For
Eminence Organics Mangosteen Daily Resurfacing Cleanser
$42.00
Gentle
Gentle but effective, love it LovelySkin Customer
Verified Purchase
Night wash
This is my night face wash and I love it. It doesn't dry out my face like the Stone Crop gel wash; which I loved but had to stop using. It cleans and conditions my face beautifully. LovelySkin Customer
Verified Purchase
Great daily cleanser
I am prone to breakouts and doesn't over dry, or cause flare ups. LovelySkin Customer
Verified Purchase
Effective + Lovely
I love this product. I wouldn't expect to actually, and fairly quickly, see results from a cleanser. But my skin is notably smoother, with a "glowy" effect. Being on virtual calls so frequently of late, I have noticed the appearance of my skin improve through seeing myself on camera daily! I'm about a third of the way through the bottle and look forward to repurchasing. I may try the Red Currant Exfoliating Cleanser for wintertime, but am happy to have found a gentle chemical exfoliant cleanser in the Mangosteen Daily Resurfacing! Highly recommend. LovelySkin Customer
Verified Purchase
Eminence Organics Mangosteen Daily Resurfacing Cleanser
I have been using faithfully twice a day for more than two weeks. I am 86 y/o. My skin looks much brighter than before, have less problem with clogged pores and will buy it again if these positive results continue. This product is expensive but a little goes a long way. LovelySkin Customer
Verified Purchase
Great wash
Great wash for a little more than a gentle cleanser! Sallygirl
Verified Purchase
Very Nice
This is a really nice mild cleanser with a beautiful smell. I like to trade off with my face cleansers and have been incorporating this one with my others. Definitely a thumbs up for me. OMGosh
I LOVE this product... smell, results, amazing! LovelySkin Customer
Verified Purchase
Nice Cleanser
A gentle cleanser with a light sudsing. LovelySkin Customer
Verified Purchase
a quality cleanser
this is a foaming gel cleanser. it goes on feeling a little slippery, then really lathers up into a dense foam. it leaves your skin feeling kind of tight, but hydrated, and really clean. the scent is a little strong, it is a tart tropical fruit aroma. Mangosteen works good
Product works well on sensitive skin inflamed due to acne or blackheads. Helps for clearer skin. Satisfieduser
Verified Purchase
Smooth results but can't use too often
My initial reaction was very pleased with the smoothness of my face. However, after using it for a few days straight, I realized it was causing some blemishes. Granted, my skin is super sensitive to acids, but what a bummer. So I now use it once a week. Still on the hunt for a new cleanser. LovelySkin Customer
Verified Purchase
Great product!
This deep cleans your pores and leaves your skin feeling so soft and smooth! It smells great too! LovelySkin Customer
Verified Purchase
Really like it but pricey!
I took a chance on this because I liked another Eminence product. I like the smell and gentleness of this cleaner. It is expensive though and I'm not sure I will buy another container. LovelySkin Customer
Verified Purchase
A favorite!
This cleanser smells so yummy, but it's also a great cleanser. It really gets all the dead skin off and leaves my skin feeling so smooth and clean without feeling dry. Perfect for normal-dry skin gals! LovelySkin Customer
Verified Purchase
Love it
Just like the lotion, the smell is amazing. I love washing my face with this. I feel clean but not tight. Worth every penny. My new fave cleanser
I have mature skin with fine lines and a few larger pores. This cleanser is gentle, and smells great - plus, I have seen an improvement with my pore size and seems to help with my oily complexion too. I will definitely be purchasing again. SimplyMe
Verified Purchase
Works great!
This is a light facewash that delivers everything that is promised. Of course, you won't see a difference overnight. However, I have been using the product in the morning and before bed consistently for about a month and have seen great success! LovelySkin Customer
Verified Purchase
Gentle effective cleanser!!
I really love this Mangosteen Cleanser. It is gentle yet effective and smells heavenly! My 15 year old niece loves it too for her combination skin. I love it for the lactic acid and the exfoliating effect yet it does not leave my 50 year old skin too dry or stripped, just cleansed and healthy. Kath222
Verified Purchase
Great for combination skin
I love this cleanser. It isn't harsh but leaves your skin clean and not parched. It lasts a long time since you only need a small, pea-size amount. Anngone
Verified Purchase
Worth a re-order
I like this cleanser. It doesn't strip my skin like other acid cleansers, or actually cause me to break out, which happens with salicylic acid, oddly enough. My face is clearer than it has been since puberty, with no flaky side-effects. Nice! Doobella
Verified Purchase
So awesome!
I absolutely love this product. I got it initially as a sample, and I instantly fell in love. I have combination skin and it seriously made my skin super soft, it has not broken out and I could be happier. I bought the fill size immediately and love it. My only complaint is the size is a little small for the price, but you don't need a lot so it lasts longer than you'd think. LovelySkin Customer
Verified Purchase
Eminence Mangosteen
What a refreshing cleanser. This lightweight cleanser smells fabulous and a little goes a long ways. I love how it feels. Highly recommend it. Expected More
This smells nice and is a decent cleanser. For the price, I was expecting it to help more with exfoliation. It was gentle enough to use daily, but I will not purchase again. Smells Wonderful
Absolutely love the fragrance of this cleanser. As I have oily skin, this would not be my go-to product during spring or summer, but with this year's harsh, cold winter weather, it works quite well. I use it in the morning as opposed to before bed. I do apply to damp skin and let it set a few minutes before cleansing and removing. It seems to work better that way. My skin feels extremely clean and not at all tight.