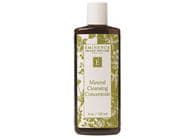 Reviews For
Eminence Organics Mineral Cleansing Concentrate
10 Results
Eminence Organics Mineral Cleansing Concentrate
Eminence Organics Mineral Cleansing Concentrate is a great option for my sensitive, oily complexion during times of breakouts. It's gentle while effective at cleansing my skin and speeding the healing process for blemishes. LovelySkin Customer
Verified Purchase
Keeps skin clear
This is the only cleanser I will ever use. I admit, it is not the best smelling eminence cleanser, but it is a perfect match for my oily, sensitive skin. LovelySkin Customer
Verified Purchase
Long Time Favorite
I'm hooked on the new probiotic products from Eminence. But this is the cleanser I originally used 10 years ago. It has simple clean ingredients. It's effective and gentle. I like adding/trying new products to my regimen but I always come back to this one again and again. LovelySkin Customer
Verified Purchase
Quality Cleanser
Like all the concentrates from this line, it takes just a pea sized amount, maybe a touch more, to cleanse my face and leave it feeling refreshed. That leaves me with such a feeling of satisfaction because I trust these products and I know that if I get a breakout it's probably because of something in my diet versus lack of skin care. This product does have that mineral smell, but it's not unpleasant, and it's not something that hangs around too long after you towel off. I use this to manage my acne and mix it with the Strawberry Rhubarb Dermafoliant to exfoliate at the same time. LovelySkin Customer
Verified Purchase
Great for Healing and Helping Purfiy Skin
Wow! I tried this cleanser and it has done wonders for my skin. It helped heal the blemishes I have had on my face and helped my skin feel alive and renewed. It does have a very "earthy" scent (not exactly pleasant by no means) however, once you rinse the cleanser the scent does not remain. It really is a unique cleanser, much different than other Eminence cleansers. I would highly recommend if your skin is needing some extra help healing. Love!
I recently purchased this face wash and I am so happy I did. I have dry sensitive skin but get breakouts. This wash helps with breakouts without being harsh on my skin. Love! LovelySkin Customer
Verified Purchase
I love this cleanser
I have extremely reactive skin and mild rosacea. I had great skin as a teen, but as I reach my late 20s it has been awful. I was using the calm skin cleanser by this brand and like it, but I read such great reviews about this cleanser that I decided to try it. I love it, it cleanses thoroughly and I like the lather, my mild blemishes are disappearing fast and my skin has not had any negative reactions. I use this with my clarisonic and I believe I will stick with this cleanser over the other. It has a mildly pungent odor, but goes away with rinse (tea tree oilish smell), it does not linger. LovelySkin Customer
Verified Purchase
GREAT!
Great for super oily problematic skin. My skin feels great after using this wash. It cleans and removes all the dirt and makeup. Less breakouts an decreases inflammation. Tingly, refreshing
Really like the clean and refreshing feeling I get from using this cleanser. Also I really like the idea that the product is 'organic' and I don't have to worry about chemicals. Would recommend! LovelySkin Customer
Verified Purchase
great for aoly skin
skin will get rid off all impurities. LovelySkin Customer
Verified Purchase