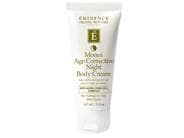 Reviews For
Eminence Organics Monoi Age Corrective Night Body Cream
$39.00
8 Results
Pure Heaven
I use this cream on my body most days after a shower. It's delightful! What I really love it for a lot is my hands! Since Covid-19 I have become that obsessive hand washer, which could take a toll because of my sensitive skin... but not with Monoi Age Corrective Cream. I use it a couple of times during the day a day and religiously every night, and my hands are like butter! They are smooth and soft and not bad looking for a woman of a certain age. Definitely would recommend. DudieBob
Verified Purchase
My go-to hand cream
I've been using this lotion for many years on my hands. It absorbs quickly into the skin with no tacky feeling, and has a pleasant smell. LovelySkin Customer
Verified Purchase
Awesome
This cream really moisturizes! I took it to the mountains and I used this every day. I noticed that my skin stayed moisturized throughout the day. I recommend it! Heymonica
Verified Purchase
Love
This was a Christmas present. It wasn't what I asked for. I wanted the Monoi face cream. I decided to mix it in with my night cream, and I like the results. I can't speak about how the face cream as far as texture/richness. This body cream is fairly thick and rich. The smell is different–reminds me a little of mango and nutmeg. I think it helps lift and smooth your skin. I haven't tried it on my body yet, but I hope it works just as well! LovelySkin Customer
Verified Purchase
Must have
I'm in love with this body cream!! Love love love it. Smells amazing. Goes on thick and absorbs quickly. Highly recommended!! LovelySkin Customer
Verified Purchase
Maximum hydration
I love this cream. Feels luxurious and moisturizes more than other lotions. I notice a huge difference when my skin starts looking dry and needs an extra boost. I use after I shower and/or at night. I think it helps with elasticity too. LovelySkin Customer
Verified Purchase
Allergic
Sadly, I can barely use this product because the scent is just too strong for me. I can put it on my legs and immediately put pajamas on and get under the covers and go to bed. If I put it on my body any closer to my nose or walk around, I have a sneezing fit. It's too bad because it's organic, anti-aging, and has a nice texture but some of us can't handle all of these plant oils. If you are not a sensitive type, it might be fine for you. LovelySkin Customer
Verified Purchase
Amazing!
I was skeptical, but was totally blown away by this night time body cream. My skin looks and feels younger and moisturizer! This will be a permanent item for me. LovelySkin Customer
Verified Purchase