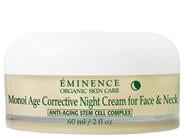 Reviews For
Eminence Organics Monoi Age Corrective Night Cream for Face & Neck
$68.00
84 Results
Rich, rich, rich!
Rich, rich, rich! This deeply moisturizing night cream goes a long way. It's loaded with soothing essential oils yet goes on light and creamy. For dry or mature skin, this is an excellent finishing layer to the night routine.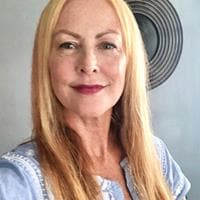 Trendagitator
Verified Purchase
Good
I like this night cream but it is very rich. I have oily skin so I usually mix it with my rose water and it feels much better on my skin. A little goes a long way. Techjan
Verified Purchase
Favorite Eminence Moisturizer!
I've tried a few eminence moisturizers, and this is by far the best. It's the perfect consistency, and I don't have to emulsify it with water to thin it out. It's great for a day or night and smells neutral. Mjwesterling
Verified Purchase
Not quite right.
I couldn't use this cream. Not sure what in it made my skin breakout, but I had big pimples every morning when I never do. The consistency was too greasy for me and it stayed that way on my face even though use very little. I tried Diluting with water and still no. Love the cleanser, but this didn't work. Love the Eminence Monoi Age Corrective Night Creme
I've been using this creme for 4 years. I really like it.You only need a small amount per application. I love all of the Eminence products. My favorite!
I love this face cream. It feels so moisturizing. LovelySkin Customer
Verified Purchase
Great for dry skin!
I have extremely dry skin and this works great for it. I also love that it is all natural and anti-aging, and it smells great too! LovelySkin Customer
Verified Purchase
Love Eminence Everything!
Started using this after visiting a spa and getting a facial with these products. My skin is looking younger and fine lines are hardly noticeable! Loved it so much I bought some for my sister as well and she is starting to switch everything over to Eminence. LovelySkin Customer
Verified Purchase
Soothing
I order Eminence products for my father, who developed rosacea in his 70s after a lifetime of perfect skin. These products were recommended to him by an esthetician a few months ago and they have made a big difference in his skin. LovelySkin Customer
Verified Purchase
HANDS DOWN
I use for hands it smells like "lovely" fresh citrus! Keep in car, bath & bedside. Great product
I love this product and just bought my second jar as I finished the first. It goes on smoothly and I have noticed a nice improvement in my skin tone. Each jar comes with a significant amount of product. LovelySkin Customer
Verified Purchase
Didn't work for me
I couldn't use the cream because I couldn't get past the scent. I couldn't stand it! I gave it to my daughter. She didn't have an issue with the scent and thought I was crazy. LovelySkin Customer
Verified Purchase
New Skincare Staple
Since purchasing this night cream, I have used it [nightly] as part of my corresponding before-bed routine. During sleep, this product improves and maintains the hydration and nourishment of my skin, and I believe that over time it has also. Upon waking, especially, my skin never looked so good!! This product has helped my skin recover from 1. hormonal breakouts, and 2. time spent in cold and dry environments. The consistency of this cream is "just right", and after blending, it is quickly absorbed. The aroma is intoxicating; I absolutely love the aroma; floral and vegetal as found in nature, and as is consistent across EO products. I highly recommend this night cream for anyone, at any age. NMSarit
Verified Purchase
Perfect night time moisturizer
The thick consistency of the moisturizer is perfect and leaves your skin feeling so supple by morning. LovelySkin Customer
Verified Purchase
Perfect texture
Just the right consistency for night use. Absorbs quickly, not greasy. Very hydrating, organic and cruelty free. Pricey but worth it. Manon57
Verified Purchase
Love, love, love this!
I've used the Eminence Monoi Age Corrective Cleanser for several years now. I love it, so I thought I'd try out this night cream. I love, love, love it! A little goes a long way and it moisturizes so nicely. The smell is very pleasant and mild. I've been using it on my neck so we'll see how that goes. I'm 53 and haven't used a neck cream specifically so I don't know what to expect. But, I love this for my face, so I'm very happy! LovelySkin Customer
Verified Purchase
night cream
I really like this cream and the smell is perfect—not too strong. I actually think the smell is very delicate. I use it not too long, so is too early to see all benefits, but my skin is much better, and I feel like I have to buy it for my mom. Eminence, you can do much better !!!!
I purchased this interesting face and neck night cream with amazing ingredients and healing properties without hesitation. Unfortunately, I had to return it after trying it out. The texture was wonderful as are the ingredients but the smell is overwhelming and pungent. It gave me a headache and made my stomach sick from the heavy aroma. Please update and fix this detail and you are sure to have an outstanding winner!!!! Rockinbunni
Verified Purchase
Great product
Moisturizing but not too heavy. I love this night cream! My New Favorite!
I tried based upon a sample and online reviews. It is absolutely my favorite cream. I clearly saw an improvement in wrinkles and sun damage. I use morning and night and it works great under makeup. I highly recommend and i rarely do reviews! jwillard2373
Verified Purchase
Eminence Organics Monoi Age Corrective night cream for face n neck
My skin likes this cream better than anything I have used. It helps with wrinkles and smoothness. The smell is wonderful. You could almost hear my skin sigh with pleasure the first time I used it. LovelySkin Customer
Verified Purchase
Eminence aging
Do not care for the smell, but LOVE the lotion. LovelySkin Customer
Verified Purchase
Gift
I bought this as a gift for my daughter and thought she would love it because she lives in Seattle that makes her skin very dry. At first, she wanted to return it because of the smell but she gave it a few days and was so impressed on how it improved in skin she kept it. (she is very sensitive to odors) to me it didn't smell! Nighttime Bliss
I have tried many moisturizers during my 60+ years but this by far the best! You barely need any to create a smooth nighttime barrier, and I can still feel it when I wake up in the morning! I use this every evening before bed and do not plan on making any change! Casawilson
Verified Purchase
Amazing moisturizer
My esthetician recommended this moisturizer for me and I absolutely love it. It makes my skin feel like velvet. Even though it is a "night" cream, I use it morning and night. My skin has never been better. LovelySkin Customer
Verified Purchase