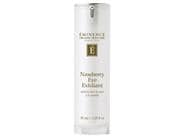 Reviews For
Eminence Organics Naseberry Eye Exfoliant
$64.00
10 Results
Rare Find
Gentle and doesn't irritate my eye area. Knocked a star because unfortunately the pump broke! Eminence needs to come up with a better dispenser. Otherwise this product is unique. I haven't been able to find another exfoliant specifically for the eye area. LovelySkin Customer
Verified Purchase
Great Unique Product!
This is a one-of-a-kind product! Helps smooth the under eye area and prepare the area for eye cream and concealer! I loved it! Lisard3
Verified Purchase
Gentle and effective
This is a once a week treat for me. It is very gentle, and I notice improvement in my eye product absorption after use. LovelySkin Customer
Verified Purchase
Eye exfoliant
I have been using this at night (my esthetician said I could leave it on overnight) but I haven't seen a great impact from it. It's a bit sticky and maybe I'm not using it correctly. It does not sting or burn my eye even if I get it close. I know it takes a bit longer sometimes to see results with non-chemical products and I'm fine with that so I'll keep using it to see what happens! LovelySkin Customer
Verified Purchase
Unique Qualities
I have not seen many eye exfoliants in the market place and I feel the product is unique. I apply it at the same time that I apply face masks. I get some peeling on skin around eye area and eyes seem brighter. I feel it helps but not a dramatic effect. I will continue to use it. I feel it is gentle on my eyes. LovelySkin Customer
Verified Purchase
pretty good
i love eminence products- they smell great but more importantly they work! This eye exfoliant doesn't disappoint. My only gripe with it is that it's not a one and done eye product. This is an exfoliant so once it's applied you have to let it sit for about five minutes then wipe it off with a warm wet cloth, then you need to apply an eye cream afterwards. I don't really have time for all of that and was hoping this was something you could leave on. Even though it is an exfoliant, it does NOT have any abrasive particles- it is a smooth product and smells very nice. I have not yet noticed any major difference yet except that the eye area appears a little brighter and "awake" but have only used it for a couple of weeks. LovelySkin Customer
Verified Purchase
Good Product
This is the only eye exfoliant I have found and I do like the product. It is not harsh and is gentle around the eye. However, there are drawbacks to the container. It gets clogged regularly and you need to take a needle to the opening. Also, its hard to tell when you are running low on product especially as it clogs and I dont know if its that or getting low. I have bought this product a couple of times and until I find something just as gentle but with a better container, Ill purchase it again. LovelySkin Customer
Verified Purchase
Nice product
For such a little area you get a lot of product. I'm not certain if it really is that effective but again, for what you get, there is value LovelySkin Customer
Verified Purchase
Eminence Nasberry Eye Exfoliant
I just started using the Eminence Nasberry Eye Exfoliant and have already noticed a difference. The skin around my eyes is softer and definitely brighter and some of the puffiness is gone. As I continue to use this product, I hope to see greater results. LovelySkin Customer
Verified Purchase
Eminence Nasberry Eye Exfoliant
I am happy so far with this eye cream exfoliant. It brightens my undereye area. I will have to give it some time to see what effect it has on crowsfeet and undereye wrinkles. I think it should work well, and I do like the concept of an undereye exfoliant. LovelySkin Customer
Verified Purchase