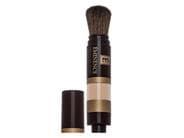 Reviews For
Eminence Organics Sun Defense Minerals SPF 30
$58.00
26 Results
Like, don't love
I'm okay with the Eminence Organics Sun Defense Minerals but I don't LOVE it. In order to get coverage where I need it, I really need to apply over and over the area. After I apply, I then need to add bronzer and blush to get some color back in my face. I was hoping for even coverage with a few swipes across the face and head on my way...and not spend too much time putting "make-up" on. It's fine for now and I'll finish using it. I just won't order again. ColoradoScorp
Verified Purchase
Really like - light, builds coverage
I really like this powder. I am currently using it as a setting powder for a cream foundation. The nice thing about the powder is the coverage is light so if you want your skin to show through it does that for you while covering minor imperfections. If you need more buildable coverage for pigmentation you can do that also, however, I wouldn't say it covers anything entirely. The nice thing about the product is that no matter how much you put on, it doesn't end up looking cakey or like you have a ton of powder on your face which is a huge plus. The smell is pleasant also. ...Nice to know I am putting good things on my skin and getting what I need out of it. *I took this foundation on a test ride and did an 11 mile hike in the heat. All my makeup stayed put with no weird colored sweat running down my face or anything like that. I haven't tested it out in the rain but based on how it behaved in the summer, on a hike, with lots of sweat, it appears to do what's stated and stay put! Product difficult to dispense
I wanted to love this product, but I can't tell if anything is actually coming out of the applicator. LovelySkin Customer
Verified Purchase
Great color!
Great staying power! I have fair-freckled skin and has great staying power in the humidity! Becky4Rod
Verified Purchase
Love this!
This is a fabulous product. I love the coverage and the flexibility to have more or less coverage. The only challenge is the dispenser. It takes some getting used to. LovelySkin Customer
Verified Purchase
LOVE IT
I was introduced to this product while on vacation in Maui. I had a facial at a spa and the aesthetician recommended it. I'm so glad she did. I use it on my face and also on the body. I love that its so easy to use. I can apply without a mirror. Great sun protection and coverage. LovelySkin Customer
Verified Purchase
Essential, Enjoyable Sun Protection
I have used this product for years and turned many others on to it. It really protects the skin from the sun. The best part is–no greasy feel! I use it on my face and arms in the summer. A few strokes before a walk, and it doesn't add any stickiness you just can't want to wash off. The translucent and the lower number colors blend right into the skin tone, especially if you match it right, making it suitable for men to use, and my macho boyfriend loves it too! I love that it's organic and from a company I trust. Also water-resistant and easy to re-apply, take with you, and use over makeup. LovelySkin Customer
Verified Purchase
Great
Easy to carry with you. Looks great on. I have tried a similar product from another brand but this one blends nicely on to the skin. Really did not like the way the other brand looked on my skin. LovelySkin Customer
Verified Purchase
Great Sunblock / Bronzer
Love ❤️ love this Product!! I use a little concealer then the sunblock, & it looks as if I had a hour in the sun ☀️ LovelySkin Customer
Verified Purchase
light scent, it's good not spectacular
I like the ease of the application having the brush built in. The scent is light, and berry-like. It doesn't bother me as it's natural, but I would rather have my makeup non fragranced. I do feel like the coverage is light, but I prefer that, and I think it settles into my lines a bit more so than another product I currently use. I do not think I will purchase again, because of the settling and the scent. Great Sunscreen
This sunscreen comes in a beautiful box. It is easy to apply and can be applied right over other make up or no make up. Really happy with my purchase. LovelySkin Customer
Verified Purchase
Great coverage
This product is great for running errands when you don't want to put full makeup on. Covers imperfections and evens out skin tone. LovelySkin Customer
Verified Purchase
Best ever!
This is my all-time favorite mineral foundation. It is super easy to apply and lasts a long time. I am 60 and I have seen recommendations for older women not to wear mineral foundations because it accentuates wrinkles. I don't see this at all but I also like to finish with a spritz of mineral water or other product sometimes. I feel I have found my perfect foundation. LovelySkin Customer
Verified Purchase
Best foundation!
Lasts a really long time. Easy to use, no mess. Keeps shine to a minimum. Easy to reapply. Best part of all...it has sunblock! LovelySkin Customer
Verified Purchase
Nicest of the sunscreen powders
I use a lot of mineral powder sunscreen because I am an ocean swimmer and it is hypoallergenic and stays put, especially layered over other sunscreen. I am allergic to limonene, a common scent ingredient, and this powder smells nice anyway, has a nice texture and - most importantly - the best color match for me with "honey apple." LovelySkin Customer
Verified Purchase
Love Eminence!!!!
Love this make up so much! I'll never wear anything else! The wand is so convenient, the ingredients are natural and it stays on all day!!! :) LovelySkin Customer
Verified Purchase
White cast
I am not a fan of this type of applicator for powder, but thought I would give it a shot. At this price, I regret it. I had to press the little button on top many many times and shake the tube quite a bit to get product flowing, and had little control over the amount or distribution of the powder once I managed to apply some. The translucent color actually shows up rather white on the skin it was noticeable on me and I'm already very fair. It's better than no SPF protection, but unless you crack it open and cake it on your face, there's no way this could provide SPF 30. It's OK if you're not looking to soak up mid-day oil or finish off a makeup look in a precise way. LovelySkin Customer
Verified Purchase
Easy convenient protection
This minerals SPF brush is awesome! I live on a tropical island so, I always need to be prepared! I keep this brush in my purse so that I can apply and reapply throughout the day as needed. My kids always hate getting sunscreen rubbed on their faces but they actually don't fight me anymore with this brush! The powder is light weight and not greasy at all. I got translucent so my whole family can use it if need be. It's also waterproof which I love! Great product! Will be buying again once it runs out. LovelySkin Customer
Verified Purchase
Eminence Sun Defense Minerals SPF 30
Great coverage. I use it for my everyday makeup. Just a little concealer and a few swipes of this brush and Im all set. For additional coverage, I use Eminences tinted moisturize. Will buy again! LovelySkin Customer
Verified Purchase
Great product!
Goes on lightly and it provides great protection. I always carry it in my purse for touch-ups throughout the day! LovelySkin Customer
Verified Purchase
Favorite Makeup!
I have been using this product for over 3 months and have been getting so many compliments! It goes on lightly and the coverage lasts all day. LovelySkin Customer
Verified Purchase
Best in class
I have tried many different tinted mineral powders. I know others may use this w/o other sun products. I have always looked for one to wear over sunblock for extra protection because it is much easier to try to avoid than try to fix, in my opinion. This product was the most soft, finely milled product I have tried. I loved the look. It wasn't apparent and the color worked great. I am light, not fair, with a neutral tone. I looked on the mfg site to get additional color information and selected no 1. This was great for my tone. I like that the product didn't feel dry, nor did it have a sparkle to it. There are instructions with the product that give hints on how to use for your needs. This is well worth paying more as it is a superior product. I have looked forever and am glad to have found this. Great foundation with sun block
I love using this foundation. It's light, has good coverage and protects skin from the sun. LovelySkin Customer
Verified Purchase
Flawless
Wonderful, light coverage that results in glowing skin. I use No. 2 and would agree with the description that No. 2 is best for skin with yellow undertones. LovelySkin Customer
Verified Purchase
Good for guys too
I have always had a problem with sunsreen clogging my pores. This product was recommended by my esthetician. Great advice. LovelySkin Customer
Verified Purchase