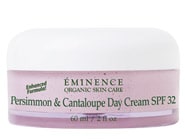 Reviews For
Eminence Organics Persimmon & Cantaloupe Day Cream SPF 32
6 Results
Favorite Eminence cream
This is my hands down favorite Eminence cream, super bonus it has SPF, & at 32, it's really awesome. The smell is divine. It's concentrated as most Eminence products are so lasts a long time, very smooth & creamy - not greasy. I just heard from my esthetician that they are discontinuing this - I am more than sad, as I would use this the rest of my life. I have issues with both chemicals & scents - this does not bother me in any way...the smell does dissipate pretty quickly. I will be calling Eminence to express my disappointment in discontinuing this cream. Delightful, unique smell
Smells great when you put it on, kind of fruity and earthy. The scent doesn't linger after application, so no worries if you are sensitive to aromas. It was recommended for me at a facial I had in the summer, but I didn't purchase it until late fall. It is the perfect amount of moisture for my skin in the hot weather, and not oily or greasy feeling on my skin. For the drier winter weather, it is not quite as moisturizing as I need. 4 stars due to the price. LovelySkin Customer
Verified Purchase
Cool & Creamy
This day cream is thicker, upon initial application, than others I have used. It keeps the skin hydrated. Once it has soaked in, I use it under my makeup without a problem. This is not as good for sensitive skin as the vanilla alternative, but it does provide a refreshing feeling. I use it everyday. LovelySkin Customer
Verified Purchase
Eminence Persimmon & Cantaloupe Day Cream SPF 32
I like this moisturizer for the spring/summer for extra SPF. I have oily skin and this product feels good. Would buy it again! LovelySkin Customer
Verified Purchase
Works and smells great!
I love Eminence products! I came across the Persimmon & Cantaloupe Day Cream searching for an Eminence moisturizer with SPF. I was happy to discover this product that offers protection from the sun and softens wrinkles. The moisturizer is light and my makeup goes over it smoothly. And it smells great! This is my go to daytime moisturizer. LovelySkin Customer
Verified Purchase
Cant get enough!!!
Love and love the smell - so soft too. LovelySkin Customer
Verified Purchase