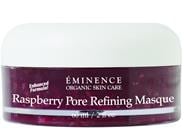 Reviews For
Eminence Organics Raspberry Pore Refining Masque
$48.00
11 Results
Smells Amazing
This is one of the best smelling Eminence masques I've used! My husband loves the smell too. I use this masque selectively on areas of my face that tend to have larger pores like my nose area, and on the other parts I use a firming or hydrating Eminence masque or the C&E Eminence masque which is incredible! I'm loving the results I am getting from using a complete line of Eminence products. LovelySkin Customer
Verified Purchase
Smells good, not sure about pore refining
I love the luxurious feel and the wonderful smell, but I have not noticed any pore refining effect. Also it caused a little bit redness and sensitivity, so if you have sensitive skin make sure you leave it on for 5 minutes only ( directions indicate 5-10 minutes) and follow up with something soothing, like aloe vera. I used it twice so far and this was my experience. Of course, everyone's skin is different. Isabelle
Verified Purchase
Smells so good!
I definitely love the smell of this product. Smells like you're smearing jam on your face! I do like the feel of my skin when I'm finished, but I'm not sure I can tell a difference in my pores. But I'm also not sure what I'm looking for either. I plan to give it more time or maybe mix it with another Eminence product to see it results happen more clearly. LovelySkin Customer
Verified Purchase
Love love
I love Eminence products and like to try different masks every now and then. This is one of my favorites. It smells amazing. My skin gets a little warm when I have the mask on, and it usually leaves it with a nice glow afterwards. It also helps when I have an occasional breakout. LovelySkin Customer
Verified Purchase
Ok Mask
The mask smells amazing but I haven't noticed much improvement with my pores. The blueberry mask by Eminence works better on my skin. LovelySkin Customer
Verified Purchase
Leaves Skin So Smooth and Soft
I absolutely love this masque. It seriously improves the size and health of your skin pores - reducing them in size and helping clear them out. Plus, the masque exfoliates your skin leaving it so smooth and refined. The masque itself feels so good on and smells delicious. The natural ingredients really do improve your skin's health. Kimberly
Verified Purchase
YUMM-O
Smells good enough to eat! The best thing is it really works! I have always been told by every beautician that my pores were huge, but since I have used this mask they have actually gotten smaller. Im so happy. I have gotten some more for my daughter and she loves it too! Eminence Raspberry Pore Refining Masque
I have really large pores and ever since I started using this masque Ive noticed that they have shrunk. My skin is left feeling smooth and less oily. LovelySkin Customer
Verified Purchase
Pretty good
This mask is pretty good at refining the pores but I dont really feel that it does anything else for my skin. It may be too drying for my sensitive skin. LovelySkin Customer
Verified Purchase
raspberry masque
First time to try this product and I do like it. It really does tighten the pores LovelySkin Customer
Verified Purchase
Great New Product!!
Pore refining at its best! You can feel your skin instantly tighten when using this masque! This product leaves you with a perfect refined matte finish without drying the skin! And it smells yummy enough to eat so not only do you get results, you feel pampered!