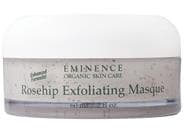 Reviews For
Eminence Organics Rosehip and Maize Exfoliating Masque
$46.00
7 Results
Clears my Acne and Milia. I absolutely need this!
Please never stop making this. It clears my deep acne and milia and is gentle on my sensitive skin. I tried another Eminence exfoliating scrub, but this one gets deeper for my deeper acne. The other one seemed to work more on the surface of the skin, while I am sure that product is perfect for some, not great for me. I absolutely love this masque and my skin looks so clear. LovelySkin Customer
Verified Purchase
A Maizing Exfoliating Masque
I love, love, love this product. It completely exfoliates my skin without irritating my sensitive skin. It leaves my face silky smooth and clean. LovelySkin Customer
Verified Purchase
Really gentle
I like this mask for a very gentle clean and exfoliation. I have other masks from this line that I like better but I always go for this one when my skin is feeling irritated and dry. LovelySkin Customer
Verified Purchase
Wonderful masque
I really like this masque! I mix it with some Eminence Sweet Red Rose Treatment and do some circular scrubbing for a minute or so. I leave it on for a few more minutes then re-wet and scrub (lightly) again and rinse off. Love the result! LovelySkin Customer
Verified Purchase
Great for Giving Skin Fresh Renewed Feeling
This product does do its job of exfoliating your skin for that fresh, renewed feeling. However, I just do not care for the texture or the scent of the product. It almost feels greasy on my skin, yet it does not cause breakouts. I am pretty sure its just the ingredients for this product. It does its job, just not one of my favorites. Kimberly
Verified Purchase
Eminence Rosehip and Maize Exfoliating Masque
I used this masque for the first time and noticed a big difference in my skin. It wasnt too harsh, which I liked. This masque gently exfoliated my skin without irritating it. LovelySkin Customer
Verified Purchase
great exfoliant
It is a great exfoliant for those who need extra exfoliation LovelySkin Customer
Verified Purchase