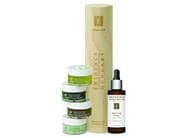 Reviews For
Eminence Organics Stone Crop Collection Tube
9 Results
Super Eminence Collection of Products
This stone crop collection is a great deal at a wonderful price! You get to try the benefits of many stone crop products that help even out your skin tone and add moisture at the same time. These stone crop products are good for my sensitive and mature skin. I buy this stone crop collection when I travel. I love all of these stone crop products plus many other Eminence products as well. I recommend that you try this Organic Stone Crop Collection Tube for all types of skin. I hope that Eminence continues to have their many collections available for people to try many of their products, and I can still purchase the collection kits for traveling as well. LovelySkin Customer
Verified Purchase
Doesn't seem to make a difference
Smells nice but doesn't seem to do much for my skin. LovelySkin Customer
Verified Purchase
Eminence stone crop collection tube
Super hydrating and light, one of best cleansers and masks I ever tried. Essence serum also super, wake up feeling revitalized! I will get the full-size! LovelySkin Customer
Verified Purchase
Hooked
After trying this collection for my dark spots and nothing making a difference, after just one use I'm hooked on the stone crop products along with all the eminence products. 4 stars only because I wasn't too much of a fan of the whipped moisture. It is good to use by itself. I used it with the hydrating gel and felt like it was too much. I'm an African American female and this has def helped with my hyper-pigmentation already compared to all the dermatology prescriptions and facial treatments I've had. WINNING! LovelySkin Customer
Verified Purchase
Highly Recommended
I've been wanting to get this kit for some time, and I'm glad I finally did! I've only used the serum and moisturizer so far, but I really like both products. This set is a great value if you want to try different Eminence products! LovelySkin Customer
Verified Purchase
Travel friendly
The stone crop line is amazing very hydrating and calming. Love the wash and whip moisturizer. With them being in smaller containers I can easily bring them anywhere and because I have the full size ones and refill the travel size when needed. LovelySkin Customer
Verified Purchase
Starter kit win
All Eminence's starter kits are great, but this one is the best I've tried yet. Love getting the chance to try various new products before purchasing the full sizes. The Stone Crop Gel Wash, Stone Crop Hydrating Gel, and Stone Crop Serum have become regulars in my daily line up thanks to this starter kit. LovelySkin Customer
Verified Purchase
Great products, but dont use if you have wheat intolerance!
So, it was totally my fault for not checking into the ingredients before purchasing, but this product gave me an allergic reaction... I have been avoiding wheat in my diet for almost a year now and didnt really think about it when ordering new skincare. The stone crop line felt great going on and made my skin feel great, but a few minutes later my mouth swelled up and I started getting hives. Checked the ingredients and all but the face wash have wheat in them, so had to give them away to my mom who loves them. LovelySkin Customer
Verified Purchase
Love Eminence!
The salon where I get my facials done uses Eminence products, which is how I got hooked. My skin is dry and it seemed like no moisturizer could alleviate the issue, until my facialist recommended that I use serums instead. The whole stone crop kit is great so far for my dry and sensitive skin. LovelySkin Customer
Verified Purchase