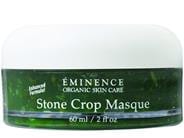 Reviews For
Eminence Organics Stone Crop Masque
$48.00
18 Results
Nice masque
I love Eminence masques and this one is no exception. I found it to be hydrating and healing after a breakout. The irritation and redness in my skin was reduced and my skin seemed to recover better. It is jelly-like, so watering it down with a few drops of water helped with ease of application. LovelySkin Customer
Verified Purchase
Not soothing or moisturizing
I have dry skin and suffer from eczema, this was not soothing or moisturizing. When I washed it off my skin instantly felt tight and dry. LovelySkin Customer
Verified Purchase
Amazing
Love this product LovelySkin Customer
Verified Purchase
Refreshing
I love how good my skin feels after using this mask tetemik
Verified Purchase
Good mask
The texture is very thick so this jar is gonna last a long time. The scent is a little strong, I prefer to use it in the shower so the steam can keep it moist and pores open for this product to penetrate through the skin better. Skin does feel brighter and hydrated the next day IvyPhuong
Verified Purchase
stone crop
I am 37, and I started to see I am getting older. My skin didn't look healthy last couple mounts (especially my face). I just start to try Eminence's products and so far I love everything, but this line "stone crop" is so amazing. I love the smell and how soft my skin is after I use this masque. I just stared, so I am sure my skin will be even better after couple mounts. Thanks. LovelySkin Customer
Verified Purchase
Another fabulous product
This masque is amazing. My skin feels so refreshed and healed after having it on for 5 minutes. Any redness or irritation prior to applying the masques disappears like magic but besides the smell which I love, it tightens and reduces the pore size on my face. If you have acne all the time or occasionally this is like a vanishing wand. I have been using Eminence products religiously for the past 3, 4, 5 months and until now, I have never been sold that a cream, mask, serum can really make a permanent improvement to your skin. This does. The spots on my face have faded and I find myself staring in the mirror constantly in disbelief. I also want to mention that as a test, I used 5 eminence masks on my face every night for 2 weeks in a row. Not one trace of irritation did I experience and my skin has not looked this youthful in the past 15 years. The whole stone crop line rocks. Skin SO soft!
This masque may glide on a bit sticky (stone crop is a succulent after all!), but the end result is the softest skin you can imagine. I let it work on my face for about 30 minutes, occasionally misting it with distilled water to keep it active. Then, I gently wash it off with a warm washcloth my skin literally feels like satin, so plump and smooth, and looks dewy. Fine lines are slayed. But, the benefits don't stop there! I also use it as a conductor gel for my home microcurrent device. I apply a quarter-sized dollop and spread it on my face, again misting it with distilled water, and use my device for about 20 minutes. It conducts the electric current well, and there are so many pure and beneficial ingredients in this masque that I love that my device may be increasing their absorption into the skin. Why use a chemical conductor when you can use this pure beauty? Ahhh, love. LovelySkin Customer
Verified Purchase
Great new product find
I've been a die-hard eminence fan for years now. I have my go-to products and every now and again like to try something new. The stone crop masque feels wonderful, it helps calm my skin when it is irritated and leaves it feeling refreshed, soft and hydrated. So glad I tried it. LovelySkin Customer
Verified Purchase
Stone crop mask
I really like this mask. Cools firms and hydrates. The smell is okay. I will definitely buy again. LovelySkin Customer
Verified Purchase
Lightweight and it WORKS!
This mask is so lightweight, and it smells amazing! It doesn't dry on hard and is super soothing. I had a few pimples starting before I put the mask on, and they already reduced in size after I washed it off. I really enjoyed this mask and will definitely use it again. My skin feels super soft and is a lot less red than usual! LovelySkin Customer
LovelySkin Employee
Gooo-tastic
This sticky slightly thicker than gel consistency mask is awesome! Great for hydration and soothing the skin. LovelySkin Customer
Verified Purchase
Eminence Organics Stone Crop Masque
This product is different but in a good a way. A thick base leaving your skin moisturized and feeling fresh. LovelySkin Customer
Verified Purchase
Love this product
This product works great. I have only been using it for 2 weeks but it has helped my acne and I love the way my face feels after LovelySkin Customer
Verified Purchase
Heals Your Tired, Dry Skin
This masque has been so beneficial for my skin this winter. I have only been using it a short time and I can visibly see (and feel) the results. It has been a blessing this cold winter. I do enjoy the scent as well, and the feel of it on my skin. Masque luxury! Kimberly
Verified Purchase
LOVE LOVE LOVE
This is my favorite mask that eminence makes! Very light mask with a great refreshing smell. Highly recommended! LovelySkin Customer
Verified Purchase
one of my favorite products!
I love the smell of the stone crop masque and my skin always feels amazing afterwards. It is a bit of a pain to remove it all, but its a mask and is infusing my skin, so that makes sense... The "chunks" mentioned in the other review are a little funny, but they help exfoliate and arent really an issue to me. Discovered this product at the spa and have kept it in my personal stock ever since. LovelySkin Customer
Verified Purchase
Eminence Stone Crop Masque
Like other Eminence masques, this has large chunks that just sit on your face. I know Eminence is more of a skin care expert than me, but it doesn't make sense to have these large chunks of green on my face. Seems like they'd be more beneficial if they were ground up better. This smells nice.