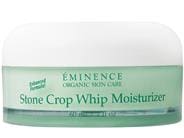 Reviews For
Eminence Organics Stone Crop Whip Moisturizer
$64.00
19 Results
calming richness
rich and thick yet soothing and calming to the skin. tone feels more even and skin seems less reactive. stretch it out by adding a few drops of water before putting it on LovelySkin Customer
Verified Purchase
The best smell ever
I bought this simply because it smells so good. Then I used it and wow, love it. LovelySkin Customer
Verified Purchase
Not a good fit for my skin
I have raved about all the stone crop products. I have purchased but not too sure about this one. I don't know if it's a fluke but my unbreakable, never breaking out skin since I had started using the eminence line, started breaking out. It seems to be only when I add this moisturizer into my routine. It's heavier than the other two I use (clear skin probiotic & lotus detoxification at night). I really wanted to love this because the stone crop products I have purchased have such amazing fading benefits for age spots and skin discolorations. I am basically stuck with a full jar of moisturizer that is not a good choice for my skin at this time and unfortunately because I loved the other stone crop products I purchased (The face oil, the gel cleanser, the masque, the body lotion, the Fizzofoliant, the serum, the toner and the sugar scrub). I assumed I would love this just as much and not want to return it, so I this threw away the box it came in upon receiving the item. I guess 1 out of 8 products not working for me isn't a bad ratio. Still a huge fan of this line. Great Moisturizer
I have been using the Stone Crop Moisturizer for about 3 months. I love the way it makes my face feel. It goes on a bit heavy. On a hot muggy day when I need a lighter feel, I spritz my face with water and then apply the moisturizer. Great balance and allows the moisturizer to be applied a little lighter. Once all soaked into my skin, my face just feels great. LovelySkin Customer
Verified Purchase
Fabulous moisturizer!
My skin has never looked or felt so good. Eminence products are by far the best I've ever used. Although this product does not specify lightening, I believe it has helped lighten the dark spots on my face. Cyndio2002
Verified Purchase
Amazing moisturizer!
I love eminence. This product was introduced to me by my skin care professional, and I fell in love. I add a bit of water since it is very concentrated. It has Good non-allergenic ingredients that are gentle for sensitive skin like mine. It also runs for several months, so it is a good steal! This product calms down skin and doesn't cause any irritation. Eminence Organics Stone Crop Whip Moisturizer
Eminence, a nice product. Leaving my skin smooth and feeling clean. LovelySkin Customer
Verified Purchase
Hydrating !
A small amount goes a long way with this very hydrating medium weight moisturizer. It's perfect for dry skin types or used as a night cream for some extra hydration. LovelySkin Customer
Verified Purchase
Amazing Moisturizer
This moisturizer is amazing and lived up to every expectation that I had. My face is smooth, soft and age spots as well as wrinkles have completely disappeared. This moisturizer is very light and does not cause any adverse reaction from my sensitive skin as many other products have. A+++ LovelySkin Customer
Verified Purchase
Best face mosturizer
This product provides great hydration and keeps my skin looking great! LovelySkin Customer
Verified Purchase
Not a favorite of Eminence Moisturizers
I did not care for the feel of this product on my facial skin. I really did not seem to be moisturizing my skin effectively. It would be more suited for a hand moisturizer than for your face. Love this product!
LOVE this product! Very light moisturizer. Love the smell of all the stone crop products. This is my favorite moisturizer made by eminence. Highly recommended. LovelySkin Customer
Verified Purchase
Good moisturizer.
Love this. It is thick, so I mix with a few drops of water. One of my must haves for the winter!! And it smells great :) Its ok...
I love almost all eminence but I found the one to be really thick and rich. I dont care for the smell but its not intolerable. I gave it four stars because it is very calming and it gives lots of moisture. If you have uneven skin tone though... Get the bright skin moisturizer. Its beyond amazing! LovelySkin Customer
Verified Purchase
Needed More Moisture in Winter Months
I have extremely sensitive skin and have been using Eminence products for almost a year now. While I normally use the Calm Skin Chamomile products, I needed a stronger moisturizer for the winter months. This product keeps my skin moisturized without feeling heavy or negatively affecting my makeup application. It also cuts down on the redness I get around my nose in the winter. I will be using it in dryer climates/months from now on. LovelySkin Customer
Verified Purchase
Eminence Stone Crop Moisturizer
I purchased this in the Stone Crop starter set. This was a little to rich for my combination skin, which gets clogged pores very easily. It might be great for people with dry skin or during the winter to prevent/help chapping. Eminence Stone Crop Whip Moisturizer
I do not use the Stone Crop Whip moisturizer everyday. When I feel my skin is getting too dry, I apply the moisturizer at night. By morning, my skin feels healthier and the redness is gone. LovelySkin Customer
Verified Purchase
Not as Described
I have been using this for about two weeks. So far I have not seen the results as it promised, clear complexion? It does not give enough moisturize throughout the day. It makes my face oily but not moisturizing. I wouldn't get this again. LovelySkin Customer
Verified Purchase
love it!
feels great on and smells so good! LovelySkin Customer
Verified Purchase