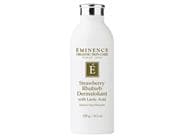 Reviews For
Eminence Organics Strawberry Rhubarb Dermafoliant with Lactic Acid
$48.00
89 Results
Allergic reaction
This powder feels and smells great, but caused me to break out. Not sure if allergic reaction or something just bothers my skin. Wish it worked for me :( LovelySkin Customer
Verified Purchase
Must Have!
I brought this product into my skincare regime and am loving the results. I mix a little bit with an Eminence cleanser in the morning and it really leaves my skin soft and fresh-feeling. It's only been a short time but even my husband said my skin looks beautiful. LovelySkin Customer
Verified Purchase
BEST EXFOLIANT
I wont go a day without using this. Best exfoliant, doesn't irritate my skin at all and Im always left with super smooth skin. Thank you eminence!! LovelySkin Customer
Verified Purchase
Eminence Organics Strawberry Rhubarb Dermafoliant with Lactic Acid
Does a great job clearing away the roughness on my face and is gentle enough for daily use. I think this has helped with breakouts, I will continue to use. LovelySkin Customer
Verified Purchase
Mild Exfolient
Taking a hint from other commenters, I use this at the sink and not in the shower. Still, humidity does clog the shaker a bit. But, it gets 4-stars for gentle exfoliation. Rather than water, I mix it with my Stone Crop cleaner. BirdsMom
Verified Purchase
Part of my daily routine
I use this every day. I love it so much that I usually have a back-up on hand so that I never run out! It is gentle enough to use every day and keeps my skin smooth. I feel like it helps remove the dead skin over areas that are prone to irritation so that the other products I use can work better in those areas. I was prone to dry flaky patches around my nose, mouth/chin and between my eyes - they are a distant memory. LovelySkin Customer
Verified Purchase
must-have
This is essential in my skin care, mixed with other cleansers or by itself--visible and palpable results, can't ask for more. Just wish it qualifies for discounts/promos like other brands I get from Lovelyskin. A coupon would be nice ;-) LovelySkin Customer
Verified Purchase
Nice and gentle exfoliant
I like how this product gently exfoliates the skin and leaves it feel soft afterwards. It's perfect to use before masks. However, I don't really enjoy the shaker cap packaging as it takes a little too much effort to dispense enough of the product for use. LovelySkin Customer
Verified Purchase
Neat Concept
A former colleague recommended this to me and I am so glad that she did. I use this 2-3 times a week (as recommended). I actually mix it in with my cleanser while in the shower and it works great. I especially like using it on my neck and chest area too. Also, I have not had any problems with my bottle cap rusting as I simply close it after use and set it aside out of the flow of water. This product will definitely be a part of my regular skincare routine. LovelySkin Customer
Verified Purchase
Good Stuff!
This stuff is great! Slight exfoliant that I do about 3-4 times in the morning. I just mix with a little water. Be careful, if you keep it in the shower, the holes can get clogged. kbear20
Verified Purchase
Great exfoliate
I love this product - the only down side is the packaging, the product gets stuck inside LovelySkin Customer
Verified Purchase
Best exfoliant
Learned about the Eminence Organics line when I experienced the best facial ever! Esthetician said the rhubarb scrub would be her recommendation since I could only afford one product. One bottle lasts forever, since you add a bit to your daily wash. Leaves your face smooth and helps with redness. LovelySkin Customer
Verified Purchase
Amazing exfoliation!
Wow, my skin has never been so soft as when I started using this product. It REALLY exfoliates well. Super impressive. I put a few shakes on my hand and mix with a little water and jump in the shower. Very easy to use, just don't leave your bottle in the shower. It's a fine gritty powder. Amberisavegan
Verified Purchase
Love it
Excellent product, gentle but effective. I use it twice a week in the evening with Mangosteen Cleanser. My face is so smooth and clean. I recommend this product. Strawberry Rhubard Facial Treat
After reading many reviews, I decided to purchase this dermafoliant. It is a powder, with a salt n pepper shaker like top. Add some water and make your own facial mask. You can make it thicker or thinner depending on the amount of water you splash on it. I leave it on for 10 minutes, and it hardens like cement. I use a exfoliating sponge with water to remove it. Taking away all the dead skin cells with a youthful glow remaining. A really nice treat at the end of a long work week. Revitalizes my skin. I will definitely purchase again. Jodi1980
Verified Purchase
Can't live without
Love the physical exfoliant of this product. Have been using it for years. LovelySkin Customer
Verified Purchase
Nice and Gentle Exfoliation
Exfoliation was gentle and worked well for me. The scent was natural and not too strong but definitely nice. I keep mine in the fridge to keep moisture out since I read some reviews that said it cakes up and so far no problems. Best exfoliant ever
I have used a lot of different exfoliants over the years, and this one by far is the best. It is super gentle but gets the job done. My skin is softer and brighter. I mix the powder with my coconut cleanser, rub gently in a circular motion, and wash off. PERFECT! (And by the way, for those of you who complain about the holes getting clogged if you leave the can in the shower, just turn the top and it closes. No more getting water inside!) Thank you, Eminence Organics, for the most wonderful products. Eminence Organics Strawberry Rhubarb Dermafoliant
This product needs a forward—I've had several professional chemical peels over the years (done by a dermatologist) that were way less strong than this was. I wouldn't be able to use this more than twice a week, as it totally dried and completely peeled my face. Please don't use it as your daily or nightly cleanser! It's nice after the peeling stops, but when I say your whole face peels, I mean your WHOLE face peels. LovelySkin Customer
Verified Purchase
Dermafoliant
I initially received this product as a sample in a previous purchase. The fresh, light fragrance was pleasingly organic not too heavy. The product easily reconstituted with a bit of my cleanser or water to a fine exfoliant paste that clearly removed dead surface cells without irritation to my sensitive skin. I liked the product so much that I have since purchased for myself as well as my two adult daughters. Their review of the product echoes mine! LovelySkin Customer
Verified Purchase
WONDERFUL PRODUCT!
I love Eminence Organics Strawberry Rhubarb Dermafoliant with Lactic Acid! First of all, it smells delicious! After using it regularly, my skin became clearer, smoother, brighter and my pores smaller. I saw results after the first use. It also improved my small wrinkles. HIGHLY RECOMMENDED! Alex369
Verified Purchase
lovely scent
Add a bit of water and don't scrub too hard. It leaves you with a soft, smooth face. LovelySkin Customer
Verified Purchase
Gentle Enough for Daily Use
I like how soft and fine the texture of this exfoliant is. I use it almost daily and typically with an electric face brush. It does a nice job removing dead, flaky skin and leaves my face looking bright and polished. It also lasts a long time since you don''t need very much. LovelySkin Customer
Verified Purchase
Gentle and effective
Just what I needed to make the dry flakes go away. Just enough exfoliation without being too harsh. NIce and gentle
I like this product. It does have a very fine grainy texture when you mix it in your hand with water. The aroma is nice, and it will give you a bit of a scrub. I have sensitive skin and haven't had any problems using this. The aroma is also nice, but not lingering or overwhelming. LovelySkin Customer
Verified Purchase