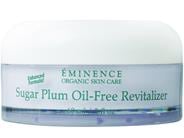 Reviews For
Eminence Organics Sugar Plum Oil Free Revitalizer
8 Results
This is fantastic stuff
smells great, gentle on the skin, and ultra moisturizing, vastly absorbent LovelySkin Customer
Verified Purchase
Amazing Moisturizer
I apply this moisturizer every morning, and I absolutely love it! It smells so good, and hydrates my skin really well while leaving it matte, not oily. LovelySkin Customer
Verified Purchase
Super light, awesome smell!
Sugar Plum Oil-Free Revitalizer is a super light, awesome smelling moisturizer! It does not clog my pores and leaves my face feeling so soft. Probably best for summertime when you don't need extra moisture - just right for summer! LovelySkin Customer
Verified Purchase
Eminence Sugar Plum Oil Free Revitalizer
I have oily skin so I decided to give this moisturizer a try. It smells wonderful and I like the lightness of the cream. It does an okay job of moisturizing my skin, but half way thru the day Im feeling oily again. Ive tried three other Eminence moisturizers and this is my least favorite so far. Might be good for someone with less oily skin. LovelySkin Customer
Verified Purchase
Wonderfully Smooth Skin
I love everything about this moisturizer (except the price). It leaves your skin so soft and since it is oil-free will not clog pores. It also has an absolutely lovely scent. Plus, you only need to use a little to moisturize your face. It is my favorite. Kimberly
Verified Purchase
Amazing!
I have very sensitive skin, and this does not cause any irritation at all! It smells incredible. Moisturizes well, and is great under makeup and over my night treatments. Will keep purchasing. LovelySkin Customer
Verified Purchase
love this moisturizer
Ive been using the sugar plum oil-free revitalizer for over a year now, after it was recommended to me by my esthetician. This moisturizer is perfect for my combo skin that can feel oily in spots, dry in other spots, and clogged pores around my chin and noise area. This moisturizer never feels greasy and does not clog my pores. It is a staple in my morning and night skin care routine! LovelySkin Customer
Verified Purchase
My favorite moisturizer!!!
I have tried A LOT of different moisturizers, everything from store brand to ultra pricey. I have acne-prone skin, and this moisturizer keeps my skin hydrated without ever breaking me out. I have definitely seen an improvement is skin tone and clarity-and the smell is divine! All pros, No cons. LovelySkin Customer
Verified Purchase