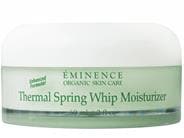 Reviews For
Eminence Organics Thermal Spring Whip Moisturizer
Another good moisturizer for oily skin
Another good moisturizer for oily skin, keeps my skin hydrated without feeling heavy. Absorbs easily in my skin, it helps that Eminence has awesome ingredients!!! LovelySkin Customer
Verified Purchase
LOVE this product!
This is my favorite eminence product! I put it on after the hot lime stimulating mask to cool my face. It is very light weight and smells wonderful! LovelySkin Customer
Verified Purchase
Works well but beware of.....
My skin is combination sensitive. This product is great to control oil and blemishes but very drying to the sensitive areas. Needless to say my rosacea prone areas flaked up so I now use it once a day to control oil and blemishes but have to use the chamomile lotion on the rosacea areas. I obviously will not be buying this again. LovelySkin Customer
Verified Purchase
Great Moisturizer
This is a great product if you have oily skin. The texture of this moisturizer is almost clay-like, its thick and it feels like it absorbs all the oils on your skin. I like this moisturizer better than the probiotic clear skin. My skin is super sensitive and I have adult acne. Before using this product my acne would inflame so badly it hurts. Now, my skin is less inflamed and less beak-outs. I also use the Eminence herbal spot treatment. My blemishes are also less visible than before. It has only been a week since using this product. IF YOU HAVE ACNE-TRY THIS!
I am in love with this moisturizer!!!! I have always had problem skin, and along with 5% benzoyl peroxide I use an eminence moisturizer. I tried the eight greens, (a bit too heavy for me) sugar plum oil free revitalizer (worked great) and then I tried this one. It is a miracle product for me. I have enlarged pores on my cheeks and nose- they have been diminished in size for the first time in my life! My skin looks healthier and breakouts are under control. And it smells like peppermint.