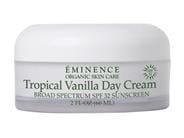 Reviews For
Eminence Organics Tropical Vanilla Sun Cream for Face SPF 32
$68.00
23 Results
Low this Lotion!!!
I love how moisturizing yet light this product is! The protection from the sun is great for every day - even when I exercise and sweat outside. It has a very pleasant scent but it does not trigger my incredibly sensitive multiple allergies! Bjameson
Verified Purchase
Meh, not impressed
I was really hoping to like this product, but it's not worth the price. Even when using a small amount and adding to a serum, it is too thick to wear under makeup. It pills and is sticky preventing an even make-up application. The smell is the only thing I like about the product. Disappointed. wildnikki
Verified Purchase
Perfection!
I can honestly say I'm addicted to sunscreen. I've struggled to find one that doesn't leave a white sheen, gets too greasy, clogs my pores or doesn't blend with makeup. This checks all the boxes and smells very good without lingering. I only use 3 products from this brand so far, and none of them have disappointed me. Dissapointed
After reading the reviews about how good it smells, Vanilla, I did not get any aroma of vanilla or anything else, does not smell good at all. Leaves a white cast on skin. Here is How to Be Sure Vanilla Cream is Not Too Thick!
If you think it's too thick put a dab in the palm of your hand and add a couple of drops of water or one pump of stone crop hydrating mist. Mix it up, and it goes on your face and neck easily. I was told to do this when I bought the product, which makes it last much longer as well. I insist on spf in my day cream and I love the scent of coconut. Makes this a great product for me! Undecided
Eminence discontinued my go-to Tomato Day Cream, so I had to switch it up and decided on this Vanilla Day Cream. It is very thick although it does absorb into the skin nicely. You just have to massage it in. The smell is nice. I was noticing that my skin looked less smooth, and so I stopped using it all together. I am keeping it for sunny vacations because I don't think it would be good for a day in the sun. LovelySkin Customer
Verified Purchase
Delicious
I started using this product as a replacement for the redcurrant SPF. It has a lovely smell that combines well with the coconut cleanser and moisturizer that I was already using. I live in the high dessert, so SPF is a constant in my routine. I am very happy with this as an everyday product. It does not flake or leave a white film on my skin and applies well as a base for the Eminence tinted moisturizer that I sometimes use. LovelySkin Customer
Verified Purchase
Smells Amazing!
This sunscreen first of all smells amazing. You don't need much for the entire face, and the protection with moisture helps to not clog my pores like most sunscreen products. I WOULD recommend this product to anyone of any skin type if your looking for a two in one moisturizer and sunscreen. LovelySkin Customer
Verified Purchase
LOVE!
Does not clog my pores (most SPF moisturizers do), you control how much moisture you get (mix a drop or 2 of water with a small amount for lighter moisture). It's not super thick, absorbs nice and quick, great under makeup and the smell is nice, light and fresh. Will not leave home without it! Another amazing product from Eminence! LovelySkin Customer
Verified Purchase
Staple in my routine
I love this moisturizer/sunscreen combo and have been using it for years. I have combo/sensitive skin that often reacts to sunscreen. I've only found two facial sunscreens that I can use - this is one. It's moisturizing without being too heavy or making me break out. LovelySkin Customer
Verified Purchase
Tropical Dream
I am an exclusive Eminence Organics user, and I have to say this is one of my top five products! The Tropical Vanilla sun cream is so creamy, and just a small amount covers my entire face and neck. I wouldn't even think about leaving the house without this cream on, as it offers a good sun protection without feeling heavy or greasy. A jar lasts around 9-10 months for me which gives a great value for the money spent! Highly recommend! Melanie
Verified Purchase
Every Day
I use this cream every morning to protect my skin from the sun. It smells wonderful. At first, the application is a little white, but it rubs in right away. LovelySkin Customer
Verified Purchase
Smells great and moisturizes well
I got a facial in Hawaii and the esthetician used this on me, so I could go out in the sun after the facial with sun protection. It worked well and smelled great. I ordered it as soon as I got back to my room. I love the vanilla fragrance of this face cream. It is a strong fragrance, so it's not for you if you don't like that. It's very rich and creamy. It makes my skin feel really soft and dewy. It's pretty heavy, so if you want a light SPF cream it's not for you. My husband has been using it too because he likes the fragrance. LovelySkin Customer
Verified Purchase
Wonderful moisturizer
Great combination of moisturizer and sunscreen. Feels great on face and smells great. LovelySkin Customer
Verified Purchase
Awesome SPF moisturizer
This moisturizer does a terrific job hydrating my skin. It absorbs quickly and I have a smooth application of my makeup over it without issue. So happy to find a good SPF moisturizer that doesn't smell like sunblock. LovelySkin Customer
Verified Purchase
Great moisturizer!
I love the Eminence line of products since they are natural, especially this moisturizer since it has SPF. A few reviewers indicated its a little heavy. An esthetician gave me a great tip once for using Eminence's moisturizers since many of them are more of a "cream": add the a small amount to the palm of your hand and mix it with a few drops of water until it a lighter consistency. It makes it lighter, and the jar with probably last you a little longer. LovelySkin Customer
Verified Purchase
sun protection and great moisturizer
Love the aroma and texture of this product. I also appreciate having sun protection in a daily moisturizer. I rated it 4 stars rather than 5 because it is a bit heavy and so I find that I do not use it on a daily basis. I use it about once a week, and consider it a thicker moisturizer, but an excellent one. Marcella
Verified Purchase
Amazing 2 in 1 product!
Good moisturizer and perfect sun protection in one product!Thats I longer for!Natural ingredients,not harmful to you,most sunscreens contains a lot of harmful chemicals,this one NOT!And this product can be used on any type skin,kids over 6 months,even the pregnancy wemon,and its mild enough to put on the eye area! LovelySkin Customer
Verified Purchase
great smell
lovely smell and did the trick for sun protection. Face Sun Cream
I found this a little too think / greasy (not exactly greasy) / heavy for the face so I guess Ill be saving it for those really dry days. I used this optop of my usual moisturizers so that could have been the problem. I dont quite care for the smell... I find the tropical scent smells a little chemically to me. I have a picky nose though... LovelySkin Customer
Verified Purchase
Great daily sun protection
Eminence Tropical Vanilla Sun Cream smells amazing, goes on smooth, doesnt cause me to breakout, and offers great protection. Ive used it all summer, and my skin looks great. It is a bit thick, so I have to allow a few minutes for it to really soak in before I can start applying makeup. I wish I could get a tube of it to toss in my bag for reapplication later in the day. Eminence Tropical Vanilla Sun Cream for Face SPF 32
I have been using this product everyday that Im in the sun. I am so sensitive to sunscreens and always seem to have little red bumps on my face from other products. This was a great purchase! It has a nice sweet smell and doesnt make my face feel oily. LovelySkin Customer
Verified Purchase
Lifts and brightens!
First, I was surprised to receive an instant lifting and brightening effect from this product. Who wouldnt like that? This sunscreen smells heavenly. It does not smell like the vanilla that you bake with, but more like the vanilla flower. Its a natural scent, so doesnt bother me like a chemical fragrance would. Even my husband, who hates perfumes, loves how I smell when I wear this. The downside for me is that its not moist enough to wear on its own -- I have to use it like a sunscreen over another moisturizer. I was hoping to have only one product, but for anyone with combo or normal skin, this would be fantastic. LovelySkin Customer
Verified Purchase