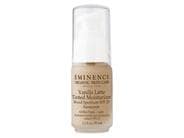 Reviews For
Eminence Organics Vanilla Latte Tinted Moisturizer SPF 25
$48.00
20 Results
Eminence review
This is one of my FAVORITE moisturizers! I love the tint in it too as it is all you need to go to the gym (or wherever else you're not wearing makeup) and provides a nice base to your makeup when you are wearing foundation too! Trishyk
Verified Purchase
Too dark for me
I didn't think this would actually smell like a vanilla latte, so that was a pleasant surprise. I do find it still too dark for my skin tone, I will still use it since I'm not really leaving the house much anyways this summer, it's a good sunscreen for if I'm staying inside but receiving some light through my windows. If it was a shade lighter this would be my go-to since I find foundations just make me breakout. I do like the overall coverage and the way my skin looks soft and dewy. Ceebee22
Verified Purchase
Works great!
I bought this because being an "essential" worker I have to wear a mask for 8 hours a day and didn't want my face to break out by putting on powder/foundation. It covers well and I love this product so much that I don't think that I will ever go back to a powder! Izzybear
Verified Purchase
Love this Moisturizer
This is my "go to ". I work training clients, its excellent to use light coverage plus its natural (no toxins) and has good SPF for when i do go outside. IFBBJennSedia
Verified Purchase
good tone
This is a great SPF with a tint that's just perfect. You can also find your right color, highly recommended. LovelySkin Customer
Verified Purchase
Great product!
Who doesn't love a tinted sunscreen. This Eminence Organics Vanilla Latte does it all. Moisturizes, adds color and protects you from sun damage. What else could you want. LovelySkin Customer
Verified Purchase
Sheer, even coverage
I love this product! I am 57 and need something sheer that doesn't gunk up the skin with silicone based ingredients. I do apply serum and moisturizer under it and use it more as a tinted sunscreen. I have light to medium yellow tones, and it matches perfectly. The caramel latte is much darker and has brown tones. LovelySkin Customer
Verified Purchase
Eminence Organics Vanilla Latte
Magic!!! It's now my favorite!!! Good sun protection and good coverage LovelySkin Customer
Verified Purchase
Works!
I have very light skin. I've been in full sun with zero sunburn :) It's easy to apply, looks great on & works :) LovelySkin Customer
Verified Purchase
Wonderful product!
Love this product! I've been gradually switching all of my products over to Eminence (LOVE everything about them!), and this is the most recent switch. I was nervous about it because my face tends to get oily when using SPF (and my pores will clog). Nothing of the sort with this tinted moisturizer! The coverage is sheer, so if you are looking for more coverage, this isn't the product for you. I combine this with an SPF based loose powder to get the light coverage I need, along with SPF protection. It isn't super moisturizing, but when needed, combined with an additional light moisturizer, it's perfect! And the smell is light and delightful! LovelySkin Customer
Verified Purchase
Great product
It blends well, but the color is just a little light if I'm wearing it in the summer with a tan. It would work well in the winter months. The only reason I did not give it 5 stars is because it is a little drying. LovelySkin Customer
Verified Purchase
I love this moisturizer!
I love how it feels and looks. The smell is perfect! LovelySkin Customer
Verified Purchase
love it
Gives a great cover, even though the color looks darker in the bottle. I was very surprised after application that the color is just right for my fair skin. LovelySkin Customer
Verified Purchase
smooth
I have tried a bunch of different foundations, this is smooth, blends well is a great color make to my fair and pinkish skin. Helps also that Eminence is a great natural cosmetics company. It makes my face look smooth and not like I caked on makeup. LovelySkin Customer
Verified Purchase
Keeper
This product is a keeper! Sheer, light coverage with smooth application and a divine scent. What's not to love? LovelySkin Customer
Verified Purchase
okay
I'm not a fan of the texture, it's almost like a whipped texture. And it's not even that moisturizing.. This is the first eminence product I am not impressed by. Eminence Vanilla Latte Tinted Moisturizer SPF 25
I use the Vanilla Latte Tinted Moisturizer as base when I need additional coverage. Then Ill use the mineral defense brush over it. This product is light and absorbs into the skin. Color matching is a little difficult, I know of friends that actual combine the vanilla latte color and the caramel latte color to make their own customized foundation. LovelySkin Customer
Verified Purchase
Skin looks smooth.
This product makes my skin looks smooth. However, it does not provide an obvious color coverage on the face. LovelySkin Customer
Verified Purchase
Love this
I just finished my first bottle and i have to say, I really love this product. Im getting into my late thirties and had been using bare minerals powder foundation but really wanted a more dewy finish. My complexion is light and tans in the summer and I went with the vanilla latte. I love it. Smells divine. Evens skin tone with a lighter, more sheer coverage. My skin looks pretty, soft and dewy and has never had a breakout from this product. I will definitely continue to use. Extra Moisture for Extra Dry Months
I normally use the Eminence skin care line and Jane Iredale powder foundation. But I needed more moisture during the harsh winter months. The color and coverage are perfect. It is slightly on the warm side of neutral and can be layered where necessary. It feels lighter than traditional liquid foundation and my skin is extremely sensitive and generally incompatible with liquid SPF. I had a tiny irritation at first, but it wasn't enough to stop using the product and it stopped within the first two weeks of use. The only down side is that is had a slight fragrance, and I prefer products without. I will definitely repurchase. LovelySkin Customer
Verified Purchase