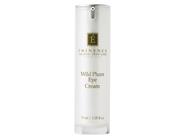 Write a Review - Receive 50 Rewards Points!
Tell us your thoughts about Eminence Organics Wild Plum Eye Cream so we can help you find the right products. With your review, you'll also receive 50 Rewards Points. Please note that it may take up to 72 hours for a review to appear on site. All reviews are subject to moderator approval.
Write a Review
22 Results
Eminence Organics Wild Plum Eye Cream
I absolutely love this eye cream. It is so silky smooth and easily glides on the delicate skin around my eyes. It's very gentle, and it hydrates and soothes my eyes. Plus, it smells wonderful! I've tried several other brands, some very expensive ones, but they are too thick. I know that you're supposed to pat your eye cream on and not rub or pull, but in my opinion, patting doesn't work. This eye cream is thin, so you can gently put it all around your eyes without the "patting" technique. And a little goes a long way because of its consistency. This is my number one favorite eye cream.
My eyes love this
Have used this now for 12 months and just reordered more. The morning eyes love this, soothing, creamy and helps with the circles and puffiness. My go to every morning, and love the scent.
Great buy!
This is a HUGE bottle of eye cream that lasts forever. It's creamy but not too thick and I love the smell!
Plum eye cream
I like the scent and the consistency but it sometimes irritates my eyes
Lovely eye cream
The Wild Plum Eye Cream has a delightful scent and absorbs quickly around my eye. It does not sting or burn like a department store brand I was using that also caused milia around my eye because it was too heavy. This eye cream is light but powerful. My dark circles are lightening. I have not seen much change yet in my corner eye wrinkles but it may take more time.
Does a good job
This eye cream does a good job reducing fine lines and wrinkles. It's very hydrating and absorbs quickly into your skin. I usually apply this in the mornings, but it also works well for evening treatments.
Great product for delicate eye area
I have been a user of Eminence Wild Plum Eye Cream for some time. I have found it to be a great product for the delicate under eye area that is one of the first areas to show aging. It is easy to apply and only takes a little amount of product, so don't let only the cost be a deterrent. Also, once you think it is empty, you can open the container and get those last precious amounts!
Best natural eye cream
It's very soothing and keeps wrinkles at bay!
Smooth texture
I love the texture of this eye cream. Moisturizing yet not too rich, it is perfect under eye makeup. The scent is lovely and not too overwhelming.
Amazing eye cream
Eminence's Plum Eye Cream is a lightweight, highly absorbent product that provides amazing hydration! You use a drop of the product so it lasts a very long time. One of the best eye creams to have in your arsenal!
Eminence Wild Plum eye cream
Love it!!! The eye cream moisturizes my eyes keeping them looking young. A good friend of mine was impressed with the way my crows feet showing around my eyes were almost non-existent that she bought the cream. She loves it as well.
Three weeks in and some results.
First, I love the fragrance, the smoothness of the cream, and how easily it's absorbed. It makes me happy every time I use it. My fine lines are less prominent. My dark circles have yet to go away. I do have really, really dark circles. I've been using it for about 3 weeks, so it may be too early for results. Maybe what I thought were dark circles are actually more sun damage. I'm hopeful I will see more significant results as time passes. If you don't have super-dark circles like mine I think it will give you good results.
Love This Eye Cream
I have tried so many eye creams and was not thrilled. I started using Eminence night cream and loved it so I though I would give Wild Plum Eye Cream a try. I love it. I am 68 years old and it makes my eyes soft and lines are less noticeable also my concealer goes on so smooth. So far I love the Emenience products I have tried.
Smells so good
I love the smell of this product. It's light and calm. As for the result, it did hydrate my skin around eye areas.
My favorite!
This eye cream works really well for me. I am young so wrinkles aren't a huge problem yet, but I do get some fine lines around my eyes, especially when I'm tired. This eye cream really helps eliminate them and makes my eye area look so much better. One tip: don't take a full pump of product out at first. For me, a full pump is almost twice what I need, but it's easy to automatically take a full pump when I'm not thinking.
Excellent Day Time Eye Cream!
I use this in the morning after I apply my moisturizer and it feels great! The scent is terrific (as expected!) and it's moisturizing without feeling greasy. Thanks again, Eminence!
Eminence Wild Plum Eye Cream
I like the smell of this eye cream. It feels like a good eye moisturizer, not greasy. Most importantly it does not hurt your eyes if you get a little in them. Probably due to the natural ingredients. I have dark circles under my eyes and I would say it did help lighten then slightly. I would buy again just for the under eye moisture.
Pretty Good
I like it a lot for an day eye cream because it isnt too heavy and it smells very good. Once again, Eminence provides a top notch product.
Love this Eye Cream
I fell in love this with eye cream after receiving a free sample, and quickly ordered the full size. It feels so good and smells lovely. Very refreshing morning and evening. Its soft going on and it absorbs quickly. Love, love, love.
This is a really nice cream
I received a sample of this eye cream in the mail and loved it so much that I ordered the full product long before my sample ran out. It is really smooth and refreshing. Of course it has a pleasant smell, as with most Eminence products.
Wonderfully Light, Highly Effective Eye Cream
I absolutely love this eye cream. It is so light and feels wonderful when applied. Plus, it really is beneficial to your skin - after using it for about 2 weeks I have noticed a difference. The dark circles appear diminished and the wrinkles are starting to soften. It also has a wonderful scent. One of my favorites from this brand.
Eminence Wild Plum Eye Cream
I use the Wild Berry eye cream in the morning and at night. It is soothing after a long day at work and brightens my look in the morning.