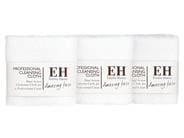 Reviews For
Emma Hardie Professional Cleansing Cloths
$25.00
5 Results
Soft cloths
Great washcloths LovelySkin Customer
Verified Purchase
The best face cloths ever!
The very first time I used these face cloths I fell in love. They are very high quality and you can tell from the feel of them. I haven't found any other face cloths that compare. LovelySkin Customer
Verified Purchase
Best Cleansing Cloths
These are my ultimate favorite facial cleansing clothes. They are very well made and great quality. A must have in your cleansing daily routine so well worth the money! LovelySkin Customer
Verified Purchase
Emma Harding Cleansing Cloths
I just started using the Emma Harding Cleansing Cloths and am impressed on how gentle it cleans my face. I have been using another brand of muslin cleansing cloths and decided to try the Emma Harding one from reviews I have read about it and lives up to the positives reviews about it. Thank you. LovelySkin Customer
Verified Purchase
Great Cleansing Tool
I've tried several cleansing cloths, up until now the most favorably being Liz Earle's, but these are truly superior. The two sides allows for a choice between an exfoliating or washcloth-type method of texture, something I enjoy as a morning-vs- night routine. I can understand a previous reviewer's concern about slippage on the cloth side, but to me it is solved simply by holding onto the sides. But since my preference is usually for the exfoliating side there is no noticeable slippage there. For me, these cloths are the best! LovelySkin Customer
Verified Purchase