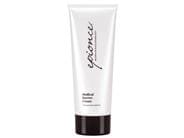 Reviews For
Epionce Medical Barrier Cream
$25.00
147 Results
Incredible Moisturizer
My skin tends more toward the dry side. My dermatologist sells this and I've found it to be incredibly healing and moisturizing. It's super nice to layer after you've put on your retinol. Retinol can be really drying and I find this helps with some of the flaking and dryness. Brewnette
Verified Purchase
Love Epionce
Really love the epionce barrier cream. I use it on my eczema hands. LovelySkin Customer
Verified Purchase
Soothing After Sun
I do not like getting any sun on my face or neck but even with great sunscreen I always get a little sun after a day at the lake. This cream is especially soothing for helping with that and also it helps with overheated skin, hot flashes and unhappy skin in general. Like it as a hand cream as well. LOVE IT!
This cream is excellent as a barrier when you spend a lot of time outdoors or your skin is feeling particularly parched. I wear it over my sunscreen when I go skiing or on a trail run. Helps block the wind too and I arrive home not feeling fried! Also good at night - or any time. LovelySkin Customer
Verified Purchase
Soothed itchy skin
This soothed itchy skin on my back better than any other cream I have tried. LovelySkin Customer
Verified Purchase
Best Moisturizer Ever
I have been buying Epionce Medical Barrier Cream for the past three years. The last bottle was purchased for my daughter as she is pregnant and has very dry skin especially on her abdomen. She had instant relief as soon as she applied the cream and is hoping it will help reduce stretch marks. I have found when I use it on my legs it reduces the crepe skin above my knees. The cream keeps my skin moisturized all day. It is a keeper! LovelySkin Customer
Verified Purchase
Barrier cream
I have super dry skin and this is the only lotion that keeps me soft! LovelySkin Customer
Verified Purchase
A must have
I wish I had found this product sooner. Suitable for face and body, provides the moisture I need and also can help buffer retinol products. This will be a staple year round in dry, New Mexico to keep skin protected and healthy. I have dry skin year round. Thist doesn't leave skin feeling greasy, just hydrated and protected from wind, sun, air conditioning and low humidity environment. OnTheMesa
Verified Purchase
Very moisturizing
My dermatologist had me use this after my IPL treatments. I would have never thought to use anything this heavy. I have absolutely loved how my skin looks after using it. I have continued to use the Epionce Medical barrier cream several nights a week. I have also used it on some dry flaky places on my legs. The patches went away quickly. LovelySkin Customer
Verified Purchase
Highly recommend
I love this brand! The medical barrier cream is thick, but applies very light on the skin. Doesn't feel like you have a heavy cream on but it does a great job keeping the driest of skin hydrated. I use this as my daily moisturizer and can't recommend it enough. The best moisturizer for a sensitive dry skin
I always had a dry and sensitive skin On my face and body. Anything and everything would either itch or give me a rash. Medical barrier cream is the only moisturizer that does not give me any side effects! Also, my baby girl has my sensitive and dry skin, and she broke out from any baby emollients or lotions, but medical barrier cream is the only moisturizer that she can tolerate based on everything we tried. I also would recommend epionce spf lotion to anyone, the best for me! LovelySkin Customer
Verified Purchase
Standout product!!
This cream has made it possible for me to use my nightly retinoid without any irritation. It soaks right in and leaves my skin moisturized but not greasy all day...a feat no other moisturizer has been able to achieve for me. Will buy again when I run out. Karenfh
Verified Purchase
Excellent product
I use the barrier cream instead of the intensive face cream. This cream hydrates my face longer and is far more pocketbook friendly than the intensive cream. Give this a try with some type of serum. If your not sure try the small size. Love this stuff!
I use it to heal my washed out, aging hands every night at bedtime. In the morning, my hands are ready to face another day of incessant washing during these COVID crazy days. LovelySkin Customer
Verified Purchase
Medical barrier cream
Love this for my face. I always use this after a facial. The smell is wonderful and makes my skin feel so smooth. When I got an email from Lovelyskin about using it as hand moisturizer I was intrigued as I had never thought to use it on my hands. It works wonders. I bought the large bottle and am so happy that I did!!! LovelySkin Customer
Verified Purchase
My Go-to for 5 years now!
I was given a sample of this cream by my medical doctor after being badly burned with an aggressive eyebrow/lip waxing treatment. I began using it all of my face and found that for the first time, my skin wasn't dry in the morning AND it did not make me break out. I use it twice daily and love it! LovelySkin sells it at the best price. Tremendous change
I didn't know for so long that a lot of my skin issues (tightness, oily, prone to break out, just overall rough looking) could be helped by one cream. Turns out, my skin barrier was definitely the major issue and this cream has been a god send so far (3 weeks in). Redness has gone down, texture has smoothed, tightness has gone away, less oily. The cream is a little thick so may not be best for AM use, but other than that I have nothing bad to say about this. 5/5 Love this product!
This cream is excellent! I have rosacea and used to have visibly dry skin on my face. This cream does not flare up my rosacea and I no longer have dry skin patches, even in the winter. I highly recommend this product if you have dry skin. Love for my sensitive skin!!
Love! Love! Love Epionce medical barrier cream for my super sensitive face!! I easily get red patches from over use of other products and dry patches during the winter. In my forties and still get acne but I have never had a break out from this cream. LovelySkin Customer
Verified Purchase
SAD
I was excited about this product. But, after I used it on my face, I woke up with red blotchy skin in the a.m. All is not lost. I use it on my neck, and it's OK. Excellent skin barrier cream
I use this cream whenever my skin feels irritated and dry. It's very soothing. It keeps you skin moist and comfortable. A must to have especially after laser or chemical peel treatment. Diane2019
Verified Purchase
Love
This year when the weather switched and got much colder, my face did a 180, and skin became so dry it started peeling. I started using this cream with a hydrocortisone stick to calm inflammation and it was drastically improved within 2 days! Definitely going to have to keep this product in my collection. It is heavy, so I don't plan on using it daily/nightly unless my skin is extremely dry. Skin barrier
Best skin barrier improvement. Product "locks" in moisture and improves texture. My skin never felt better. LovelySkin Customer
Verified Purchase
Favorite moisturizer
I always continually go back to this moisturizer. It keeps my face hydrated all day and it feels good on the skin. I have very dry skin and I have tried many moisturizers but have found this is what works for me. LovelySkin Customer
Verified Purchase
Wonderful
I suffer from extremely dry skin on my hands during the winter months. I have tried many other lotions, but they are either too greasy, sting with the scent or just don't seem to help. I purchased this cream and it has made a world of difference! It does not irritate my skin. It keeps my hands soft and moisturized. I highly recommend trying this if you have dry hands and knuckles. LovelySkin Customer
Verified Purchase