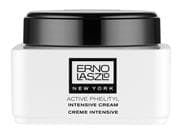 Reviews For
Erno Laszlo Active Phelityl Intensive Cream
$88.00
7 Results
Wonderful Winter Moisturizer
This will be a wonderful moisturizer for the winter. A little goes a long way. I really like that the cream is a "solid" and melts when it comes in contact with your finger or face. While it is a great moisturizer, it is amazingly light. LovelySkin Customer
Verified Purchase
Too greasy
I wanted to love this, but it was way too greasy. My face broke out immediately. LovelySkin Customer
Verified Purchase
Amazing
I've been using this creme for years. It is a perfect overnight creme. It leaves my skin supple and hydrated. My face is perfectly clear, fresh and dewy in the morning. Love it! Original and best
This is closest to Dr. Laszlo's original formula and my favorite of his whole line. It's rich, and keeps the skin super soft and supple, without irritating it. I hope the company never drops this moisturizer!! Great moisturizer, great price point!
For the amount you pay for this moisturizer, you get a multi-tasking product that not only moisturizes but deeply nourishes your skin from deep beneath the surface. I use multiple anti-aging products so my skin can often run dry. This cream creates a barrier locking moisture in. It's especially great for the dry winter months but i'm finding it versatile enough and just as good now that the weather is warming up. It also acts as a great eye cream in case you run out and my skin has never looked better. I've paid lots more for moisturizers but this one stands up to them all in every way...and for much less the price! LovelySkin Customer
Verified Purchase
The one cream I cant live without!
I have used Erno Laszlo products for years and this cream is my absolute favorite ever. No other cream leaves my lips and skin as soft as this does. I use it before bed and wake up with dewy, moisturized skin. A truly great product! LovelySkin Customer
Verified Purchase
Amazing Moisture
Great for winter skin. I am a year round runner and my winter runs wick moisture away this product is a live saver. LovelySkin Customer
Verified Purchase